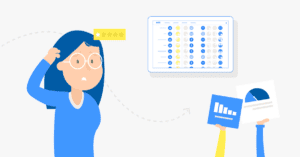 According to a recent Deloitte survey, only 18% of executives strongly agree that their workforce fully utilizes its skills and qualifications.
If you're responsible for a team whose work has not been up to par, you may feel at a loss—especially if you've been giving the team your all.
Some factors that contribute to a team's lackluster performance are individual errors, strained interpersonal relationships, communication gaps within the team, or a combination of all of these.
In this article, we'll describe the skills matrix software and explore how it can help you identify the areas of underperformance. We'll also provide tips on what to do once you've identified the problem areas.
In addition, we'll discuss our skills matrix—the AG5 Skills Matrix Software—which is a helpful tool for skills management. We'll also share 5 free skills matrix templates for you to download.
What is a skills matrix?
A skills matrix is a tool to assess and map an individual's or a team's skills and knowledge.
Skills matrices are often used in workforce planning to identify gaps in an organization's talent pool.
This tool can help businesses make informed hiring, training, and succession planning decisions.
The skills matrix can be helpful for various purposes:
Assessing training needs—a skills matrix can help you identify team members' training needs to improve their performance.
Evaluating team dynamics—by assessing each team member's skill levels, you can better understand how individual strengths and weaknesses might impact the team's overall performance.
Planning for succession—a skills matrix can be used to identify future leaders within an organization by placing employees with a high level of proficiency in the required skills.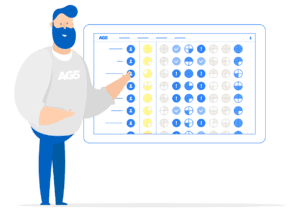 What to do if your team is underperforming
Once you've identified the areas where your team is underperforming, it's time to act. Here are a few tips:
Get help from your peers
Being a leader can be difficult, especially when managing an underperforming team. If you find yourself in this situation, you must seek help from your peers.
By doing so, you can learn from their experiences and get advice on improving the situation. Additionally, looking outside of your organization for guidance can be beneficial.
Checking in with mentors or other respected leaders can give you a different perspective on the situation and provide helpful insights. It shows that you are willing to learn and grow as a leader and helps improve the situation.
Move forward after getting feedback
No one likes getting feedback, especially when it's negative. It can be hard to take, and it can be tempting to ignore.
But to be a successful leader, you need to know how to take feedback constructively and use it to improve your team.
When you receive feedback, the first thing you need to do is evaluate it objectively. Is there any truth to what the person is saying?
If so, you need not take it to heart but use it to improve your team. Ignoring feedback or getting defensive about it will only make matters worse.
Instead, focus on your strengths and ask your manager for support where necessary. Remind your manager of the positives and why you're the right person to fix the team.
With a positive attitude and a little effort, you can use feedback to help improve your team and move forward in your career.
Think positively and act
It's essential to take stock of the situation and consider what you can control. Ask yourself what you could have done differently and plan to act accordingly in the future.
Forgive yourself for any mistakes you had made and focus on the present moment. What steps can you take now to improve the situation?
Displaced blame only keeps you contained in the past. Instead, take charge of the situation by assuming control of what you can, thinking positively, and acting constructively.
These three steps will empower you to create the positive changes you seek.
Assess your current way of leading
Every leader has their unique style, and that's precisely how it should be. However, the most influential leaders are continually reassessing their methods and looking for ways to improve.
With that in mind, it's essential to periodically take a step back and evaluate your current leadership style.
Are you getting the results you want? If not, what changes do you need to make? It's also important to consider how you hold each team member accountable.
Are you being clear and concise about what is expected of them? Lastly, transparency is crucial, especially in a time of crisis.
Ensure you keep your superiors updated on the situation and its severity. Taking a proactive approach to leadership can ensure that your team is continuously operating at its best.
A collaborative approach to goal setting
Achieving goals is a team effort. As the team leader, it's essential to be clear about your expectations and give feedback along the way.
But it's also crucial to involve your team in setting goals. This will help ensure that everyone is on the same page and buys into the vision of the team. To do this:
Ask each team member to come prepared to discuss their goals in individual status meetings.
As you review their plans, ask yourself how you can best support each team member in achieving them.
Remember that each team member may have different strengths and weaknesses, so you tailor your approach accordingly.
Leaders confident in their ability to lead people will find that they need to be even more hands-on.
Please don't leave anything up to chance; communicate clearly and frequently with each other as a team, especially when the time comes for major decisions or projects that could affect the whole company's success!
Keep the future in mind
Getting wrapped up in the teams' development and how you will help them perform better is easy, but don't forget about yourself.
Of course, you should care about achieving a successful turnaround, but to keep moving forward in your career, co-creating individual goals with your manager can be helpful.
Your renewed focus on your performance can only help the team. Block 30 minutes a week for a standing meeting with your team and your manager, so you can have the space to brainstorm about your goals.
When your team is underperforming, it's frustrating and challenging, especially if you've been coaching and pushing them to meet their goals. But trust that you can handle the responsibility of turning things around.
Examine your leadership style, over-communicate, and keep the future in mind.
How to use the AG5 skills matrix to address Underperformance
If your team is underperforming, the AG5 skills matrix software can be a helpful tool to identify the major causes of problems.
Once you've identified the problem areas of your team, you can develop a plan to address those areas and improve performance.
To create a skills matrix, start by listing the skills required to perform the job.
Then, rate each team member's proficiency in each skill on a scale of 1–5. Once you have a clear picture of where your team's strengths and weaknesses lie, you can develop a plan to address the areas of underperformance.
Is your team struggling in a particular area? There are various options for addressing underperformance.
You can provide training or development opportunities to team members who need to improve their skills in that area.
You can also partially reassign tasks to team members who are more potent in that skill. And in some cases, you may need to hire new team members with the skills your team lacks.
​​Finally, if you're feeling the pressure to keep your team's skills up to date, try our AG5 software solution today—the Dutch Ministry of Defense is already using it!
Regardless of your approach, the goal is to ensure that your team has the skills and abilities necessary to perform at a high level.
Once you've identified the areas of underperformance using the AG5 skills matrix software, you can then develop a plan to address those areas and help your team reach its full potential.
Get your free skills matrix templates and samples.
---
---