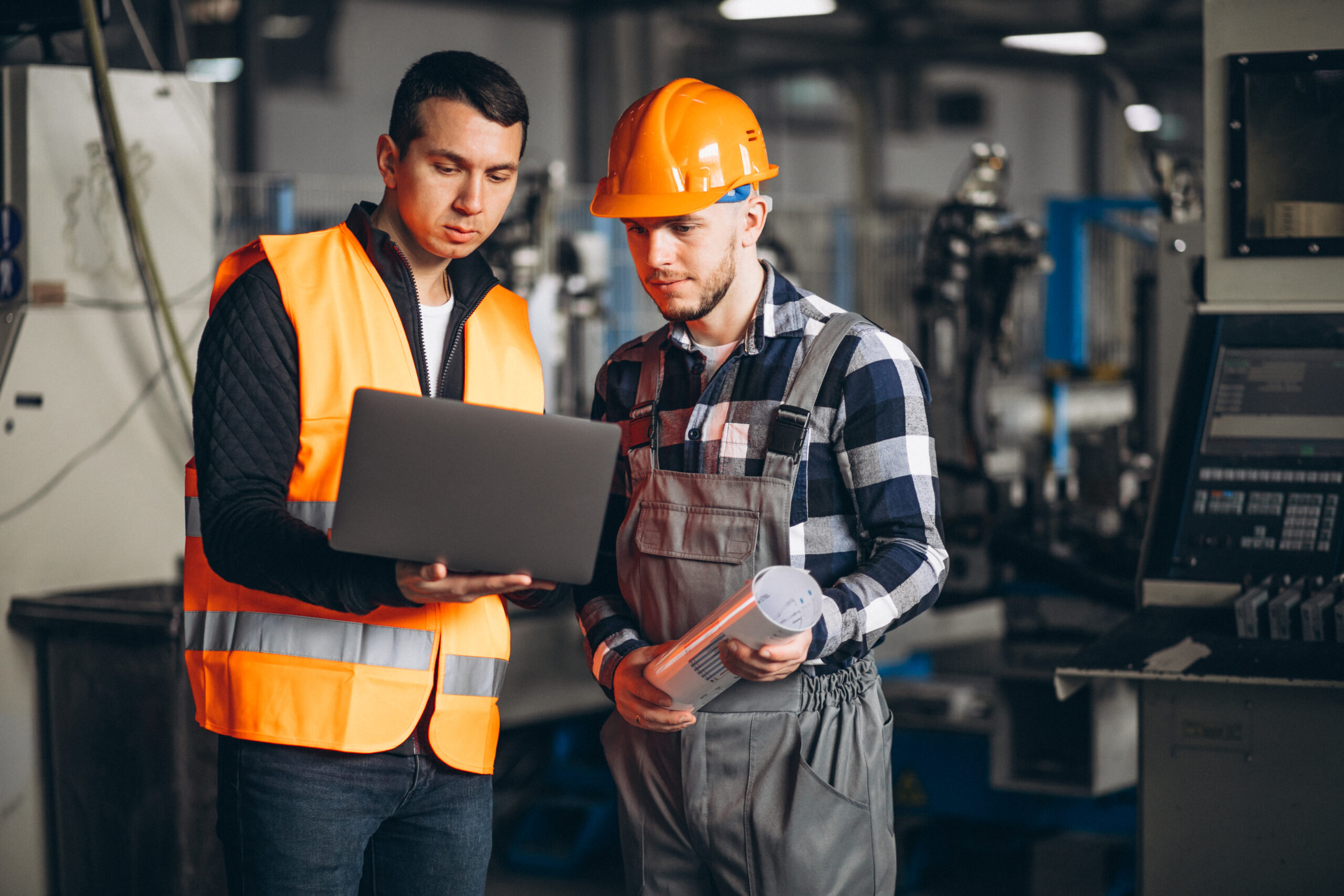 The shift towards a new era of work, in which traditional qualifications are no longer sufficient, has led to a transformation in corporate training and employee development.
Harvard Business Review research reveals that 31% of high-skill and 46% of middle-skill positions now require alternative qualifications to degrees, meaning effective employee skills management software has become increasingly important.
The energy sector in particular is expected to create 10.3 million new job positions by 2030, leading to a focus on training and skills development in organizations such as BP, Shell, and Centrica. 
In this article, we will explore the features of skills management software and why companies must have robust skills management software to manage and track employee training and development.
The importance of upskilling strategy in the workplace 
The issue of qualified-yet-unqualified employees is increasingly pressing for companies.
Gartner predicts that, in the next decade, the need for upskilling will surpass the importance of experience.
Companies must focus on training and retraining employees to improve performance and productivity. Progressive companies are already taking this step by appointing chief learning officers to streamline their learning and development (L&D) functions.
A LinkedIn report found that 72% of organizations have made L&D a strategic function. Reskilling and upskilling, however, is a complex process that requires strategic planning and execution. Therefore, organizations must acquire the tools that provide them with the insights necessary to effectively prepare and train their employees.
According to a Deloitte survey, only 17% of organizations could anticipate the skills employees need to perform sustainably in the next three years. Therefore, organizations are still searching for a sustainable skills-building strategy.
Maximizing the benefits of employee upskilling strategy
The success of a business largely depends on its employees, making it essential to invest in their development and growth. To stay ahead in today's rapidly changing job market, companies must enhance their employees' skills and adjust their talent acquisition strategies.
L&D is crucial in keeping pace with the latest industry trends and best practices. Organizations can improve their reputations and attract top talent by aligning upskilling programs with recruitment. It's also essential to ensure that workforce planning aligns with business goals and objectives to identify the necessary skills for future success. Therefore, investing in skills management software will drive operational productivity and overall business success.
Skills management software helps organizations:
Identify gaps in existing skill sets
Develop customized learning plans for each employee
Provide insights into employees' strengths, weaknesses, and interests
Enabling L&D departments to create targeted training programs based on these factors
Track individual progress over time to ensure that each employee is mastering new skills
Common features of skills management software
Skills management software offers features to manage employee development and training effectively. Here are the standard features that skills management software typically offers:
Employee profile management. The software allows employees to create and manage their profiles, including their skills, experience, and qualifications.
Skills mapping. The software helps managers identify and map their employees' skills, allowing them to assess their strengths and weaknesses.
Skills matrices. This feature visually represents skills data, making it easier to understand and manage skills within the team.
Performance tracking. The software provides a centralized platform to manage employee performance data, including regular performance evaluations and feedback.
Career progression. The software allows employees to set and track their career goals and objectives, and helps managers identify and develop employees ready for advancement.
Reporting and analytics. The software provides a range of reports and analytics to help managers make data-driven decisions, including trends and insights into employee performance and skills.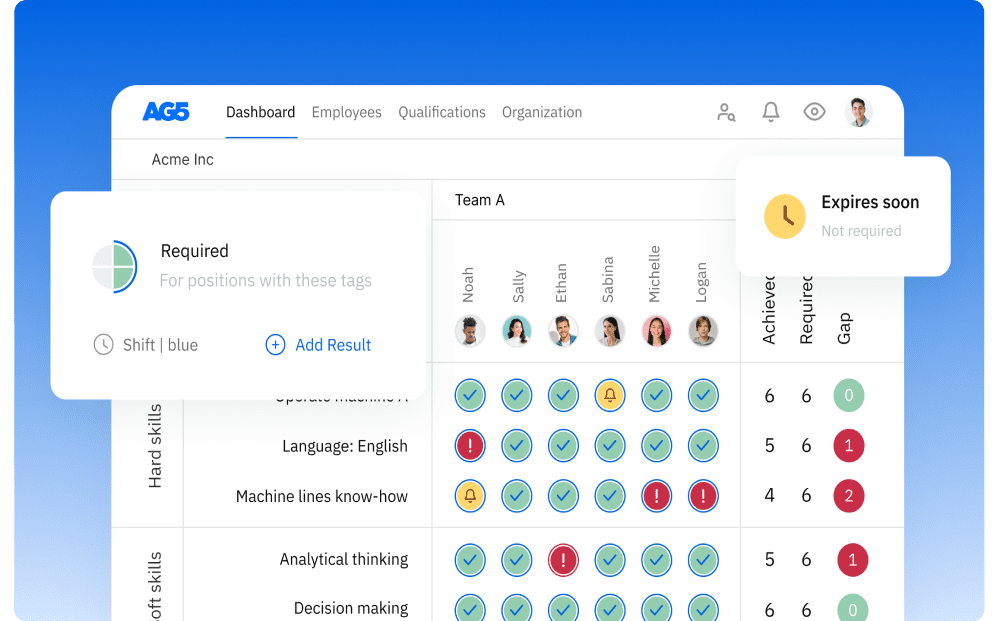 Key features of AG5 skills management software
AG5 is a robust skills management software that helps organizations efficiently manage and monitor their employees' skills, training, and development. In addition to standard features, AG5 provides a vast array of tools to manage employees' skills and competencies. Here are some of its key components:
Alert list (gap analysis list). This feature alerts the user regarding any skill gaps or deficiencies on the team, helping to identify areas of improvement.
Automatic matrix creation. Automatically generates a skills matrix based on the skills data entered into the system.
Expert finder. Finds an expert for a specific skill, making it easier to source the right person for the job.
Global and local skills management. Manage skills globally and locally, giving managers control over their skills data.
Predictive gap analysis and forecasting. This feature uses data analytics to predict skill gaps and forecast future skills requirements, helping the user to plan.
Self-assessment requests. Allows the user to request a self-assessment of their skills, helping to identify areas of improvement.
Skills portfolio. Provides a detailed portfolio of skills, allowing the user to track their skills development and identify areas for improvement.
Team requirements (KPI). This feature provides the ability to set key performance indicators (KPIs) for the team, helping monitor performance and identify areas for improvement.
Mobile compatibility. AG5 skills management software solutions are mobile-compatible, allowing employees to access and update their skills profiles from anywhere, at any time.
Compliance and audit reporting. AG5 software allows the user to generate reports that can be used for compliance and audit purposes, helping ensure regulatory compliance.
AG5's comprehensive solution can be customized to meet any organization's specific needs, making it an ideal choice for businesses looking to streamline their skills management process.
Watch this video that explains exactly what AG5 could do for your organization!
Learn more about skills management software by scheduling your free live demo today!
Ready to master skills management?
Get a personalized walkthrough of AG5 from one of our product experts in just 15 minutes.
---
---