Every year, the World Economic Forum (WEF) publishes its vision for the future of work and skills in its report titled The Future of Jobs Report. It published this year's edition on October 20.
In this article, we'll be looking at a few of the foremost trends:
1. Rate of automation will increase from 33% to 47% within five years
Automation has gained considerable momentum in response to the current pandemic. Fewer people are finding jobs, and machines are taking on more and more of the work. In fact, within five years, machines will be performing almost half of the tasks humans used to perform. Currently, machines only perform a third of all tasks.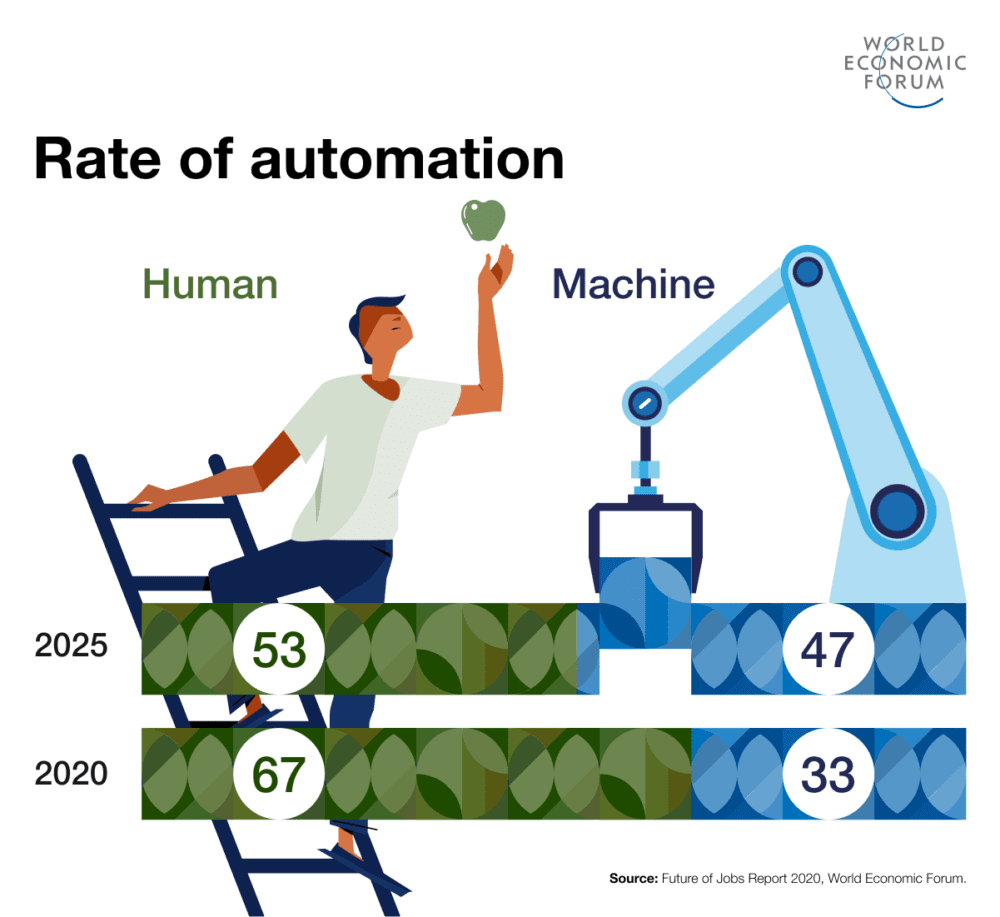 2. New jobs focusing on information technology will emerge
With the rise in automation, new jobs will emerge, focusing on the interaction and division of labor between humans, machines, and algorithms. This will create an estimated 97 million new jobs. Artificial intelligence, data, digital marketing, and information security will become more important than ever before.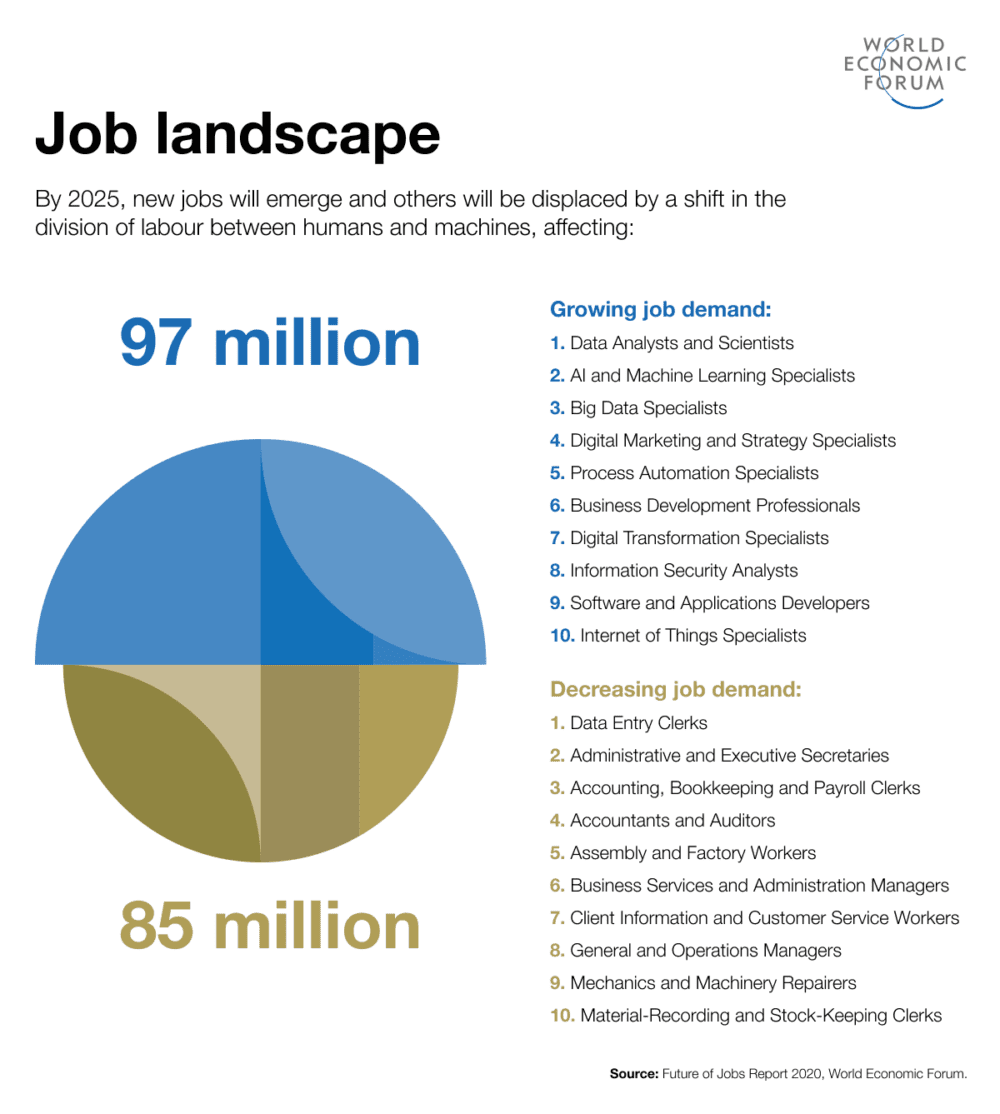 3. More jobs will be displaced than will be created
Despite these newly emerging jobs and greater demand for IT staff, more jobs will ultimately be displaced than will be created.
By shedding superfluous jobs, the total number of jobs will drop by 6.4% over the next five years, while the workforce as a whole will grow by 5.7%. By 2025, an estimated 85 million jobs will be lost worldwide.
4. Reskilling will be a major theme for the next five years
Acquiring new skills or reskilling will be vital to remain relevant on the labor market in the future. An estimated 40% of employees' core skills will change within the next five years. This means that 50% of all employees will have to retrain or acquire new skills.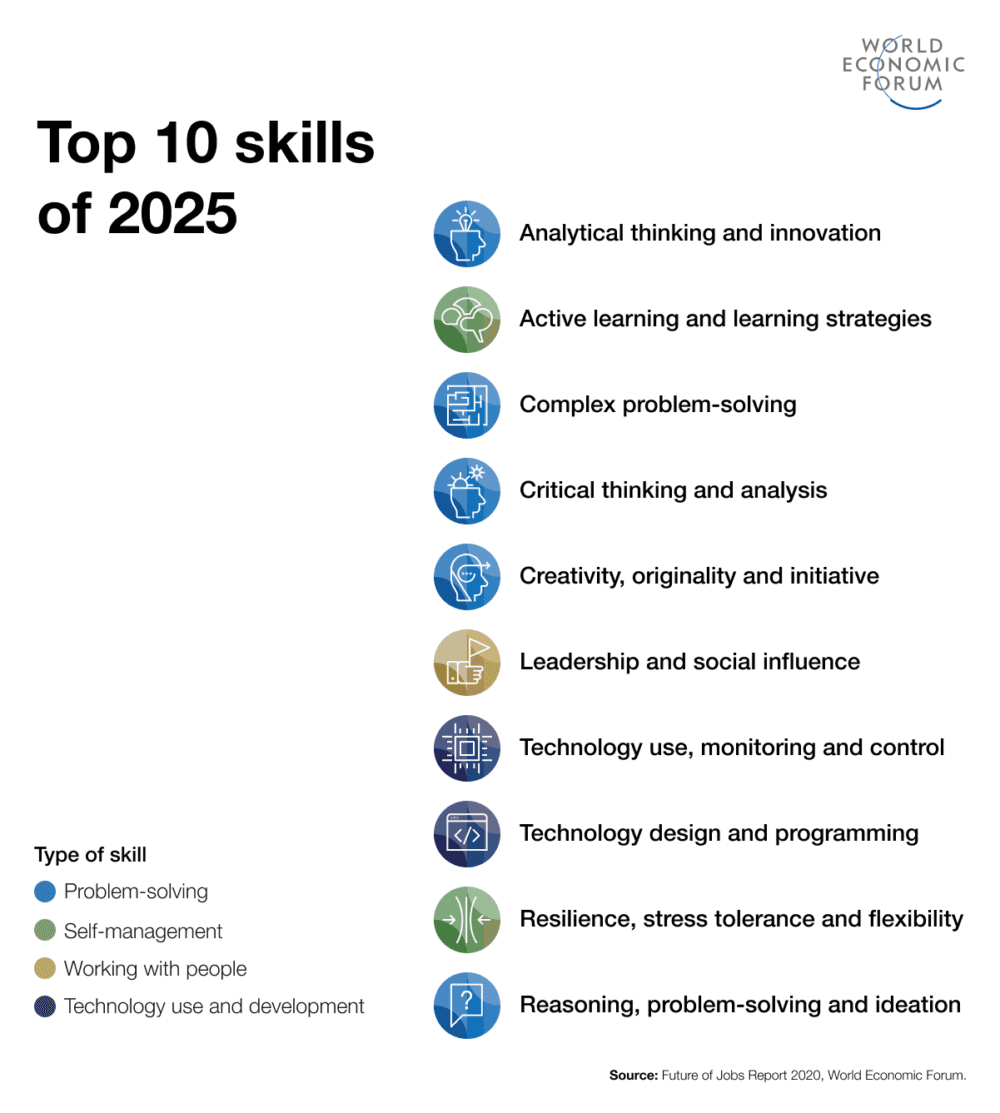 5. Digitalization will accelerate still further
There's no stopping digitalization. And the current pandemic will only serve to accelerate this process still further. Some 84% of employers are planning to speed up the digitalization of their work processes.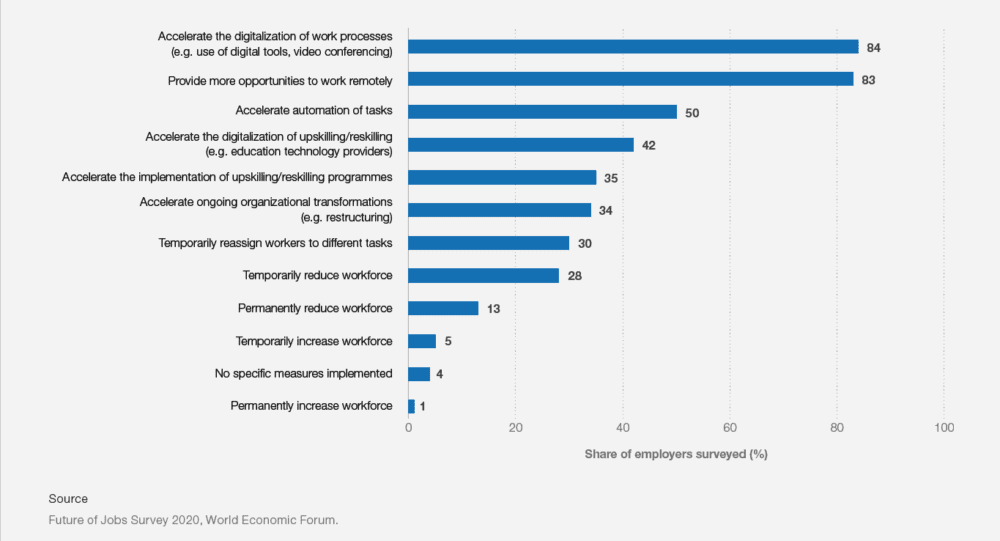 6. Remote working is here to stay
Remote working is a hot topic right now, amid the current pandemic. Even though employers are more or less obliged to have their employees work from home, where feasible, they also foresee that this will be more than a mere temporary measure:
44% of employees will (or will be able to) work from home
78% of employers anticipate a negative impact on productivity and well-being
34% of employers are planning to take measures to counteract this impact
(e.g. using digital tools to boost a sense of community and engagement among their employees)
7. Interest in online training will continue to explode
Online training has become more popular than ever before as a result of the current crisis. Four times as many people are taking the initiative to seek online learning opportunities for themselves, and five times as many employers are providing their employees with these opportunities, too.
Among the employed, interest in personal development has increased in popularity by 88%. However, interest among the unemployed focuses primarily on learning new skills such as data analysis, informatics, and information technology.
8. Inequality will become even greater
Accelerating automation, digitalization, and robotization have – in combination with the current pandemic – hit lower-paid workers, women, and the younger generation harder than other demographics. This is resulting in an even greater economic disparity in the labor market. And the current crisis appears to be having an even greater impact on low-paid workers than the financial crisis of 2008.
9. Work as we knew is ending. The remote, freelance revolution has begun
The world is experiencing a profound and permanent shift in the nature of work—one that will determine which companies gain a competitive advantage for years to come.
Mapping skills
Reskilling and digitalization will be becoming more important than ever before in the years to come. AG5 helps organizations like yours gain clearer insights into their employees' skills with its specially developed skills management software.
Find out for yourself how AG5's skills management software works or schedule a demo.
---
---