Total quality management (TQM) skills matrix template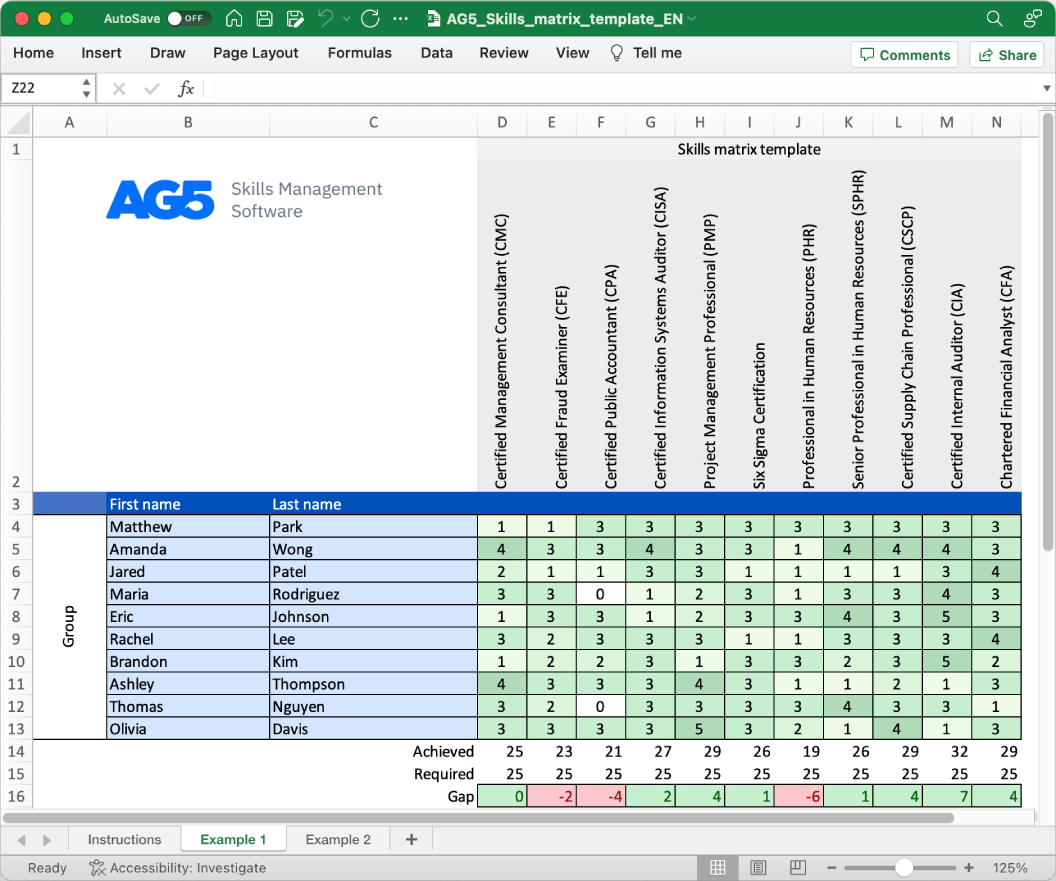 Download your free template here
Overview
With our free TQM skills matrix template, you will receive a clear overview of the skills that are present in your organization, as well as those that are missing. Using this information, you can develop and implement a plan to ensure that your employees' skills are up to date, comprehensive, compliant, and ready for the future.
Certified TQM Practitioner
Certified TQM Specialist
Certified TQM Auditor
Certified TQM Consultant
Certified TQM Coach
Certified TQM Project Manager
Certified TQM Trainer
Certified TQM Quality Engineer
Certified TQM Process Improvement Professional
Certified TQM Leadership Specialist
Certified TQM Change Management Practitioner
Certified TQM Six Sigma Green Belt
Certified TQM Lean Practitioner
Certified TQM Customer Service Excellence Professional
Certified TQM Supply Chain Management Specialist
Certified TQM Quality Assurance Manager
Certified TQM Organizational Excellence Practitioner
Certified TQM Business Performance Analyst
Certified TQM Continuous Improvement Champion
Certified TQM Facilitator
Related skills
Quality Management Principles: Understanding and applying the principles of Total Quality Management, including customer focus, continuous improvement, employee involvement, process approach, and data-driven decision-making. Certifications such as the ASQ's Certified Manager of Quality/Organizational Excellence (CMQ/OE) or the International Register of Certificated Auditors (IRCA) Certified Quality Management Systems Lead Auditor demonstrate knowledge of TQM principles.
Quality Planning and Control: Skills in developing quality plans, defining quality objectives, implementing quality control measures, and ensuring compliance with quality standards and requirements. Certifications such as the ASQ's Certified Quality Engineer (CQE) or the IRCA Certified Internal Quality Auditor validate expertise in quality planning and control for TQM.
Customer Satisfaction Measurement: Competence in designing and implementing customer satisfaction measurement systems, analyzing customer feedback, and driving customer-centric improvements. Certifications such as the ASQ's Certified Quality Improvement Associate (CQIA) or the Customer Relationship Management (CRM) certification demonstrate proficiency in measuring and improving customer satisfaction.
Quality Tools and Techniques: Proficiency in using a variety of quality tools and techniques, such as process mapping, cause-and-effect diagrams, quality function deployment (QFD), failure mode and effects analysis (FMEA), and statistical process control (SPC). Certifications like the ASQ's Certified Quality Technician (CQT) or the IRCA Certified Quality Management Systems Auditor validate knowledge of quality tools and techniques for TQM.
Leadership and Change Management: Ability to lead and manage quality initiatives, drive cultural change, and effectively communicate and engage employees in TQM practices. Certifications such as the ASQ's Certified Manager of Quality/Organizational Excellence (CMQ/OE) or the Project Management Professional (PMP) validate leadership and change management skills for TQM implementation.
Benefits
Total Quality Management (TQM) benefits from skills management software as it allows organizations to identify individuals with expertise in quality management systems, process improvement methodologies, customer satisfaction measurement, and quality auditing. It ensures that personnel with TQM certifications or experience in implementing TQM principles are engaged in driving continuous improvement and meeting quality objectives.
Ready to master skills management?
Get a personalized walkthrough of AG5 from one of our product experts in just 15 minutes.
ISO27001 certified Free trial available