Space industry skills matrix template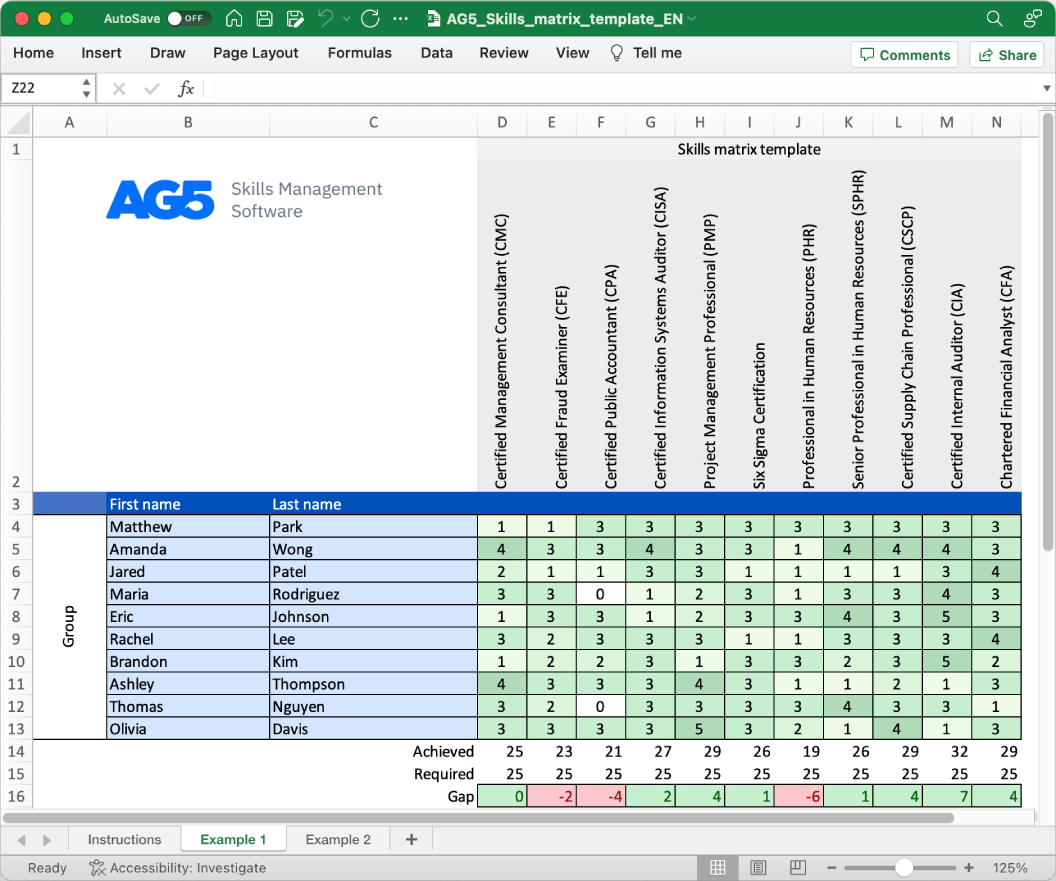 Download your free template here
Overview
With our free space industry skills matrix template, you will receive a clear overview of the skills that are present in your organization, as well as those that are missing. Using this information, you can develop and implement a plan to ensure that your employees' skills are up to date, comprehensive, compliant, and ready for the future.
Certified Systems Engineering Professional (CSEP)
Certified Space Technician (CST)
Aerospace Manufacturing Certification (AMC)
Certified Quality Technician (CQT)
Aerospace Engineering Certification (AEC)
Space Systems Certification (SSC)
Certified Aerospace Technician (CAT)
Certified Space Operations Executive (CSOE)
Certified Mission Assurance Professional (CMAP)
Spacecraft Operations Certification (SOC)
Certified Satellite Communications Professional (CSCP)
Certified Launch Vehicle Systems Engineer (CLVSE)
Certified Ground Systems Engineer (CGSE)
Certified Orbital Analyst (COA)
Certified Systems Safety Engineer (CSSE)
Certified Systems Security Engineering Professional (CSSEP)
Certified Space Radiation Effects Engineer (CSREE)
Certified Space Environmental Effects Engineer (CSEEE)
Certified Human Spaceflight Professional (CHSP)
Certified Spacecraft Structures Engineer (CSSE)
Related skills
Aerospace engineering: This involves designing and developing spacecraft, rockets, and other aerospace systems. Certifications that prove aerospace engineering skills include the Professional Engineer (PE) license from the National Council of Examiners for Engineering and Surveying (NCEES) and the American Institute of Aeronautics and Astronautics (AIAA) Aerospace Certificate.
Satellite and communication technology: This involves developing and maintaining satellite and communication systems for use in space. Certifications that prove satellite and communication technology skills include the Certified Satellite Communications Professional (CSCP) from the Society of Satellite Professionals International (SSPI) and the Certified Wireless Network Administrator (CWNA) from the Certified Wireless Network Professional (CWNP).
Data science and analytics: This involves analyzing data collected from space missions to gain insights and inform decision-making. Certifications that prove data science and analytics skills include the Certified Analytics Professional (CAP) from INFORMS and the Google Data Analytics Professional Certificate.
Planetary science and exploration: This involves studying planets, moons, and other celestial bodies to better understand the universe. Certifications that prove planetary science and exploration skills include the NASA Planetary Science Summer School and the Lunar and Planetary Science Academy.
Project management: This involves overseeing the planning, execution, and monitoring of space missions. Certifications that prove project management skills include the Project Management Professional (PMP) from the Project Management Institute (PMI) and the Certified Associate in Project Management (CAPM) from PMI.
Benefits
Skills management software helps to ensure employees in the space industry have the necessary technical and scientific skills to work on complex space systems and projects. With this software, space companies can track employee certifications, training, and development, ensuring that their teams have the knowledge and expertise required to succeed in this highly specialized field.
Use AG5 to identify skill gaps
Say goodbye to Excel matrices. Start using AG5's plug and play skill matrix software.
ISO27001 certified Free trial available