Failure investigation skills matrix template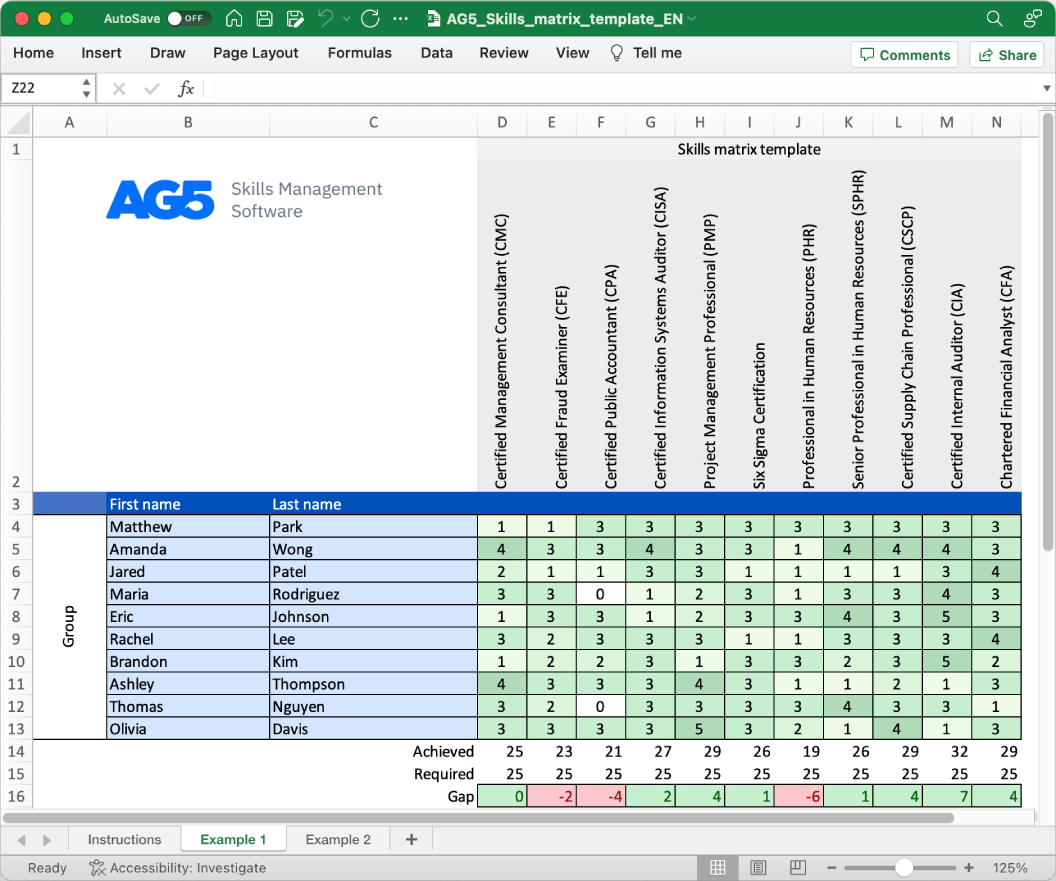 Download your free template here
Overview
With our free failure investigation skills matrix template, you will receive a clear overview of the skills that are present in your organization, as well as those that are missing. Using this information, you can develop and implement a plan to ensure that your employees' skills are up to date, comprehensive, compliant, and ready for the future.
Certified Quality Auditor (CQA)
Certified Quality Manager (CQM)
Certified Quality Engineer (CQE)
Certified Reliability Engineer (CRE)
Certified Root Cause Analyst (CRCA)
Certified Root Cause Investigator (CRCI)
Certified Failure Modes and Effects Analyst (CFMEA)
Certified Corrective Action Professional (CCAP)
Certified Problem Solving Professional (CPSP)
Certified Quality Technician (CQT)
Certified Failure Analyst (CFA)
Certified Failure Investigation Analyst (CFIA)
Certified Failure Investigation Specialist (CFIS)
Certified Reliability Leader (CRL)
Certified Reliability Specialist (CRS)
Certified Reliability Technician (CRT)
Certified Reliability Analyst (CRA)
Certified Failure Modes and Effects Analyst (CFMEA)
Certified Root Cause Analyst (CRCA)
Certified Problem Solving Professional (CPSP)
Related skills
Root Cause Analysis (RCA) Skills: Proficiency in conducting RCA allows investigators to identify the underlying factors leading to failures systematically. Certifications such as the ASQ Certified Reliability Engineer (CRE) demonstrate expertise in analyzing and eliminating sources of product and system failures.
Forensic Engineering Abilities: Expertise in forensic engineering helps in preserving evidence, conducting tests, and employing scientific methods to determine the cause of failures, especially in accidents or complex systems. Certifications like the National Academy of Forensic Engineers (NAFE) Board Certification recognize engineers with advanced expertise in forensic engineering.
Material Science and Testing Knowledge: Understanding the behavior of materials and performing relevant tests are essential skills for investigating failures related to material defects or weaknesses. Certifications such as ASM International Certified Materials & Process Engineer (CM&PE) validate knowledge and skills in materials engineering and testing.
Data Analysis and Statistical Competence: Skill in data analysis and statistical methods aids investigators in interpreting data, spotting patterns, and drawing meaningful conclusions during failure investigation. Certifications like the ASQ Certified Quality Engineer (CQE) encompass statistical analysis and data interpretation components.
Effective Communication and Report Writing: The ability to communicate investigation findings and recommendations clearly and concisely through comprehensive reports ensures that stakeholders understand the root causes and proposed corrective actions. Certifications such as the IEEE Certified Professional Software Engineering Master (CPSEM) include modules on communication skills and reporting in the context of software engineering, which can be relevant to other fields as well.
Benefits
Skills management software is important in failure investigation, as it ensures the right experts with relevant skills are assigned to investigate and resolve failures promptly, leading to improved problem-solving and product reliability.