Calibration verification skills matrix template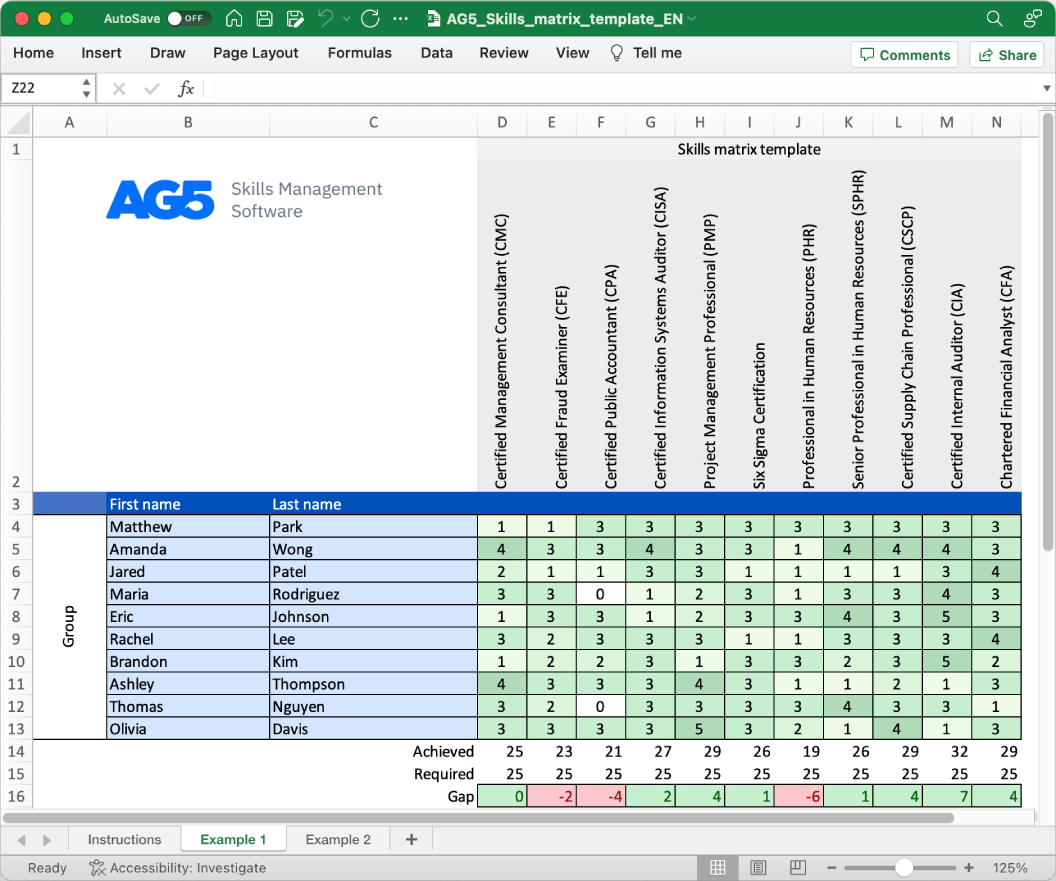 Download your free template here
Overview
With our free calibration verification skills matrix template, you will receive a clear overview of the skills that are present in your organization, as well as those that are missing. Using this information, you can develop and implement a plan to ensure that your employees' skills are up to date, comprehensive, compliant, and ready for the future.
Certified Calibration Technician (CCT)
Calibration Verification Specialist (CVS)
Certified Metrology Analyst (CMA)
Calibration Data Analysis Certification
Certified Calibration Auditor (CCA)
Metrology Measurement Uncertainty Expert
Certified Calibration Manager (CCM)
Calibration Verification Process Auditor (CVPA)
Certified Calibration Engineer (CCE)
Metrology Calibration Report Writer
Certified Metrology Laboratory Assessor (CMLA)
Calibration Traceability and Standards Certification
Certified Calibration Coordinator (CCC)
Metrology Calibration Equipment Specialist
Certified Metrology Software Analyst (CMSA)
Calibration Verification Documentation Specialist
Certified Metrology Systems Integrator (CMSI)
Metrology Calibration Asset Management Practitioner
Certified Metrology Technician (CMT)
Metrology Calibration Procedure Development Expert
Related skills
Measurement Techniques: Demonstrated knowledge of measurement techniques can be validated through the Certified Measurement Technician (CMT) certification.
Calibration Procedure Execution: Proficiency in executing calibration procedures accurately can be showcased through the Certified Calibration Specialist (CCS) designation.
Instrument Calibration Analysis: The ability to analyze instrument calibration data can be evidenced by the Certified Instrument Calibration Analyst (CICA) certification.
Calibration Traceability: Skill in ensuring calibration traceability can be proven through the Certified Calibration Traceability Expert (CCTE) certification.
Calibration Equipment Maintenance: Expertise in maintaining calibration equipment can be certified by the Certified Calibration Equipment Maintenance Specialist (CCEMS) designation.
Benefits
Skills management software aids in selecting competent professionals for calibration verification, maintaining precision and accuracy in measurements.
Ready to master skills management?
Get a personalized walkthrough of AG5 from one of our product experts in just 15 minutes.
ISO27001 certified Free trial available