Risk register maintenance skills matrix template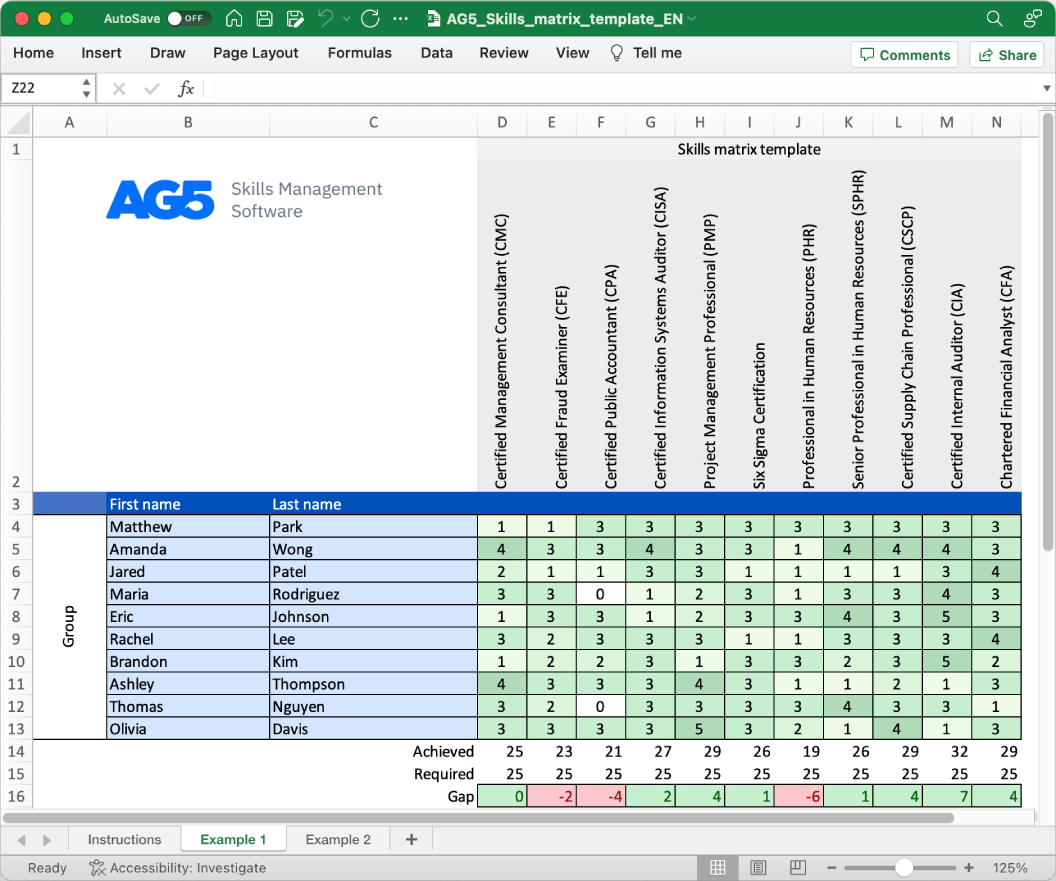 Download your free template here
Overview
With our free risk register maintenance skills matrix template, you will receive a clear overview of the skills that are present in your organization, as well as those that are missing. Using this information, you can develop and implement a plan to ensure that your employees' skills are up to date, comprehensive, compliant, and ready for the future.
Certified Risk Management Professional (CRMP)
Certified Risk Analyst (CRA)
Certified Risk Manager (CRM)
Certified Risk Specialist (CRS)
Certified Risk Consultant (CRC)
Certified Risk Assessment Analyst (CRAA)
Certified Risk Assessment Specialist (CRAS)
Certified Risk Assessment Manager (CRAM)
Certified Risk Assessment Consultant (CRAC)
Certified Risk Evaluation Analyst (CREA)
Certified Risk Evaluation Specialist (CRES)
Certified Risk Evaluation Manager (CREM)
Certified Risk Evaluation Consultant (CREC)
Certified Risk Mitigation Analyst (CRMA)
Certified Risk Mitigation Specialist (CRMS)
Certified Risk Mitigation Manager (CRMM)
Certified Risk Mitigation Consultant (CRMC)
Certified Risk Control Analyst (CRCA)
Certified Risk Control Specialist (CRCS)
Certified Risk Control Manager (CRCM)
Related skills
Risk Identification and Assessment: Proficiently identifying and evaluating risks associated with vendor relationships and activities, certified by the Certified Risk Identification and Assessment Specialist (CRIAS) certification.
Risk Mitigation Planning: Demonstrating expertise in developing effective risk mitigation plans to minimize potential impacts, certified as a Certified Risk Mitigation Planner (CRMP).
Vendor Performance Monitoring: Skillfully monitoring and tracking vendor performance metrics to detect emerging risks, accredited with the Certified Vendor Performance Monitor (CVPM) certification.
Regulatory Compliance Management: Ensuring vendor activities align with relevant laws and regulations, validated through the Certified Regulatory Compliance Manager (CRCM) certification.
Risk Register Maintenance and Updating: Managing and regularly updating the risk register with accurate and relevant risk information, supported by the Certified Risk Register Manager (CRRM) certification.
Benefits
Skills management software is important in risk register maintenance, as it assists in identifying and aligning personnel with the necessary skills to manage potential risks efficiently.
Ready to master skills management?
Get a personalized walkthrough of AG5 from one of our product experts in just 15 minutes.
ISO27001 certified Free trial available