Personal protective equipment (PPE) skills matrix template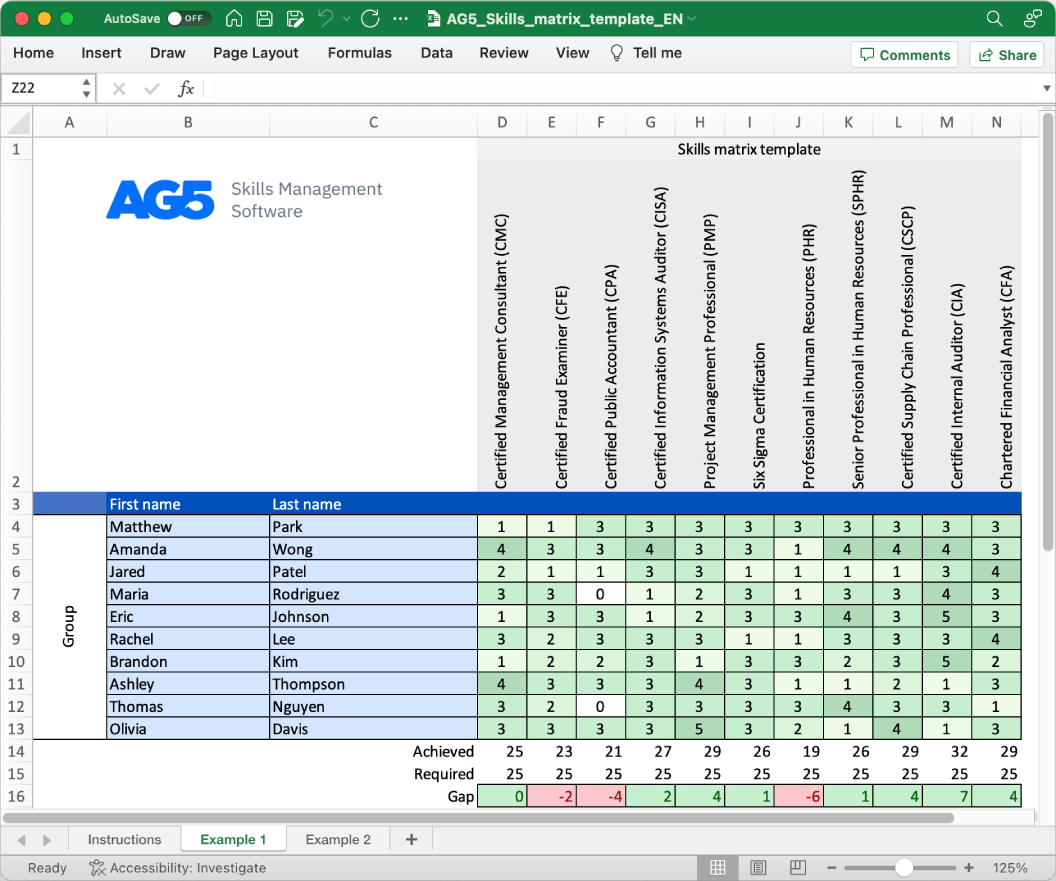 Download your free template here
Overview
With our free PPE skills matrix template, you will gain a comprehensive overview of the skills present within your organization and identify any skill gaps that may exist. By utilizing this information, you can develop and implement a strategic plan to ensure that your employees' skills in personal protective equipment (PPE) are up to date, comprehensive, compliant, and ready for the future.
Certified Personal Protective Equipment Specialist
Certified PPE Inspector
Certified PPE Trainer
Certified PPE Selection Specialist
Certified PPE Program Manager
Certified PPE Compliance Officer
Certified PPE Risk Assessor
Certified PPE Supplier
Certified PPE Quality Control Analyst
Certified PPE Fit Testing Specialist
Certified PPE Standards and Regulations Expert
Certified PPE Hazard Assessment Specialist
Certified PPE Ergonomics Specialist
Certified PPE User Trainer
Certified PPE Maintenance Technician
Certified PPE Emergency Responder
Certified PPE Equipment Inspector
Certified PPE Distributor
Certified PPE Inventory Manager
Certified PPE Research and Development Specialist
Related skills
PPE Selection and Fit: Proficiency in selecting the appropriate type of personal protective equipment (PPE) based on hazard assessment and ensuring proper fit for maximum effectiveness. Certifications such as the Certified PPE Specialist (CPS) validate expertise in PPE selection and fit.
PPE Use and Maintenance: Skills in using PPE correctly and following maintenance procedures to ensure its functionality and longevity. Certifications like the Certified PPE User (CPU) demonstrate competence in proper PPE use and maintenance.
PPE Inspection and Testing: Knowledge of inspecting and testing PPE to ensure it meets safety standards and is in good working condition. Certifications such as the Certified PPE Inspector (CPI) validate proficiency in PPE inspection and testing techniques.
PPE Compliance and Regulations: Understanding of relevant regulations and standards governing the use of PPE, such as OSHA regulations and ANSI/ISEA standards. Certifications like the Certified PPE Compliance Professional (CPCP) demonstrate knowledge of PPE compliance and regulatory requirements.
PPE Training and Awareness: Ability to provide training and raise awareness among workers regarding the importance of PPE, its proper use, limitations, and potential hazards. Certifications like the Certified PPE Trainer (CPT) validate competency in delivering effective PPE training programs.
Benefits
Skills management software is important for managing the skills and qualifications related to the proper use, selection, and maintenance of personal protective equipment. It ensures that personnel with expertise in PPE requirements, fit testing, and safety protocols are appropriately assigned. This promotes a safe work environment, mitigates risks of injuries or exposures, and ensures compliance with occupational health and safety regulations.