Quality culture skills matrix template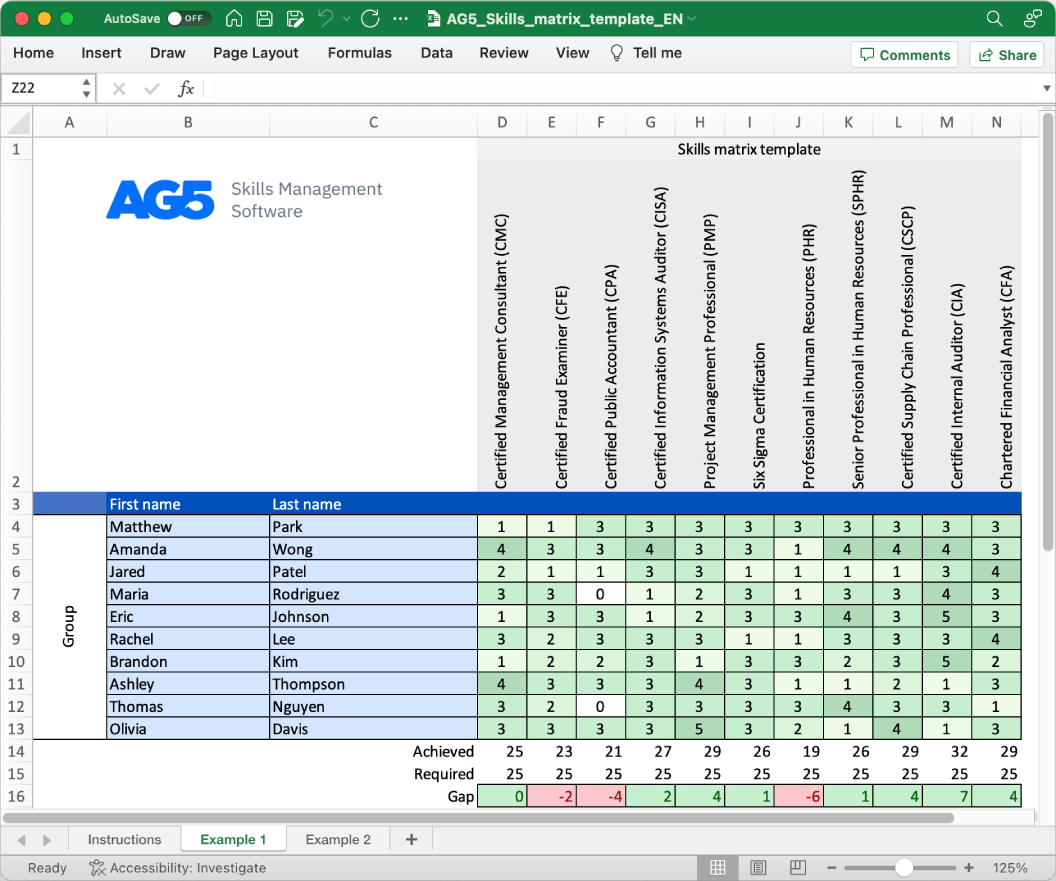 Download your free template here
Overview
With our free quality control skills matrix template, you will receive a clear overview of the skills that are present in your organization, as well as those that are missing. Using this information, you can develop and implement a plan to ensure that your employees' skills are up to date, comprehensive, compliant, and ready for the future.
Certified Quality Engineer (CQE)
Certified Quality Auditor (CQA)
Certified Quality Improvement Associate (CQIA)
Certified Quality Improvement Professional (CQIP)
Certified Quality Technician (CQT)
Certified Manager of Quality/Organizational Excellence (CMQ/OE)
Certified Six Sigma Black Belt (CSSBB)
Certified Lean Six Sigma Green Belt (CLSSGB)
Certified Lean Six Sigma Yellow Belt (CLSSYB)
Certified Quality Process Analyst (CQPA)
Certified Quality Manager (CQM)
Certified Quality Inspector (CQI)
Certified Quality Improvement Specialist (CQIS)
Certified Quality Control Technician (CQCT)
Certified Quality Systems Manager (CQSM)
Certified Quality Improvement Facilitator (CQIF)
Certified Quality Planning and Analysis Professional (CQPAP)
Certified Quality Assurance Analyst (CQAA)
Certified Quality Management Consultant (CQMC)
Certified Quality Management System Auditor (CQMSA)
Related skills
Quality Mindset: The skill of fostering a quality mindset throughout an organization, promoting a culture of continuous improvement, and driving quality-oriented behaviors. Certifications such as the Certified Manager of Quality/Organizational Excellence (CMQ/OE) offered by ASQ demonstrate understanding of quality management principles, leadership strategies, and organizational culture development.
Quality Leadership: Proficiency in providing effective leadership to establish and sustain a quality culture within a regulated industry. Certifications such as the Certified Quality Manager (CQM) offered by ASQ validate competence in quality leadership, strategic planning, and change management.
Employee Engagement: Ability to engage employees at all levels in embracing quality principles and actively contributing to quality initiatives. Certifications such as the Certified Employee Engagement Facilitator (CEEF) offered by the Employee Engagement Institute demonstrate expertise in employee engagement strategies, communication techniques, and fostering a quality culture.
Quality Metrics and Performance Measurement: Skill in defining and implementing quality metrics and performance measurement systems to assess the effectiveness of a quality culture. While there is no specific certification solely focused on quality metrics, certifications such as the Certified Performance Measurement Professional (CPMP) offered by the International Society for Performance Improvement (ISPI) demonstrate proficiency in performance measurement techniques, data analysis, and performance improvement methodologies.
Continuous Improvement and Kaizen: Competency in driving continuous improvement efforts and implementing Kaizen principles to foster a culture of ongoing quality enhancement. Certifications such as the Certified Kaizen Facilitator (CKF) offered by the Kaizen Institute validate expertise in Kaizen methodologies, problem-solving techniques, and facilitating continuous improvement initiatives.
Benefits
Skills management software is important in fostering a quality culture as it allows organizations to assess and manage the skills of employees at all levels, ensuring they possess the necessary knowledge and competencies to support a culture of quality, continuous improvement, and adherence to regulatory requirements.
Ready to master skills management?
Get a personalized walkthrough of AG5 from one of our product experts in just 15 minutes.
ISO27001 certified Free trial available