Process deviation handling skills matrix template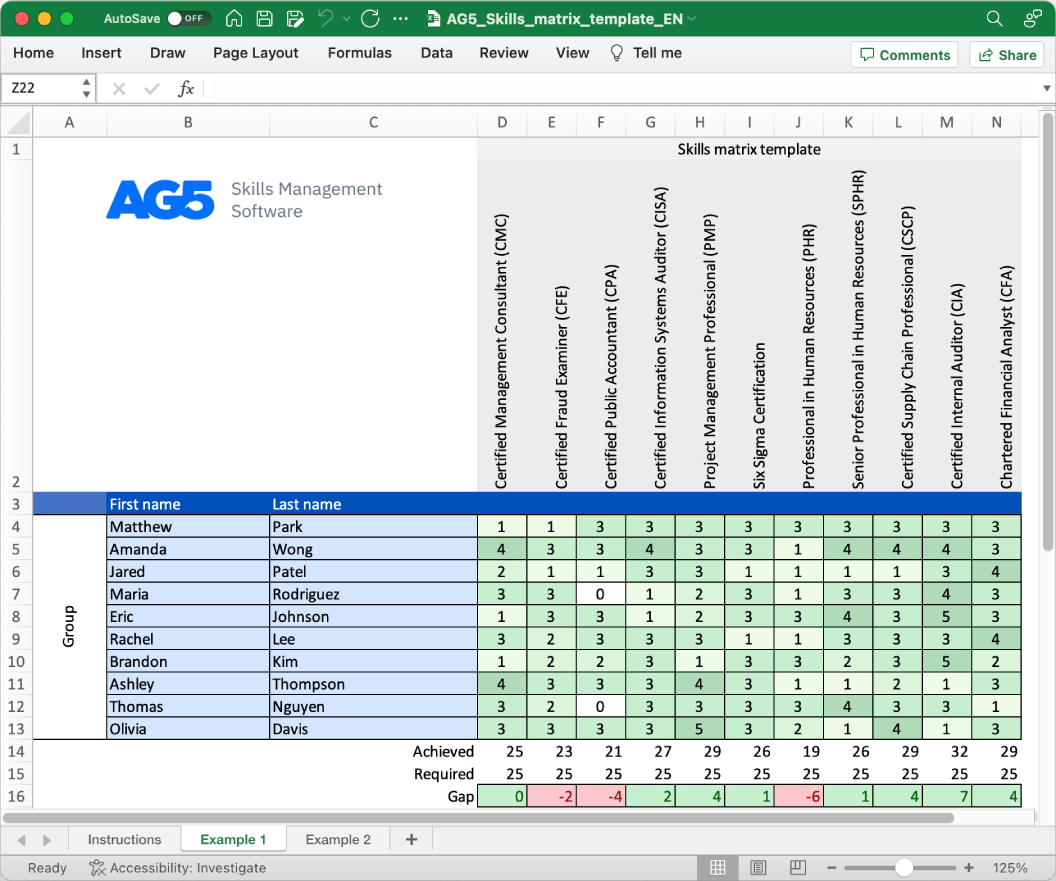 Download your free template here
Overview
With our free process deviation handling skills matrix template, you will receive a clear overview of the skills that are present in your organization, as well as those that are missing. Using this information, you can develop and implement a plan to ensure that your employees' skills are up to date, comprehensive, compliant, and ready for the future.
Certified Deviation Handling Professional (CDHP)
Certified Process Deviation Investigator (CPDI)
Certified Deviation Management Specialist (CDMS)
Certified Deviation Analyst (CDA)
Certified Process Deviation Coordinator (CPDC)
Certified Deviation Investigation Expert (CDIE)
Certified Process Deviation Auditor (CPDA)
Certified Deviation Reporting Specialist (CDRS)
Certified Deviation Control Officer (CDCO)
Certified Process Deviation Consultant (CPDC)
Certified Deviation Response Coordinator (CDRC)
Certified Process Deviation Resolution Expert (CPDRE)
Certified Deviation Reviewer (CDR)
Certified Process Deviation Coordinator (CPDC)
Certified Deviation Management Practitioner (CDMP)
Certified Process Deviation Analyst (CPDA)
Certified Deviation Root Cause Investigator (CDRCI)
Certified Process Deviation Specialist (CPDS)
Certified Deviation Handling Team Leader (CDHTL)
Certified Process Deviation Compliance Officer (CPDCO)
Related skills
Deviation Identification and Investigation: This skill involves identifying and investigating deviations from standard operating procedures (SOPs) during manufacturing processes. Proficiency in deviation identification and investigation can be demonstrated through the Certified Quality Auditor (CQA) certification from the American Society for Quality (ASQ), which validates expertise in auditing quality management systems, including deviation management.
Root Cause Analysis: Proficiency in conducting thorough root cause analysis to determine the underlying reasons for process deviations. Achieving the Certified Manager of Quality/Organizational Excellence (CMQ/OE) certification from the ASQ validates expertise in quality management, including root cause analysis techniques.
Corrective and Preventive Actions (CAPA): The ability to develop and implement CAPA plans to address process deviations and prevent recurrence. The Certified Corrective Action Professional (CCAP) certification, provided by the International Society of Six Sigma Professionals (ISSSP), validates expertise in corrective action methodologies and problem-solving techniques.
Change Control: Proficiency in managing change control processes to ensure that process deviations are appropriately documented, evaluated, and addressed. Demonstrating expertise in change control can be highlighted by obtaining the Certified Pharmaceutical GMP Professional (CPGP) certification from ISPE, which includes knowledge of change control principles and practices.
Documentation and Reporting: The skill to accurately document and report process deviations, investigations, and corrective actions. The Certified Quality Technician (CQT) certification from ASQ validates expertise in quality control techniques, including documentation and reporting of process-related activities.
Benefits
Skills management software is important in process deviation handling to match skilled individuals with deviation identification, investigation, root cause analysis, corrective and preventive action (CAPA) management, and compliance auditing, improving deviation handling and regulatory compliance.
Ready to master skills management?
Get a personalized walkthrough of AG5 from one of our product experts in just 15 minutes.
ISO27001 certified Free trial available