Problem-solving techniques skills matrix template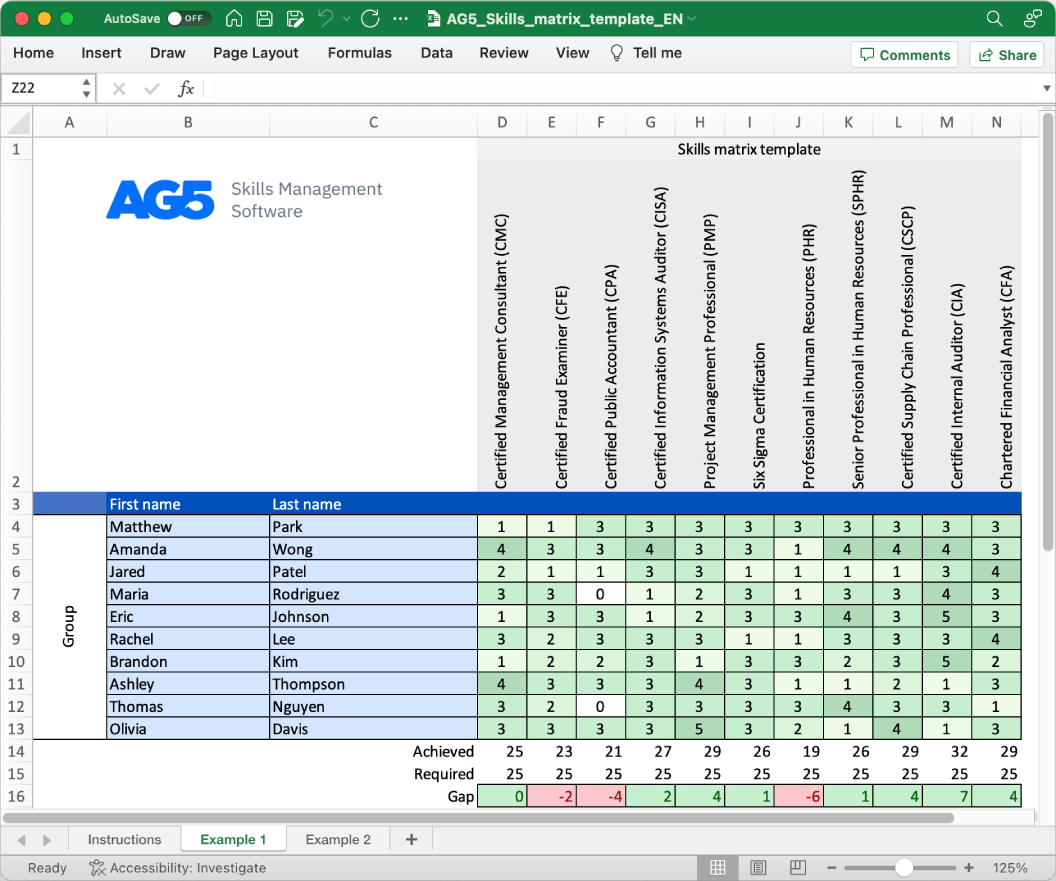 Download your free template here
Overview
With our free problem-solving techniques skills matrix template, you will receive a clear overview of the skills that are present in your organization, as well as those that are missing. Using this information, you can develop and implement a plan to ensure that your employees' skills are up to date, comprehensive, compliant, and ready for the future.
Certified Problem Solving Professional (CPSP)
Certified Lean Six Sigma Black Belt (CLSSBB)
Certified Root Cause Analyst (CRCA)
Certified Problem Analyst (CPA)
Certified Quality Problem Solver (CQPS)
Certified Analytical Problem Solver (CAPS)
Certified Process Improvement Specialist (CPIS)
Certified Creative Problem Solver (CCPS)
Certified Problem Management Professional (CPMP)
Certified Structured Problem Solving Practitioner (CSPSP)
Certified Innovation Facilitator (CIF)
Certified Problem Solving Coach (CPSC)
Certified Continuous Improvement Practitioner (CCIP)
Certified Systematic Problem Solver (CSPS)
Certified Problem Solving Strategist (CPSS)
Certified Process Improvement Leader (CPIL)
Certified Lean Problem Solver (CLPS)
Certified Problem Resolution Specialist (CPRS)
Certified Quality Improvement Facilitator (CQIF)
Certified Creative Thinking Specialist (CCTS)
Related skills
Root Cause Analysis: Proficiently identifying underlying causes of issues to prevent recurrence, a skill recognized by the Certified Root Cause Analyst (CRCA) certification.
Critical Thinking: Applying analytical and logical thinking to evaluate complex problems and devise effective solutions, a competency highlighted by the Certified Critical Thinking Specialist (CCTS) certification.
Creative Problem Solving: Skillfully employing creative techniques to generate innovative solutions for challenging problems, an ability demonstrated through the Certified Creative Problem Solver (CCPS) certification.
Structured Problem Solving: Expertly using structured methodologies to break down and solve complex problems systematically, a proficiency confirmed by the Certified Structured Problem Solver (CSPS) certification.
Collaborative Problem Solving: Excelling in collaborative problem-solving approaches that leverage diverse perspectives and expertise, qualities endorsed by the Certified Collaborative Problem Solver (CCPS) certification.
Benefits
Skills management software hones analytical and creative thinking, empowering innovative problem-solving and efficient decision-making.