Process risk assessment skills matrix template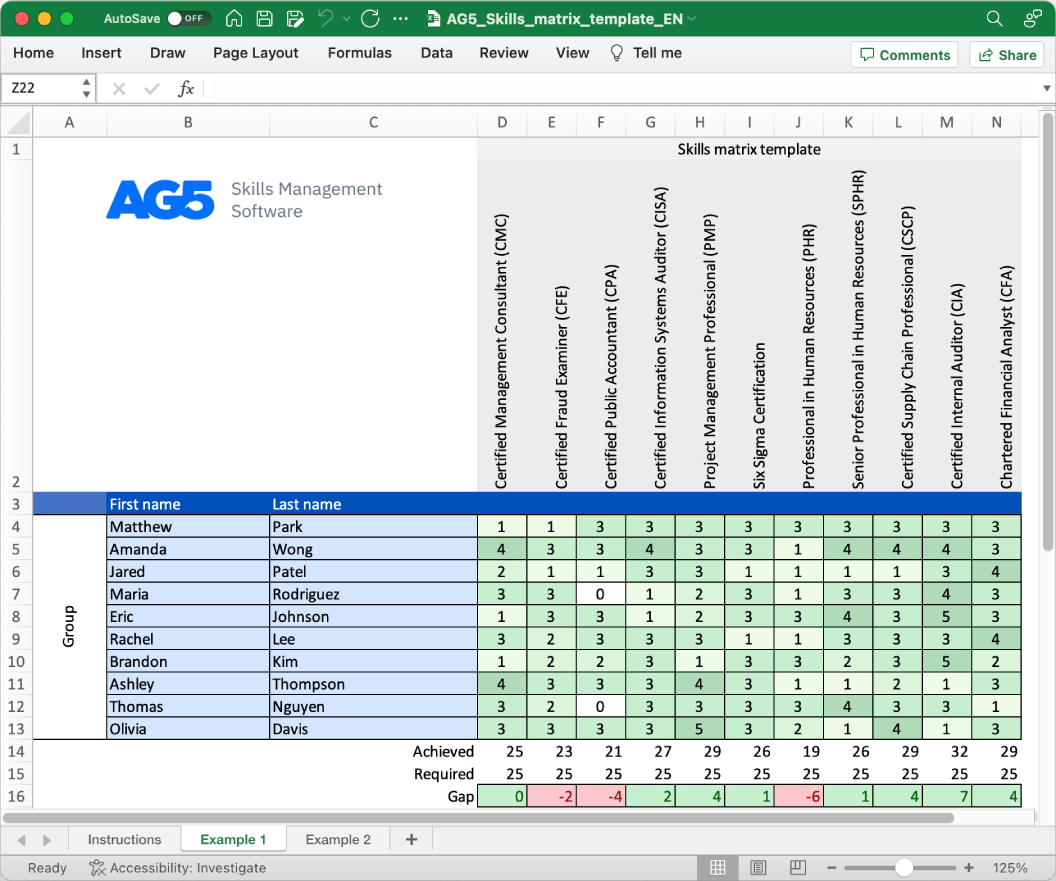 Download your free template here
Overview
With our free process risk assessment skills matrix template, you will receive a clear overview of the skills that are present in your organization, as well as those that are missing. Using this information, you can develop and implement a plan to ensure that your employees' skills are up to date, comprehensive, compliant, and ready for the future.
Certified Risk Management Professional (CRMP)
Certified ISO 31000 Risk Manager (C31000)
Certified in Risk and Information Systems Control (CRISC)
Certified Hazard Analysis and Critical Control Points (HACCP)
Certified Process Safety Professional (CCPSC)
Certified Process Risk Management (CPRM)
Certified Risk Management Assurance (CRMA)
ISO 31000 Lead Risk Manager
Certified Risk and Compliance Management Professional (CRCMP)
Certified Process Hazard Analysis (CPHA)
Related skills
Risk Identification: The ability to systematically identify and list potential risks, hazards, and vulnerabilities within a process. This requires a keen eye for detail and an understanding of the process flow to recognize areas where things could go wrong.
Risk Analysis: Proficiency in analyzing the identified risks in terms of their severity, likelihood, and potential impact on the process and overall objectives. This skill involves using techniques like risk matrices, probability assessment, and consequence analysis.
Critical Thinking: A strong aptitude for critical thinking to assess complex processes, identify potential failure points, and foresee potential scenarios that could lead to process disruptions. This involves considering various factors and potential outcomes.
Data Analysis: Competence in collecting and analyzing relevant data to support the risk assessment process. This may involve statistical analysis, trend analysis, and interpreting data to gain insights into the likelihood and consequences of various risks.
Communication: Effective communication skills are essential for conveying the results of the risk assessment to stakeholders, team members, and decision-makers. Clear and concise communication helps in ensuring that everyone understands the identified risks, their potential impact, and the recommended mitigation strategies.
Benefits
Skills management software forms capable teams for thorough process risk assessment, enhancing risk management strategies and proactive mitigation approaches.
Ready to master skills management?
Get a personalized walkthrough of AG5 from one of our product experts in just 15 minutes.
ISO27001 certified Free trial available