Oil and gas industry skills matrix template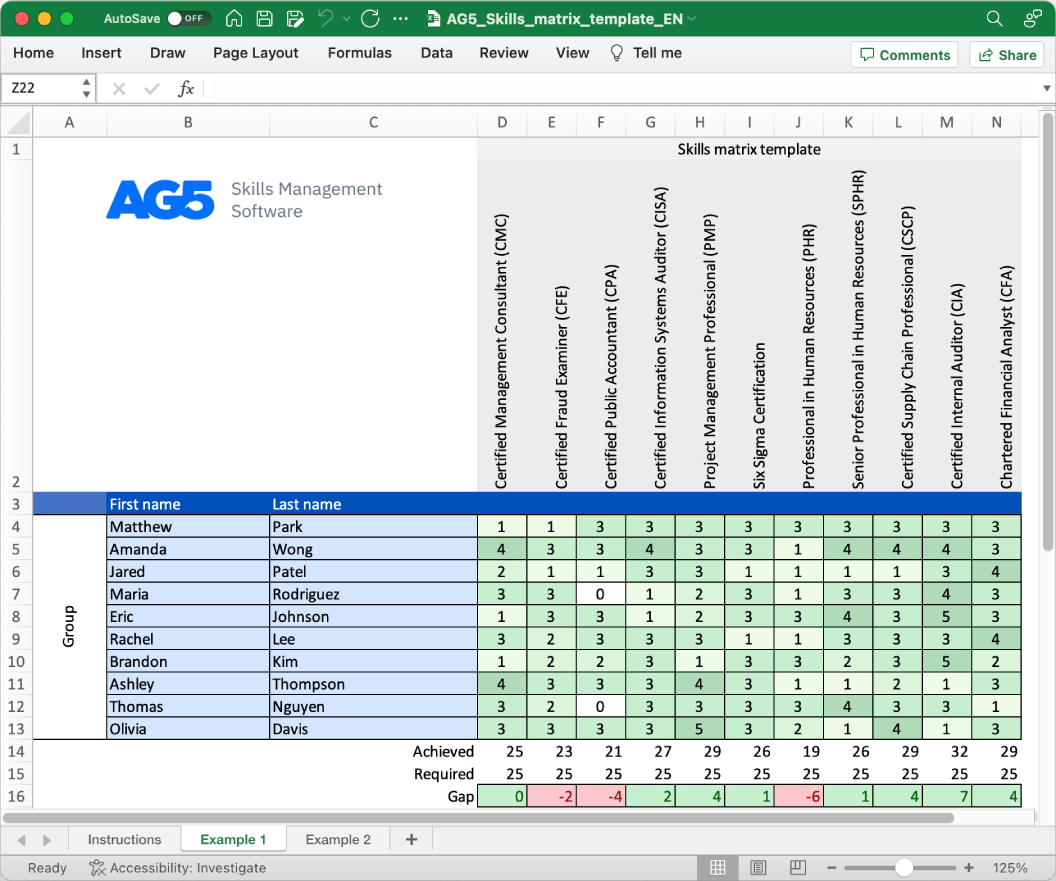 Download your free template here
Overview
With our free oil and gas industry skills matrix template, you will receive a clear overview of the skills that are present in your organization, as well as those that are missing. Using this information, you can develop and implement a plan to ensure that your employees' skills are up to date, comprehensive, compliant, and ready for the future.
IWCF Well Control
IADC WellCAP
NEBOSH International Technical Certificate in Oil and Gas Operational Safety
API 510 Pressure Vessel Inspector
API 570 Piping Inspector
API 653 Aboveground Storage Tank Inspector
API Q1 Internal Auditor
API Q2 Practitioner
NACE CIP Level 1-3 Coating Inspector
AWS CWI Welding Inspector
ASNT Level III Nondestructive Testing
OSHA 30-hour Construction Safety
OSHA 10-hour General Industry Safety
OSHA 1910.120 Hazardous Waste Operations and Emergency Response
SafeGulf
SafeLandUSA
Helicopter Underwater Egress Training (HUET)
Confined Space Entry and Rescue Training
H2S Training
First Aid/CPR/AED Certification
Related skills
Technical skills: Knowledge of drilling, production, refining, and transportation processes is crucial. Engineers, technicians, and geologists typically need to have a deep understanding of the technical aspects of the industry.
Health and safety: Safety is a top priority in the oil and gas industry, and workers must be trained to follow strict protocols and guidelines to prevent accidents and ensure their own safety. Certifications like the Occupational Safety and Health Administration (OSHA) 30-hour General Industry certification and the International Association of Drilling Contractors (IADC) RigPass program are often required.
Project management: Managing complex projects is a critical part of the oil and gas industry. Project managers must be skilled in planning, organizing, and controlling projects, and they must be able to manage teams of workers across multiple locations. Certifications like the Project Management Professional (PMP) credential from the Project Management Institute (PMI) can be helpful.
Communication: Effective communication is vital in the oil and gas industry, as workers must be able to convey complex technical information to team members, stakeholders, and regulators. Certifications like the Society for Technical Communication (STC) Certified Professional Technical Communicator can be useful for professionals who need to communicate technical information clearly and effectively.
Environmental compliance: With growing concerns about the impact of the oil and gas industry on the environment, professionals who can manage environmental risks and compliance are in demand. Certifications like the Certified Environmental Professional (CEP) from the Academy of Board Certified Environmental Professionals (ABCEP) can be helpful.
Benefits
Skills management software is crucial for talent retention, development, compliance, operational efficiency, and succession planning in the energy industry, where highly specialized positions are often challenging to fill or replace.