Manufacturing skills matrix template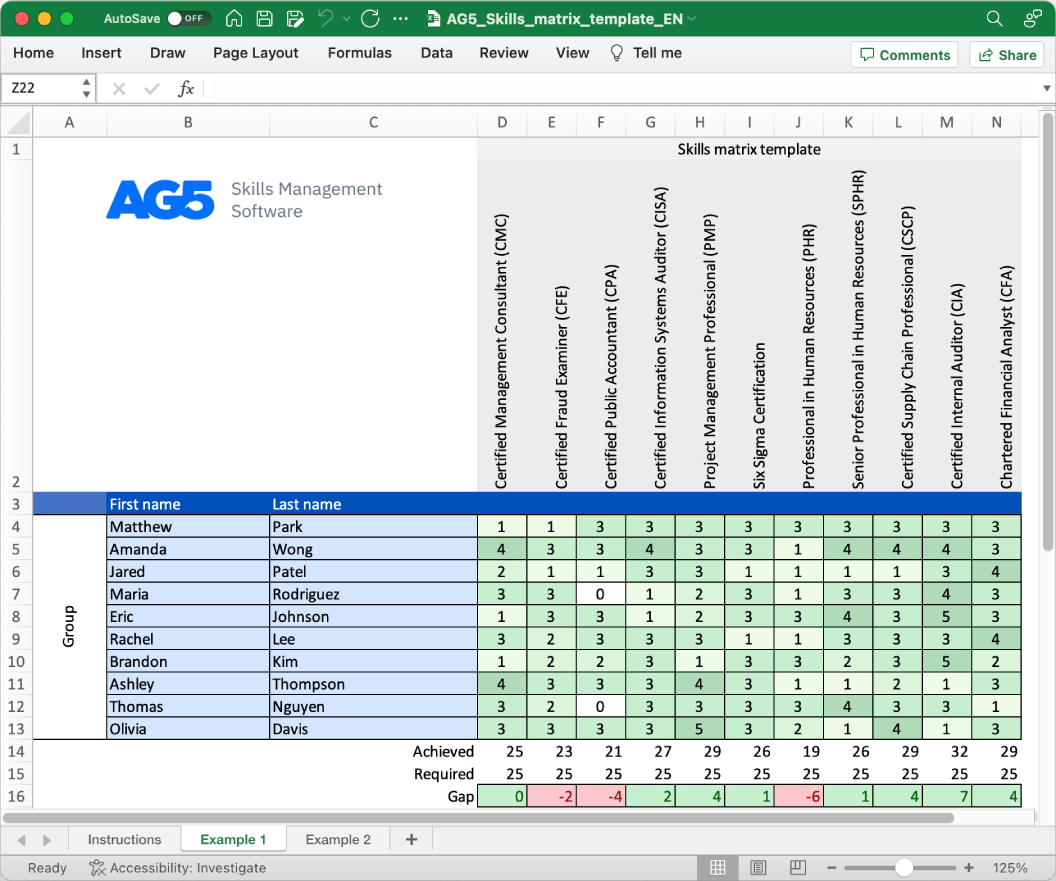 Download your free template here
Overview
With our free manufacturing skills matrix template, you will receive a clear overview of the skills that are present in your organization, as well as those that are missing. Using this information, you can develop and implement a plan to ensure that your employees' skills are up to date, comprehensive, compliant, and ready for the future.
ISO 9001
ISO 13485
ISO 14001
ISO 45001
ISO 27001
OHSAS 18001
OSHA 10- and 30-hour
Six Sigma
Lean Manufacturing
Certified Safety Professional (CSP)
AS9100
National Aerospace and Defense Contractors Accreditation Program (NADCAP)
International Traffic in Arms Regulations (ITAR)
National Sanitation Foundation (NSF)
Hazard Analysis And Critical Control Points (HACCP)
Food Safety System Certification (FSSC) 22000
British Retail Consortium (BRC)
Safe Quality Food (SQF)
Related skills
Technical skills: Manufacturing involves a great deal technical work, meaning it is crucial that employees possess knowledge and skills in areas such as mechanical engineering, electrical engineering, and computer programming.
Quality control: Quality control is an essential aspect of manufacturing, and skills in areas such as statistical process control, Six Sigma, and lean manufacturing are highly valued.
Safety certifications: Manufacturing can take place in hazardous environments, so certifications such as Occupational Safety and Health Administration (OSHA) 10- and 30-hour certifications, as well as Certified Safety Professional (CSP) certifications, are often required.
Supply chain management: Understanding the supply chain and logistics is critical in manufacturing, so skills in areas such as supply chain management, inventory control, and procurement are beneficial. Lean manufacturing: Lean manufacturing is a methodology aimed at minimizing waste and maximizing efficiency in manufacturing processes. Certifications such as Lean Six Sigma and Lean Manufacturing are valuable here.
Project management: Manufacturing projects often require careful planning and execution, so project management skills, including certifications such as Project Management Professional (PMP), are helpful.
Benefits
Skills management software can help ensure product quality, maximize production efficiency, better meet customer demands, reduce training costs, and improve workplace safety. By identifying and closing skills gaps as soon as or before they appear, you will ensure that your organization is streamlined, compliant with certification requirements, and operating at peak capacity.