MES skills matrix template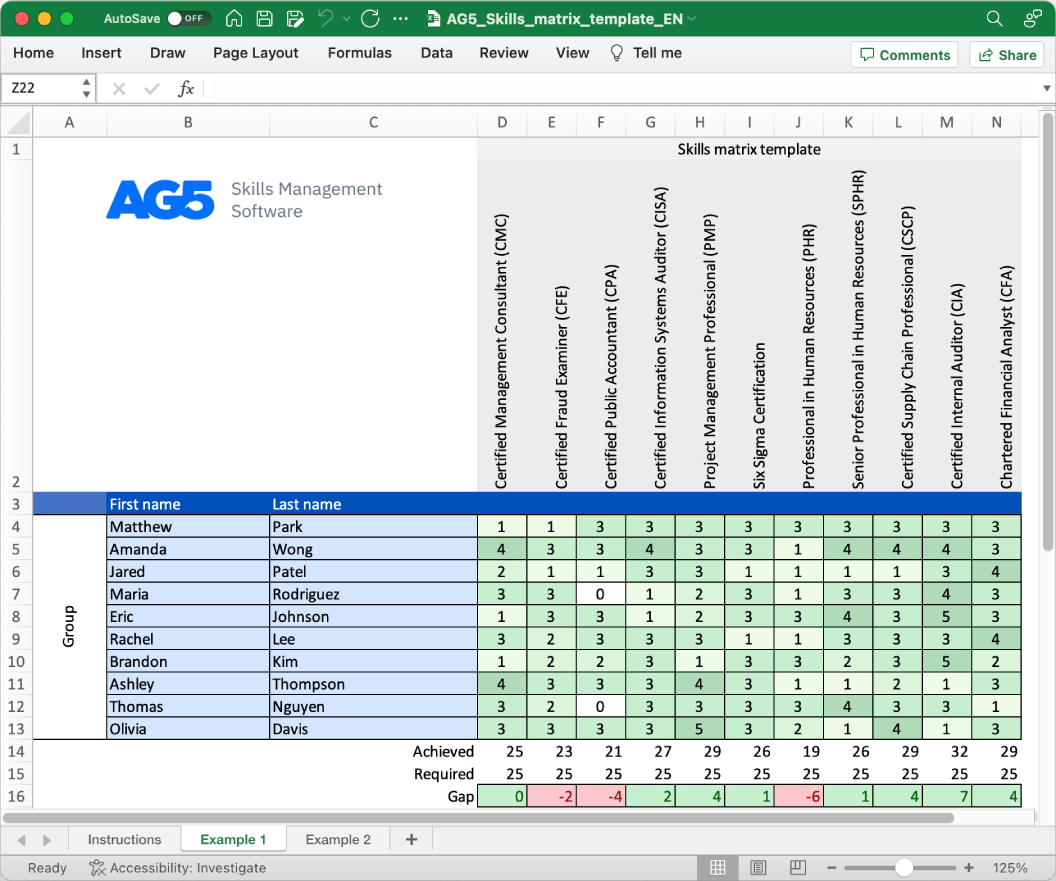 Download your free template here
Overview
With our free MES (manufacturing execution system) skills matrix template, you will receive a clear overview of the skills that are present in your organization, as well as those that are missing. Using this information, you can develop and implement a plan to ensure that your employees' skills are up to date, comprehensive, compliant, and ready for the future.
ISA-95 Certification
APICS Certified in Production and Inventory Management (CPIM)
APICS Certified Supply Chain Professional (CSCP)
Certified Manufacturing Technologist (CMfgT)
Certified Maintenance and Reliability Technician (CMRT)
Lean Six Sigma Green Belt
Lean Six Sigma Black Belt
Microsoft Certified: Azure IoT Developer Specialty
Certified Information Systems Security Professional (CISSP)
Certified Automation Professional (CAP)
GE Digital MES Certification
Siemens MES Certification
Related skills
MES Implementation: This skill involves the ability to design, configure, and deploy Manufacturing Execution Systems in a production environment. The certification for this skill is the Certified MES Professional (CMP), offered by MESA International.
MES Integration: This skill focuses on integrating MES with other manufacturing systems, such as PLCs and SCADA systems, to ensure seamless data flow. The certification for MES integration is the Certified Automation Professional (CAP), issued by the International Society of Automation (ISA).
MES Maintenance and Troubleshooting: Proficiency in diagnosing and resolving issues in MES software and hardware components is essential. The certification for this skill is the MES Technician Certification, offered by various training institutions and organizations in the field.
MES Data Analysis: This skill involves extracting valuable insights from MES data to improve manufacturing processes. The certification for MES data analysis is the Certified Analytics Professional (CAP), issued by the Institute for Operations Research and the Management Sciences (INFORMS).
MES Security: Ensuring the security of MES systems and data is crucial. The certification for MES security is the Certified Information Systems Security Professional (CISSP), offered by (ISC)², which covers various aspects of information security, including those related to MES."
Benefits
Using a skills matrix template can benefit your MES in various ways. Among them:
Optimized process efficiency. Identifying skill gaps ensures proficient handling of MES tasks, minimizing errors and streamlining production processes effectively.
Enhanced data utilization. Improved proficiency in data analysis allows for better utilization of real-time data, optimizing decision-making within the MES environment.
Smooth technology transitions. Identifying proficient employees aids in seamless transitions during MES upgrades, preventing disruptions and ensuring continuous manufacturing operations.
Targeted training programs. Addressing skill gaps through tailored training programs enhances employee expertise, enabling better utilization of MES features and functionalities.
Strategic workforce planning. Mapping skills aids in strategic resource allocation, ensuring the right personnel are assigned to specific MES tasks, maximizing operational effectiveness and productivity.
Use AG5 to identify skill gaps
Say goodbye to Excel matrices. Start using AG5's plug and play skill matrix software.
ISO27001 certified Free trial available