Assembly line skills matrix template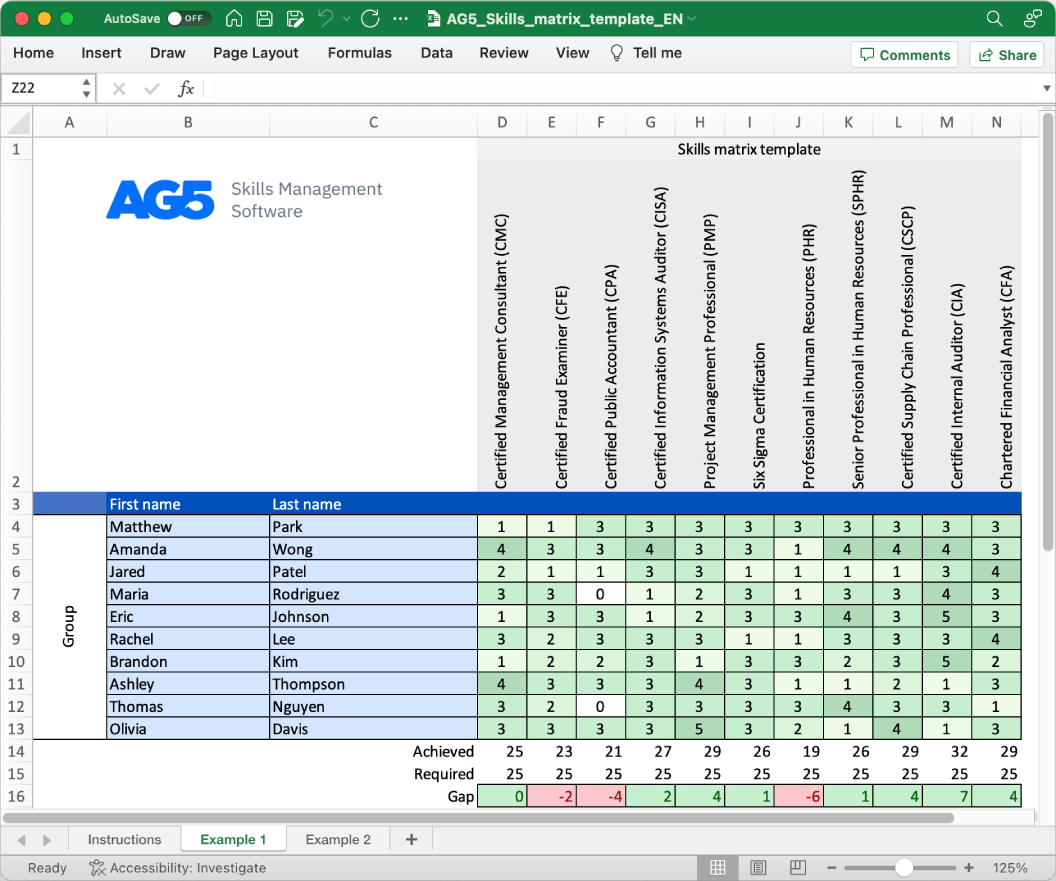 Download your free template here
Overview
With our free assembly line skills matrix template, you will receive a clear overview of the skills that are present in your organization, as well as those that are missing. Using this information, you can develop and implement a plan to ensure that your employees' skills are up to date, comprehensive, compliant, and ready for the future.
Certified Production Technician (CPT)
Certified Lean Six Sigma Green Belt
Certified Production and Inventory Management (CPIM)
Certified Quality Technician (CQT)
Certified Manufacturing Engineer (CMfgE)
Certified Automation Professional (CAP)
Certified Welding Inspector (CWI)
Certified Forklift Operator
Certified Industrial Maintenance Mechanic (CIMM)
Certified Manufacturing Specialist (CMS)
Related skills
Quality control and assurance. Involves ensuring products meet specified standards and quality requirements. The Certified Quality Technician (CQT) certification proves proficiency in this skill.
Material handling and equipment operation. The ability to proficiently operate and manage material handling equipment on the assembly line. A forklift operator license, issued by various organizations, such as the Occupational Safety and Health Administration (OSHA), is an example of a certification related to material handling and equipment operation.
Machine operation and maintenance. Encompasses the competent operation and maintenance of machinery critical to assembly line processes. A Certified Maintenance and Reliability Technician (CMRT) certification issued by the Society for Maintenance & Reliability Professionals (SMRP)focuses on maintenance and reliability practices.
Assembly line safety. Entails implementing and overseeing safety protocols and practices to prevent accidents and injuries. A Certified Safety Professional (CSP) issued by the Board of Certified Safety Professionals (BCSP) demonstrates proficiency here.
Lean manufacturing and process improvement. Involves identifying and optimizing processes to reduce waste and enhance efficiency on the assembly line. A Lean Six Sigma Green Belt certification demonstrates mastery of this skill.
Benefits
Skills management software enhances assembly line skills by tracking employee competencies, identifying training needs, streamlining skill development, ensuring compliance with safety standards, and optimizing workforce allocation for efficient production.
Use AG5 to identify skill gaps
Say goodbye to Excel matrices. Start using AG5's plug and play skill matrix software.
ISO27001 certified Free trial available