Licensing skills matrix template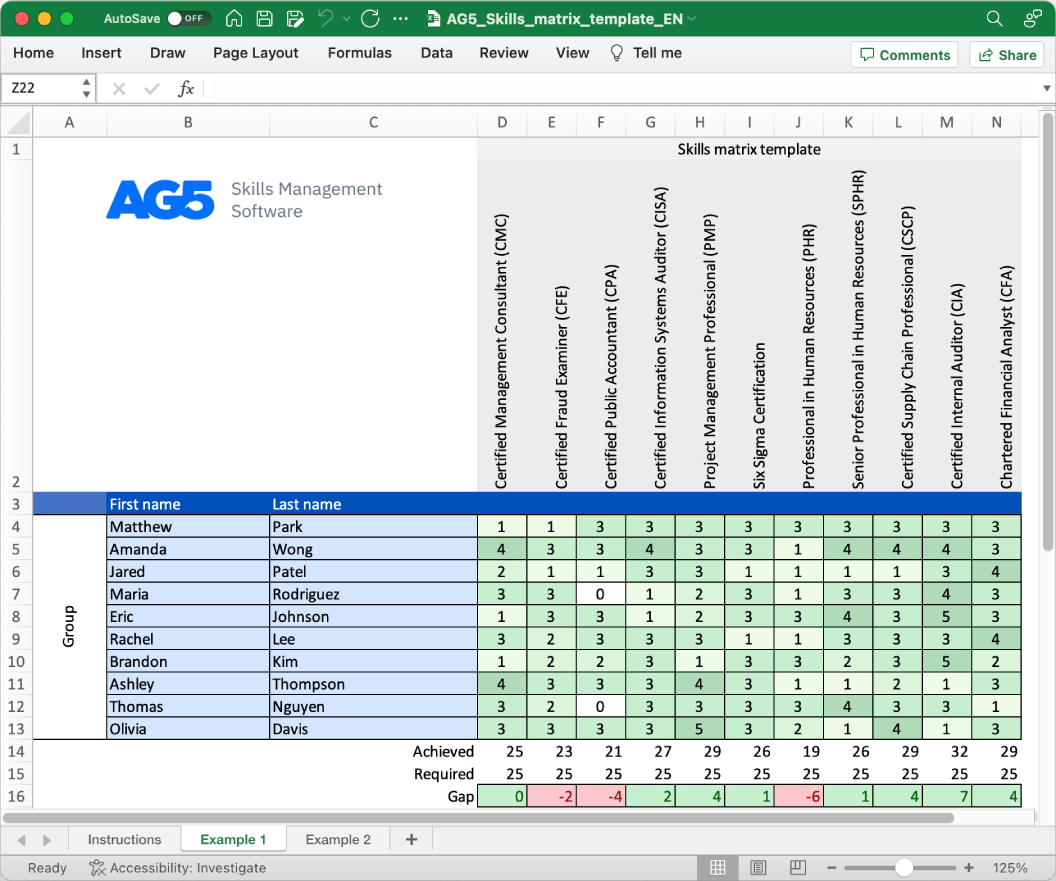 Download your free template here
Overview
With our free licensing skills matrix template, you will receive a clear overview of the skills that are present in your organization, as well as those that are missing. Using this information, you can develop and implement a plan to ensure that your employees' skills are up to date, comprehensive, compliant, and ready for the future.
CLP (Certified Licensing Professional)
CLE (Certified Licensing Executive)
CLO (Certified Licensing Officer)
CLL (Certified Licensing Lawyer)
CCI (Certified Copyright and Licensing Instructor)
CLM (Certified Licensing Manager)
CML (Certified Music Licensing)
CRL (Certified Retail Licensing)
CPBL (Certified Patent and Business Licensing)
CCLP (Certified Consumer Licensing Professional)
CIL (Certified Intellectual Licensing)
CBL (Certified Brand Licensing)
CEM (Certified Entertainment Licensing Manager)
CGPL (Certified Global Patent Licensing)
CPLE (Certified Patent Licensing Executive)
CILS (Certified Intellectual Licensing Specialist)
CILC (Certified International Licensing Consultant)
CBLP (Certified Business Licensing Professional)
CCTL (Certified Copyright and Trademark Licensing)
CTS (Certified Technology Licensing Specialist)
Related skills
Licensing Strategy and Analysis: Developing effective licensing strategies, conducting market analysis, and identifying licensing opportunities. Relevant certifications include Certified Licensing Professional (CLP) and Certified Licensing Analyst (CLA).
Licensing Agreement Drafting and Negotiation: Skillfully drafting licensing agreements, negotiating terms and conditions, and ensuring compliance with legal and business requirements. Relevant certifications include Certified Licensing Specialist (CLS) and Certified Licensing Negotiator (CLN).
Intellectual Property Licensing Management: Managing the entire lifecycle of intellectual property licenses, including contract administration, royalty tracking, and compliance monitoring. Relevant certifications include Certified Intellectual Property Licensing Manager (CIPLM) and Certified Licensing Administrator (CLA).
Licensing Due Diligence: Conducting comprehensive due diligence assessments of licensing opportunities, evaluating risks and benefits, and making informed licensing decisions. Relevant certifications include Certified Licensing Due Diligence Professional (CLDDP) and Licensing Risk Analyst (LRA).
International Licensing and Cross-Border Transactions: Navigating the complexities of international licensing, understanding cross-border legal considerations, and managing licensing agreements across multiple jurisdictions. Relevant certifications include Certified International Licensing Professional (CILP) and Certified Cross-Border Licensing Specialist (CCLS).
Benefits
Skills management software is important in licensing as it helps organizations effectively manage the expertise of their licensing professionals. It ensures that individuals with the necessary knowledge of licensing regulations, negotiation skills, and contract management are identified and assigned to handle licensing agreements efficiently.