IT system validation skills matrix template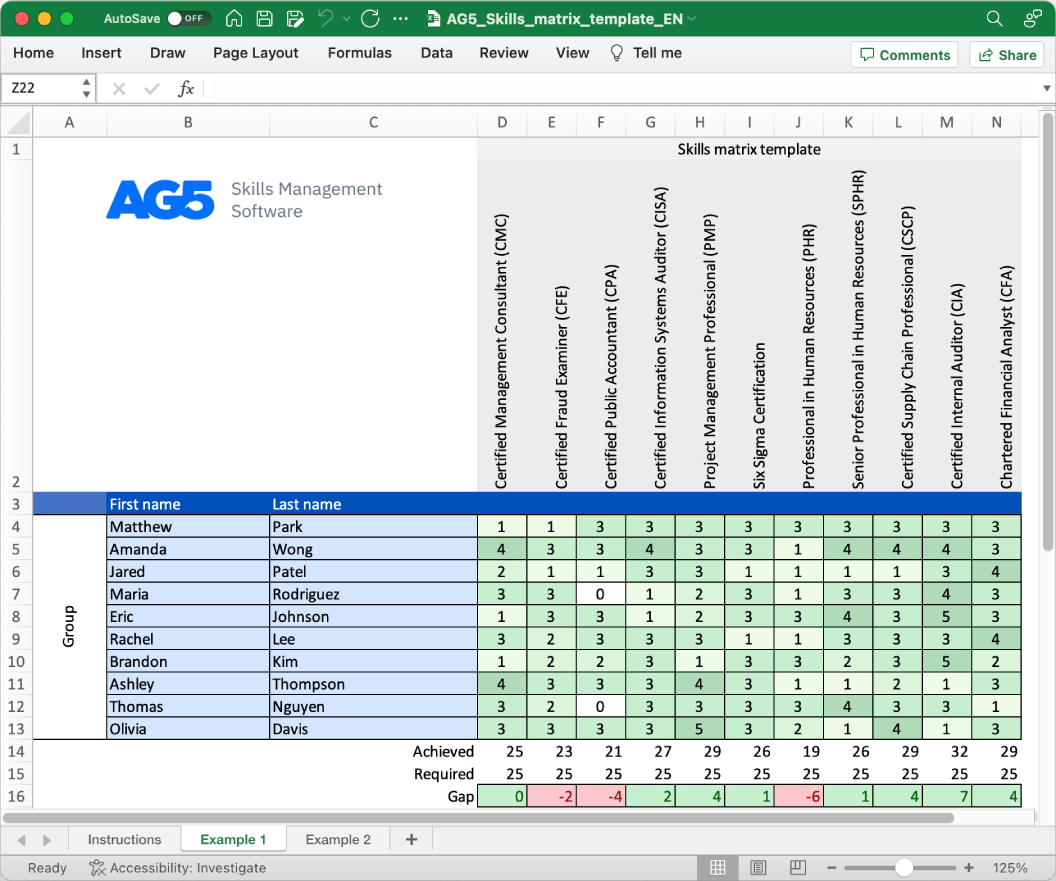 Download your free template here
Overview
With our free IT system validation skills matrix template, you will receive a clear overview of the skills that are present in your organization, as well as those that are missing. Using this information, you can develop and implement a plan to ensure that your employees' skills are up to date, comprehensive, compliant, and ready for the future.
Certified Information Systems Auditor (CISA)
Certified Information Security Manager (CISM)
Certified Software Quality Engineer (CSQE)
Certified ScrumMaster (CSM)
Certified Agile Process Owner (CAPO)
Certified Software Tester (CSTE)
Certified DevOps Professional (CDP)
ISTQB Certified Tester (Foundation Level)
Certified Professional in Requirements Engineering (CPRE)
Certified Quality Engineer (CQE)
Related skills
Technical Proficiency: A solid understanding of IT systems, software development lifecycle, and the technological aspects of the systems being validated. This skill ensures the ability to comprehensively assess and validate complex software and hardware configurations.
Regulatory Compliance: Proficiency in interpreting and applying relevant regulatory guidelines, to ensure that validated IT systems meet compliance requirements.
Validation Strategy Development: Skill in designing an effective validation strategy, including defining validation deliverables, determining the scope of validation, and establishing risk-based approaches.
Test Scripting and Execution: Ability to create detailed test scripts, conduct validation testing, and document test results to ensure that the IT system functions as intended and meets user and regulatory requirements.
Documentation and Traceability: Strong documentation skills to create comprehensive validation documentation, including validation plans, protocols, reports, and traceability matrices. This ensures a clear and auditable record of the validation process.
Benefits
Proficient IT validation, facilitated by skills management software, involves skilled professionals, ensuring rigorous testing, documentation, and regulatory compliance.
Ready to master skills management?
Get a personalized walkthrough of AG5 from one of our product experts in just 15 minutes.
ISO27001 certified Free trial available