Healthcare skills matrix template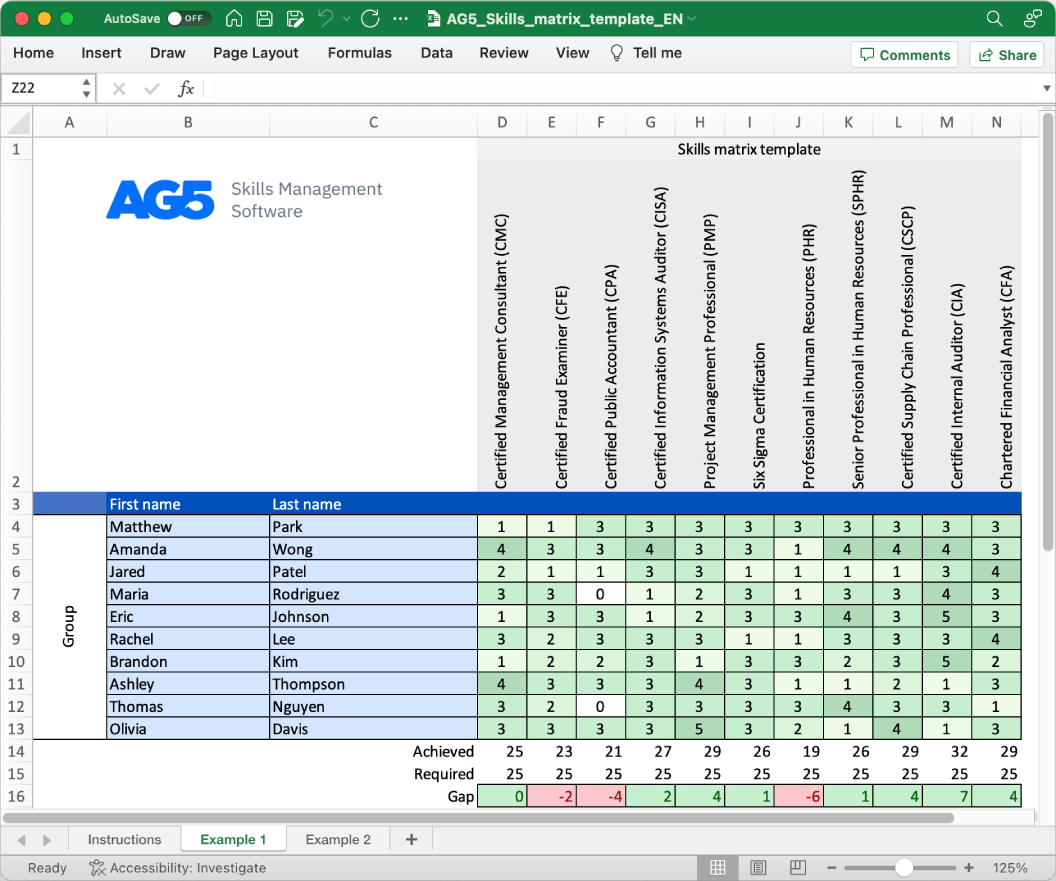 Download your free template here
Overview
With our free healthcare skills matrix template, you will receive a clear overview of the skills that are present in your organization, as well as those that are missing. Using this information, you can develop and implement a plan to ensure that your employees' skills are up to date, comprehensive, compliant, and ready for the future.
Certified Nursing Assistant (CNA)
Certified Medical Assistant (CMA)
Certified Pharmacy Technician (CPhT)
Certified Professional Coder (CPC)
Certified Respiratory Therapist (CRT)
Certified Radiologic Technologist (CRT)
Certified Surgical Technologist (CST)
Certified Registered Nurse Anesthetist (CRNA)
Certified Nurse Midwife (CNM)
Certified Nurse Educator (CNE)
Certified Occupational Therapy Assistant (COTA)
Certified Occupational Therapist (OTR)
Certified Diabetes Educator (CDE)
Certified Health Education Specialist (CHES)
Certified Clinical Medical Assistant (CCMA)
Certified Medical Administrative Assistant (CMAA)
Certified Medical Laboratory Technician (CMLT)
Certified Medical Transcriptionist (CMT)
Certified Medical Interpreter (CMI)
Certified Medical Dosimetrist (CMD)
Related skills
Clinical skills: These are essential for healthcare providers, including physicians, nurses, and other medical professionals. Clinical skills include diagnosis, treatment planning, and patient care. Certifications that prove clinical skills include the Registered Nurse (RN), Certified Medical Assistant (CMA), and Licensed Practical Nurse (LPN) certifications.
Communication skills: Healthcare professionals must be able to communicate effectively with patients, their families, and other healthcare providers. This includes active listening, empathy, and clear communication. Certifications that prove communication skills include the National Healthcareer Association's (NHA) Certified Medical Administrative Assistant (CMAA) and Certified Clinical Medical Assistant (CCMA) certifications.
Technical skills: Healthcare professionals must be comfortable using technology to manage patient records, order tests and procedures, and communicate with other providers. Certifications that prove technical skills include the Healthcare Information and Management Systems Society's (HIMSS) Certified Professional in Healthcare Information and Management Systems (CPHIMS) and the Certified Electronic Health Records Specialist (CEHRS) certifications.
Leadership skills: Healthcare professionals in management roles must be able to lead and motivate teams, manage budgets, and implement organizational policies. Certifications that prove leadership skills include the American College of Healthcare Executives' (ACHE) Board of Governors Exam in Healthcare Management and the Healthcare Management Certification (HMC) from the National Association of Healthcare Access Management (NAHAM).
Cultural competence: Healthcare professionals must be able to work effectively with patients from diverse cultural backgrounds. Certifications that prove cultural competence include the Cultural Competency Certification from the National Association of Health Services Executives (NAHSE) and the Diversity, Equity, and Inclusion Certification from the Society for Human Resource Management (SHRM).
Benefits
Skills management software is important in the healthcare industry as it enables effective tracking, assessment, and management of the skills and competencies of healthcare professionals. This helps ensure that the workforce is adequately trained and equipped to provide high-quality patient care, and helps healthcare organizations comply with regulatory requirements.
Use AG5 to identify skill gaps
Say goodbye to Excel matrices. Start using AG5's plug and play skill matrix software.
ISO27001 certified Free trial available