Financial services skills matrix template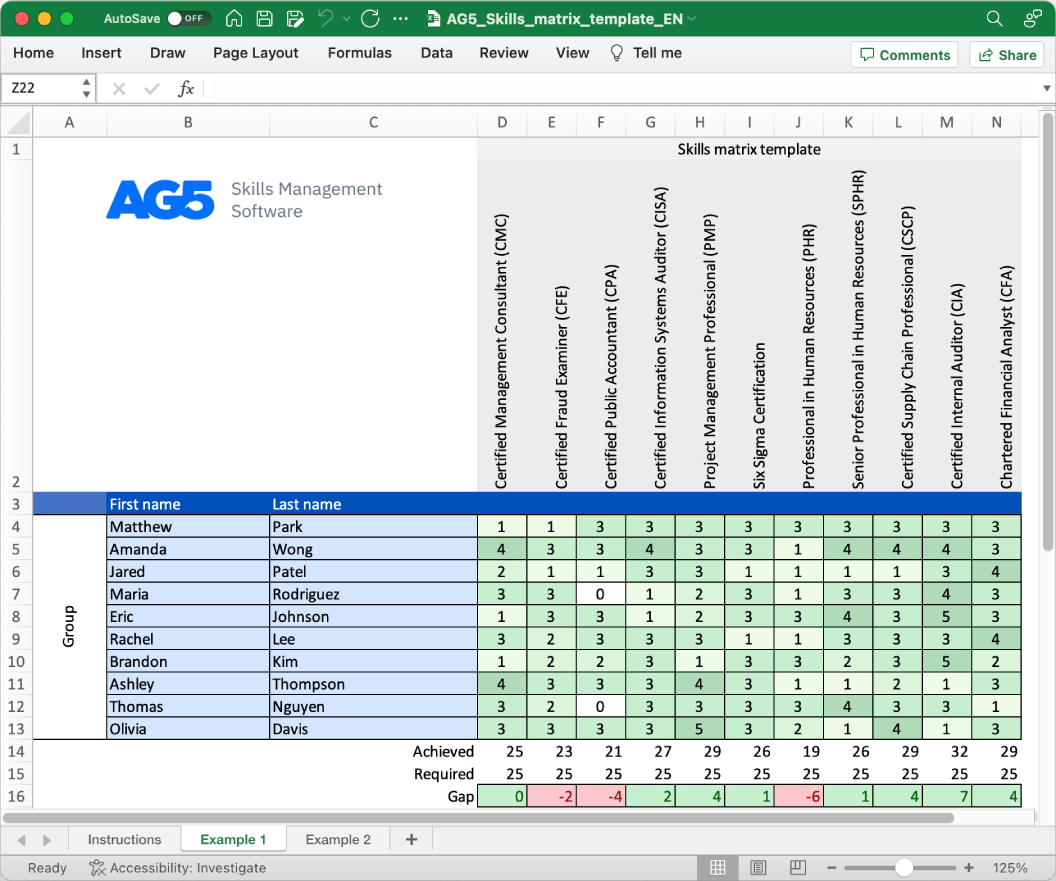 Download your free template here
Overview
With our free financial services skills matrix template, you will receive a clear overview of the skills that are present in your organization, as well as those that are missing. Using this information, you can develop and implement a plan to ensure that your employees' skills are up to date, comprehensive, compliant, and ready for the future.
Certified Financial Planner (CFP)
Chartered Financial Analyst (CFA)
Certified Public Accountant (CPA)
Certified Investment Management Analyst (CIMA)
Certified Internal Auditor (CIA)
Certified Trust and Financial Advisor (CTFA)
Financial Risk Manager (FRM)
Personal Financial Specialist (PFS)
Certified Financial Services Auditor (CFSA)
Certified Financial Services Security Professional (CFSSP)
Certified Financial Consultant (CFC)
Certified Fund Specialist (CFS)
Certified Investment Banking Associate (CIBA)
Certified Investment Management Consultant (CIMC)
Chartered Alternative Investment Analyst (CAIA)
Certified Government Financial Manager (CGFM)
Certified Bank Auditor (CBA)
Certified Annuity Specialist (CAS)
Certified Senior Advisor (CSA)
Certified Retirement Financial Advisor (CRFA)
Related skills
Financial analysis: Involves interpreting financial data to make informed decisions. Certifications include the Chartered Financial Analyst (CFA) designation and the Certified Financial Planner (CFP) certification.
Risk management: Involves identifying and mitigating potential risks to financial stability. Certifications include the Financial Risk Manager (FRM) certification and the Professional Risk Manager (PRM) certification.
Investment banking: Involves advising clients on financial transactions such as mergers and acquisitions. Certifications include the Investment Banking Certification (IBC) and the Certified Investment Banking Professional (CIBP) designation.
Compliance: Involves ensuring adherence to regulatory requirements. Certifications include the Certified Regulatory and Compliance Professional (CRCP) certification and the Certified Anti-Money Laundering Specialist (CAMS) certification.
Insurance: Involves understanding and managing risk associated with insurance policies. Certifications include the Chartered Property Casualty Underwriter (CPCU) designation and the Associate in Risk Management (ARM) certification.
Benefits
Skills management software can help financial organizations manage employee certifications and keep up with regulatory changes, ensuring they have the skills and knowledge to provide sound financial advice to clients.
Use AG5 to identify skill gaps
Say goodbye to Excel matrices. Start using AG5's plug and play skill matrix software.
ISO27001 certified Free trial available