Among the overall hiring process of recognizing, attracting, screening, shortlisting, and interviewing suitable candidates for jobs within an organization lies the tactical method of internal vs external recruitment.
Speaking of internal and external recruitment, have you ever considered the principles and practices behind them and the impact they have?
In this article, we'll explore the differentiation, the pros & cons of external vs internal recruitment, and the role of recruitment and workforce management tools in this entire process.
The difference between internal and external recruitment
In this chapter we'll describe the main differences as well as details and processes between internal and external recruitment within the staffing process.
Why hire internal candidates:
Internal candidates are considered employees that are simply recruited from inside the company. This means they can apply for the job willingly or receive a recommendation from the recruiting manager.
If a company puts people at the center of their business and thus promotes their professional development, upskilling and reskilling for progressive career paths are topics that will always stay a priority for top management. In addition, if you're competing for the "employer of the year", it goes without saying that your company needs to have a proper talent management process in place where employees' skills and satisfaction go hand-in-hand with your business continuity.
In addition, internal candidates do hold immense value for hiring managers because they are already accustomed to company methods, namely the culture and they are already onboarded into the company. For example, they have all the necessary IT login credentials and are accustomed to the workplace culture and the products your company is providing, which for sure will mean a smoother transition into their new role.
For example The Jobvite  "Recruiting Benchmark Report", indicates that internal candidates score considerably higher on effectiveness in comparison to external hires.
Why hire external candidates:
Essentially, an external candidate is a considered employee who is recruited from outside of the company. A person's reasons for searching for a new job can differ from career progression, greater benefits, or a change in life situation such as relocation.
Depending on the role and the company's business strategy, a distinguished skill set might be required, based on the position they are being recruited, for which external recruitment might be the key.
While the external recruitment can be quite cumbersome and time-consuming, new applicants could benefit a company by bringing a new perspective and approach to the existing team. Fresh air from similar market players could introduce new practices and thus improve existing processes, as well as an updated perspective into the market.
Even more, it happens to be a common practice that companies "hunt" top employees from their competitors to get inspiration and hands-on knowledge towards business success.
In conclusion, recruiting external candidates will definitely involve more time and energy to get the new recruit up and running which brings along a certain operational risk. On the other hand, hiring external talent could also be beneficial for companies who wish to remain innovative.
External recruitment methods
There are numerous methods for external recruitment that all hiring managers and job seekers should consider. Here are a few examples:
Company Websites
Employee Referrals
Job Boards
Networking
Social Media
Staffing Firms
Recruiters usually follow procedures to source candidates through different channels and then begin the selection process. Furthermore, different software automation tools that are available nowadays help recruiters discover candidates' agility for the specific skill requirements.
Depending on the importance and demand of the position being filled, further skill software methods such as candidate comparisons and percentage scores may be utilized more than others, to help determine the chosen candidates.
What are the pros & cons of internal and external recruitment?
Now, since we have discussed the differentiation between external and internal recruitment and the methods involved. We have weighed up the pros and cons of both, before finally moving on and discussing how skills set management software can help make the whole process so much simpler!
 Let's begin with details on internal recruitment, before moving on to external hiring.
Pros of internal recruitment:
Work culture fit is an enormously important factor within hiring decisions! Promoting from within assures that you're steps ahead, and can almost skip onboarding since they are already familiar.
The less downtime with onboarding creates more productivity. An internal candidate is already familiar with your processes and procedures, even if they are transferring from a different department.
 It's less expensive and more agile to promote from within. You don't have to perform any additional background checks because you're dealing with a known trusted employee.
Cons of internal recruitment:
This can be tough. For example, if two or more current employees are competing for the vacancy, you might experience hard feelings within your teams.
Besides, a regular team member that becomes a team leader for example, managing their peers can sometimes create sensitive situations which might affect the work atmosphere.
Pros of external recruitment:
An outside hire brings a brand-new perspective with new ideas.
 You'll receive resumes that you can save on a database for similar open positions in the future.
A new hire may bring best practices from their former company that you can implement into your business model.
Cons of external recruitment:
There's a delayed timing issue, particularly with onboarding. This can cause some downtime, as the new employee needs to catch up on the specifics of the new role.
Hiring for a new position can be time-consuming and can leave room for uncertainty. Is there a way to determine which skills are needed to fill that role?
More so, whether the internal hire you're considering fulfils your requirements. Finding the answers to these questions can be achieved through the use of different tools.
Let's see how: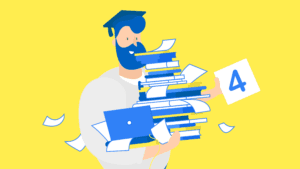 4 tools that can help in the recruitment process
When deciding whether to hire internally or externally, the easiest way of measuring and analyzing data is the use of effective tools. Let's take a look at 4 tools that can help companies in the recruitment process:
    1. Applicant tracking tools

There are many steps between a candidate applying for a role and starting their first day. Applicant Tracking Software (ATS) helps recruiters manage that process to know who is at each stage throughout the whole process.
There are several effective tools, such as Workable. Workable tracks job applications, manages interviews, screen candidates, and creates reports for other stakeholders.
Whereas Recruiterflow is an applicant and Customer Relationship Management (CRM) system tool combined. It not only sources candidates and engages them with integrated email chains, but it also helps recruiters automate the recruiting process.
     2. Interviewing tools

Nowadays organizations are made up of talent across multiple locations and timezones. Video interviews have become a crucial hiring tool for the current HR recruiter to hire globally.
There are two types of video interviewing software available: live video interviewing and asynchronous video interviewing (pre-recorded video interviews).
As opposed to live video interviewing, asynchronous video interview platforms allow a candidate to answer pre-defined interview questions in their own time and anywhere, that are then later reviewed by a recruiter.
There are several popular video conferencing tools, such as Zoom, Google Hangouts, EasyHire, and SparkHire to name a few.
HireVue displays questions to a candidate in real-time and lets them record their response at any time and anywhere. Not only does this keep decisions consistent through structured interviews, but it effectively reduces the time to hire too.
      3. Background check screening tools 

Background Check Screening (BCS) tools can help you avoid all kinds of problems effectively and efficiently. By using screening tools, it provides organizations and candidates with pre-employment solutions to ensure the credibility of new hires background. These tools generally manage employment, education, credit history, and criminal background checks.
Luckily, there are a few good-quality third-party recruiting tools out there that help make the background check a simple process. Although you must note that the laws on background checks on applicants vary depending on your location.
      4. Skills management tools

These represent the most effective solution to track and identify internal workforce skills to fill in vacancies.
For example, within internal recruiting, the AG5 skills management software tool gives you a clear overview of the staff's current skills and certifications, which makes it easier to determine whether they are suitable for a promotion or a department transfer.
By integrating with an organization's platform, skills management software can assist in centralizing employee data delivering an optimal result. What's more, staff learning can be tracked to determine the effectiveness of training programs used.
Also skills management software offers a chance for HR departments to lead the transformation of their company. Since the department will be more efficient at retaining top talent, HR will effectively become an essential driving force of achievement within the reskilling revolution.
———–
In short, using software tools can be massively beneficial to your business.
Why not get in touch with a skills management expert to find out more?
Ready to master skills management?
---
---