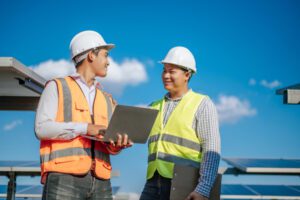 Deskless workers play critical roles in keeping any organization running. This means keeping them satisfied at work is extremely important. But who exactly are deskless workers – and how can you ensure they stay engaged and productive?
In this article, we'll take a look at just that, taking a close look at deskless workers, their importance, and steps you can take to ensure their happiness.
Who are deskless workers?
Deskless workers, also known as frontline workers or field workers, are employees who perform their job tasks outside a traditional office or desk-based environment.
These deskless employees are often engaged in industries such as manufacturing, healthcare, construction, transportation, retail, hospitality, and various service sectors where their primary work occurs away from a fixed workstation.
Why are deskless workers important?
Given the roles that deskless workers fill, their importance in the workforce might be obvious. Still, let's take a look at a few key – and perhaps surprising – factors that reiterate their value.
Deskless workers comprise 80% of the global workforce
Deskless workers are not just an important part of the workforce – they comprise a majority of it.
Research from venture capital firm Emergence shows that they make up "80% of the global workforce" – and total a staggering 2.7-billion people.
Industries that employ high numbers of deskless workers include:
Agriculture – 858 million
Manufacturing – 427 million
Construction – 265 million
Transportation and logistics – 189 million
Deskless workers are 'essential' to business operations
Nearly all "essential" workers during the COVID-19 pandemic were deskless workers, according to research from The Josh Bersin Company, an international advisory firm dedicated to corporate learning, talent management, and HR.
In essence, deskless workers serve as the backbone of industry. Without deskless workers, many businesses would not be able to operate normally, much less productively.
Deskless workers are unhappy – and leaving their roles because of it
Despite their importance, deskless workers are some of the most "overlooked" according to research from The Josh Bersin Company.
This fact is not lost on deskless workers themselves, with a survey from Boston Consulting Group (BCG) revealing that
37% of deskless workers are considering leaving their positions, some as soon as the next six months.
How to keep deskless workers happy
Considering their importance, a future without deskless workers is unsustainable. This means that ensuring their satisfaction, professional development, and well-being is crucial for business success. Let's take a look at a few key ways you can help keep your deskless workers happy.
Offer opportunities for advancement
Whether it's through upskilling, training, or other types of professional development, deskless workers overwhelmingly want opportunities for career advancement.
A McKinsey survey of frontline workers, for instance, finds that 70% "have applied to career advancement opportunities either with their current employers or with different companies." Meanwhile, the previously mentioned BCG survey reveals that 41% of deskless workers say a "lack of career advancement" is a major pain point.
Organizations would do well, The Josh Bersin Company reports, to take steps to ensure that their deskless workers have clear paths "to future-proof careers." Doing so will result in higher levels of engagement, job satisfaction, and overall productivity.
Provide them with strong management and flexibility
While deskless workers are often in the field or on the floor, they still demand strong leadership. That said, they are often not in the office, meaning time for performance reviews or other forms of management can be difficult to find.
The Josh Bersin Company's report recommends regular coaching combined with "transparent, simple performance management" – as well as "autonomy and agency" in performing their work, professional development, and goal-setting.
Give them better tech
Deskless workers need technology that is suited to their dynamic roles. That said, 60% "are unhappy with the tech they are given to do their jobs", according to Emergence's report.
Because deskless workers often don't have time for large amounts of administrative work, they need tech that enables them to complete various aspects of their roles quickly and efficiently.
An overwhelming majority of surveyed deskless workers, for example, want technology related to operations/logistics (93%), training, (91%), productivity (90%), and professional development (89%).
Additionally, providing communications solutions for deskless workers – such as mobile messaging services – can allow for real-time collaboration between employees in the field or production floor and those in the office, helping create a cohesive workforce that can work together despite being apart.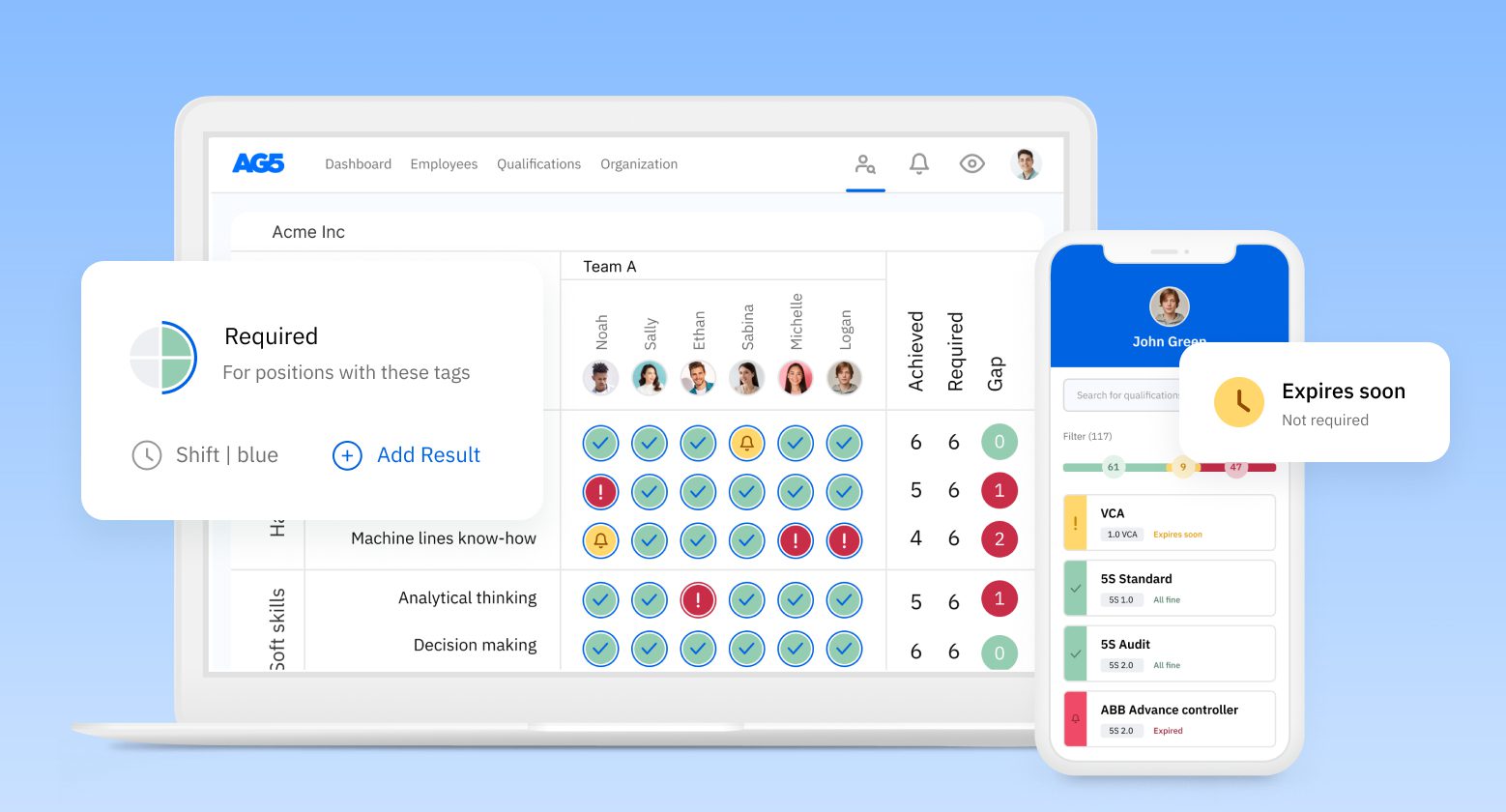 How AG5 helps you support the deskless workforce
AG5's skills management software keeps the deskless workforce at the heart of your organization in several ways.
With AG5, you can:
Support, track, and monitor deskless workforce training and development, ensuring they have the resources they need to continuously improve
Place a focus on certification management with an easy-to-understand interface that your deskless workers can use to quickly and easily ensure they compliant, safe, and ready to work
Use deskless worker-dedicated integrations from Cornerstone OnDemand, SafetyCulture, and Shyftplan
And much more!
AG5's comprehensive solution can be customized to meet any organization's specific needs, making it an ideal choice for businesses looking to streamline their skills management process.
Watch this video that explains exactly what AG5 could do for your organization!
Ready to learn more? Schedule a free, 15-minute live demo today to see how AG5's skills management software can transform the way you and your deskless workers operate.
Ready to master skills management?
Get a personalized walkthrough of AG5 from one of our product experts in just 15 minutes.

ISO27001 certified

Free trial available
Sources
---
---