Supplier qualification skills matrix template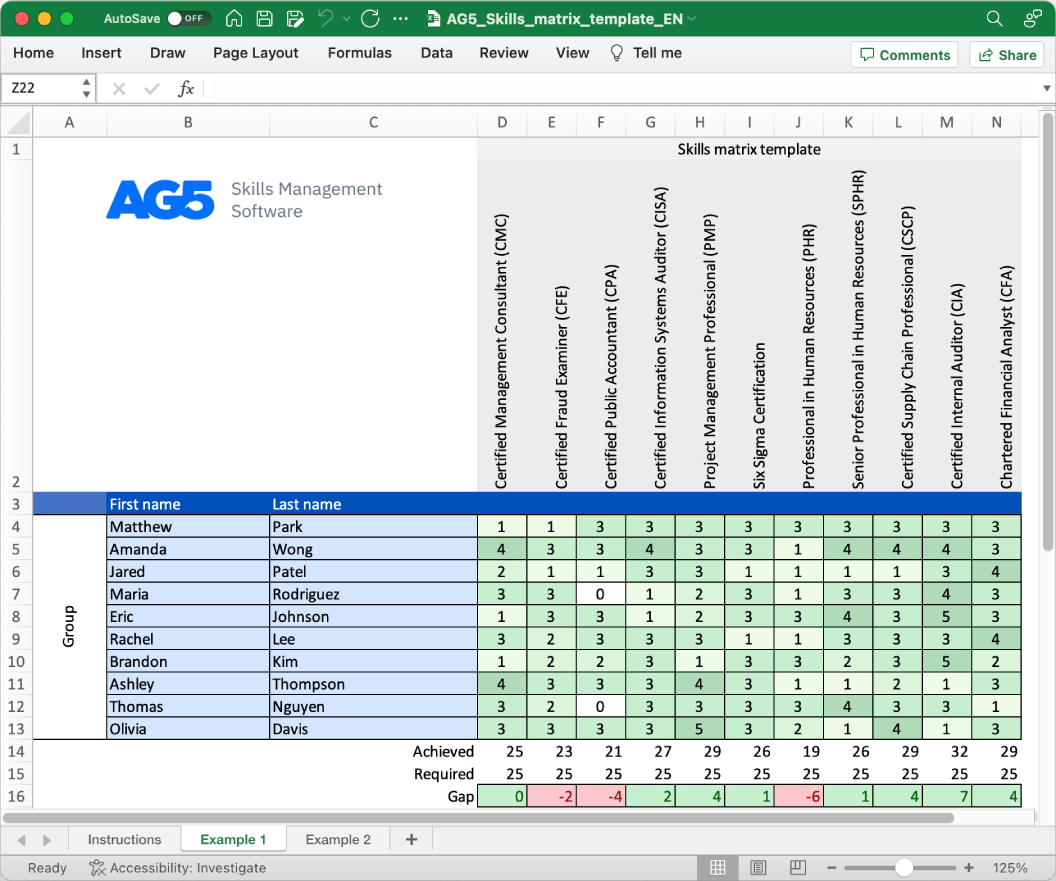 Download your free template here
Overview
With our free supplier qualification skills matrix template, you will receive a clear overview of the skills that are present in your organization, as well as those that are missing. Using this information, you can develop and implement a plan to ensure that your employees' skills are up to date, comprehensive, compliant, and ready for the future.
ISO 9001
ISO 14001
ISO 45001
ISO 27001
AS9100
IATF 16949
FDA Registration
Good Manufacturing Practices (GMP)
Hazard Analysis and Critical Control Points (HACCP)
Safe Quality Food (SQF)
BRC Global Standard for Food Safety
FSSC 22000
ISO 22000
ISO 13485
ISO 17025
OHSAS 18001
Responsible Care
ISO 50001
ISO 26000
ISO 31000
Related skills
Supplier Quality Management: A certification such as Certified Supplier Quality Professional (CSQP) from the American Society for Quality (ASQ) validates knowledge and skills in managing supplier quality, including supplier evaluation, selection, and ongoing performance monitoring.
Risk Assessment and Management: Certifications like Certified Professional in Supplier Risk Management (CPSRM) from the Institute for Supply Management (ISM) indicate expertise in identifying and assessing supplier risks, developing mitigation strategies, and implementing risk management frameworks.
Auditing and Compliance: A certification like Certified Supplier Quality Auditor (CSQA) from ASQ demonstrates competence in conducting supplier audits, evaluating compliance with quality standards and regulations, and ensuring adherence to contractual requirements.
Supplier Relationship Management: The Supplier Relationship Management Professional (SRMP) certification offered by the SRM Association signifies proficiency in building and managing collaborative relationships with suppliers, implementing supplier development initiatives, and driving continuous improvement.
Contract and Legal Knowledge: Certifications such as Certified Professional in Supply Management (CPSM) from ISM encompass contract management and legal aspects of supplier qualification. They validate skills in negotiating contracts, understanding legal implications, and ensuring compliance with contractual obligations.
Benefits
Skills management software is important in supplier qualification as it helps assess and track suppliers' capabilities, expertise, and certifications, ensuring they possess the necessary skills and qualifications to meet the organization's requirements and deliver quality products or services.