Supplier management skills matrix template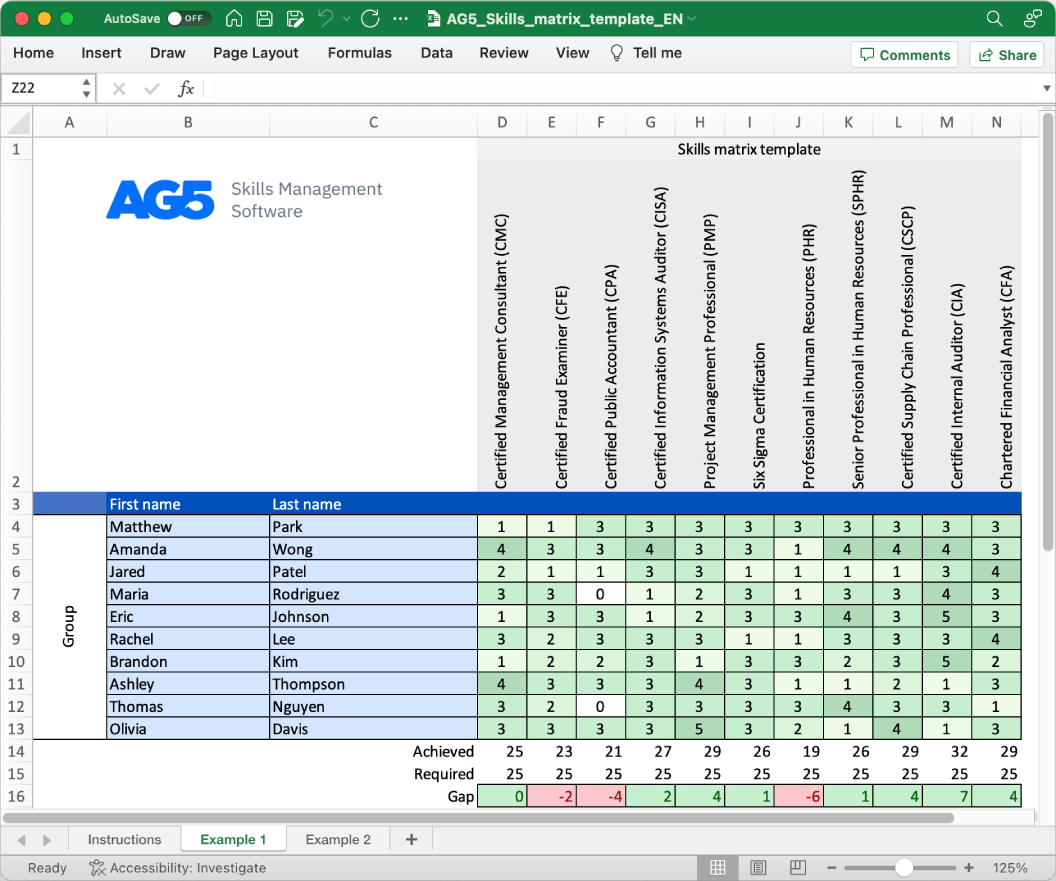 Download your free template here
Overview
With our free supplier management skills matrix template, you will receive a clear overview of the skills that are present in your organization, as well as those that are missing. Using this information, you can develop and implement a plan to ensure that your employees' skills are up to date, comprehensive, compliant, and ready for the future.
Certified Supplier Management Professional (CSMP)
Certified Supplier Quality Professional (CSQP)
Certified Supplier Auditor (CSA)
Certified Supplier Quality Engineer (CSQE)
Certified Supplier Performance Analyst (CSPA)
Certified Supplier Development Specialist (CSDS)
Certified Supplier Relationship Manager (CSRM)
Certified Supplier Risk Analyst (CSRA)
Certified Supplier Sourcing Specialist (CSSS)
Certified Supplier Contract Manager (CSCM)
Certified Supplier Compliance Specialist (CSCS)
Certified Supplier Change Control Specialist (CSCCS)
Certified Supplier Performance Metrics Analyst (CSPMA)
Certified Supplier Quality Assurance Manager (CSQAM)
Certified Supplier Documentation Specialist (CSDS)
Certified Supplier Quality Management Trainer (CSQMT)
Certified Supplier Approval Coordinator (CSAC)
Certified Supplier Validation Engineer (CSVE)
Certified Supplier Regulatory Affairs Specialist (CSRAS)
Certified Supplier Continuous Improvement Coach (CSCIC)
Related skills
Supplier Evaluation and Selection: Assessing potential suppliers based on defined criteria, such as quality standards, capabilities, and compliance with regulatory requirements. Certifications like the Certified Supplier Quality Professional (CSQP) offered by ASQ validate proficiency in supplier evaluation, selection processes, and quality management principles.
Supplier Performance Monitoring: Establishing and implementing mechanisms to monitor and evaluate supplier performance based on predefined metrics and key performance indicators (KPIs). Certifications such as the Certified Supply Chain Professional (CSCP) offered by APICS demonstrate expertise in supply chain management, supplier performance monitoring, and continuous improvement.
Supplier Auditing: Conducting audits of suppliers to assess their compliance with quality standards, regulatory requirements, and contractual obligations. Certifications like the Certified Supplier Auditor (CSA) offered by ASQ demonstrate proficiency in auditing techniques, supplier evaluation, and compliance assessment.
Supplier Relationship Management: Building and maintaining positive and productive relationships with suppliers, fostering collaboration and driving continuous improvement. Certifications such as the Certified Professional in Supply Management (CPSM) offered by ISM validate proficiency in supplier relationship management, negotiation skills, and supplier development strategies.
Supply Chain Risk Management: Assessing and mitigating risks associated with suppliers and their impact on the supply chain. Certifications like the Certified Supply Chain Risk Management Professional (CSCRM) offered by the Global Supply Chain Risk Management Consortium demonstrate expertise in supply chain risk assessment, mitigation strategies, and resilience planning.
Benefits
Skills management software is important in supplier management as it allows organizations to assess and manage the skills of personnel responsible for supplier oversight, ensuring they possess the necessary expertise to evaluate and maintain high-quality and compliant supplier relationships, including supplier audits and evaluations.