Standard operating procedures (SOP) skills matrix template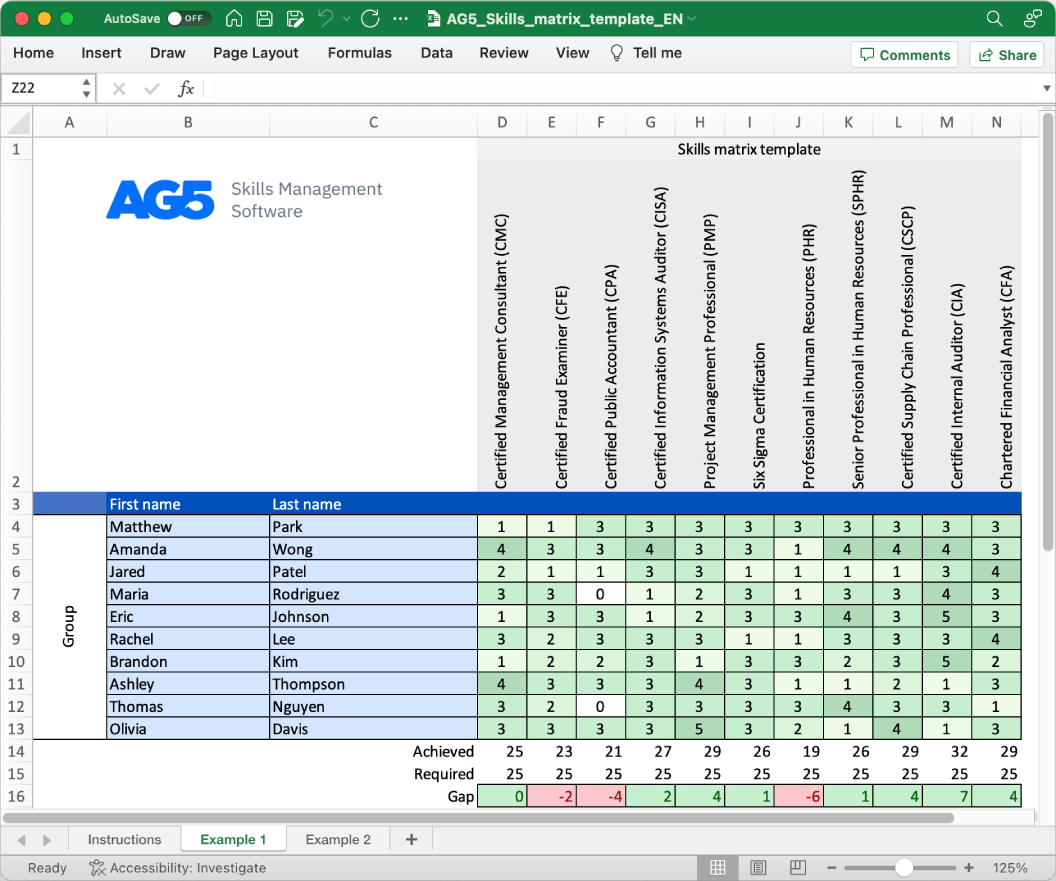 Download your free template here
Overview
With our free SOP skills matrix template, you will receive a clear overview of the skills that are present in your organization, as well as those that are missing. Using this information, you can develop and implement a plan to ensure that your employees' skills are up to date, comprehensive, compliant, and ready for the future.
Certified SOP Professional (CSOP)
Certified SOP Writer
Certified SOP Administrator
Certified SOP Trainer
Certified SOP Auditor
Certified SOP Coordinator
Certified SOP Compliance Specialist
Certified SOP Quality Assurance Specialist
Certified SOP Document Controller
Certified SOP Regulatory Affairs Professional
Certified SOP Change Control Specialist
Certified SOP Training Coordinator
Certified SOP Process Analyst
Certified SOP Implementation Specialist
Certified SOP Validation Specialist
Certified SOP Document Management System Administrator
Certified SOP Best Practices Consultant
Certified SOP Governance Specialist
Certified SOP Improvement Facilitator
Certified SOP System Manager
Related skills
SOP Development and Implementation: Designing and implementing effective standard operating procedures that define clear instructions for carrying out specific tasks or processes. Certifications such as the Certified Professional in Healthcare Quality (CPHQ) or the Certified Professional in Quality (CPQ) demonstrate proficiency in SOP development and implementation.
Process Mapping and Documentation: Mapping out existing processes and documenting them in a structured and standardized manner. Certifications such as the Certified Business Process Professional (CBPP) or the Lean Six Sigma Green Belt (LSSGB) validate skills in process mapping and documentation.
Compliance and Regulatory Knowledge: Ensuring that SOPs are aligned with applicable regulations, industry standards, and compliance requirements. Certifications such as the Certified Compliance and Ethics Professional (CCEP) or the Certified in Governance, Risk, and Compliance (GRC) demonstrate expertise in compliance and regulatory knowledge.
Training and Communication: Developing training materials and effectively communicating SOPs to ensure understanding and compliance among employees. Certifications such as the Certified Professional in Training Management (CPTM) or the Certified Professional in Learning and Performance (CPLP) validate skills in training and communication.
Continuous Improvement: Regularly reviewing and updating SOPs to incorporate process improvements and adapt to changing business needs. Certifications such as the Lean Six Sigma Black Belt (LSSBB) or the Certified Quality Improvement Associate (CQIA) demonstrate proficiency in continuous improvement methodologies for SOPs.
Benefits
Skills management software is vital for SOP compliance as it enables organizations to track and manage employees' skills and qualifications related to SOP adherence. It ensures that employees have the necessary training and understanding of SOPs to follow defined procedures, maintain consistency, and meet regulatory requirements.
Ready to master skills management?
Get a personalized walkthrough of AG5 from one of our product experts in just 15 minutes.
ISO27001 certified Free trial available