Inspection skills matrix template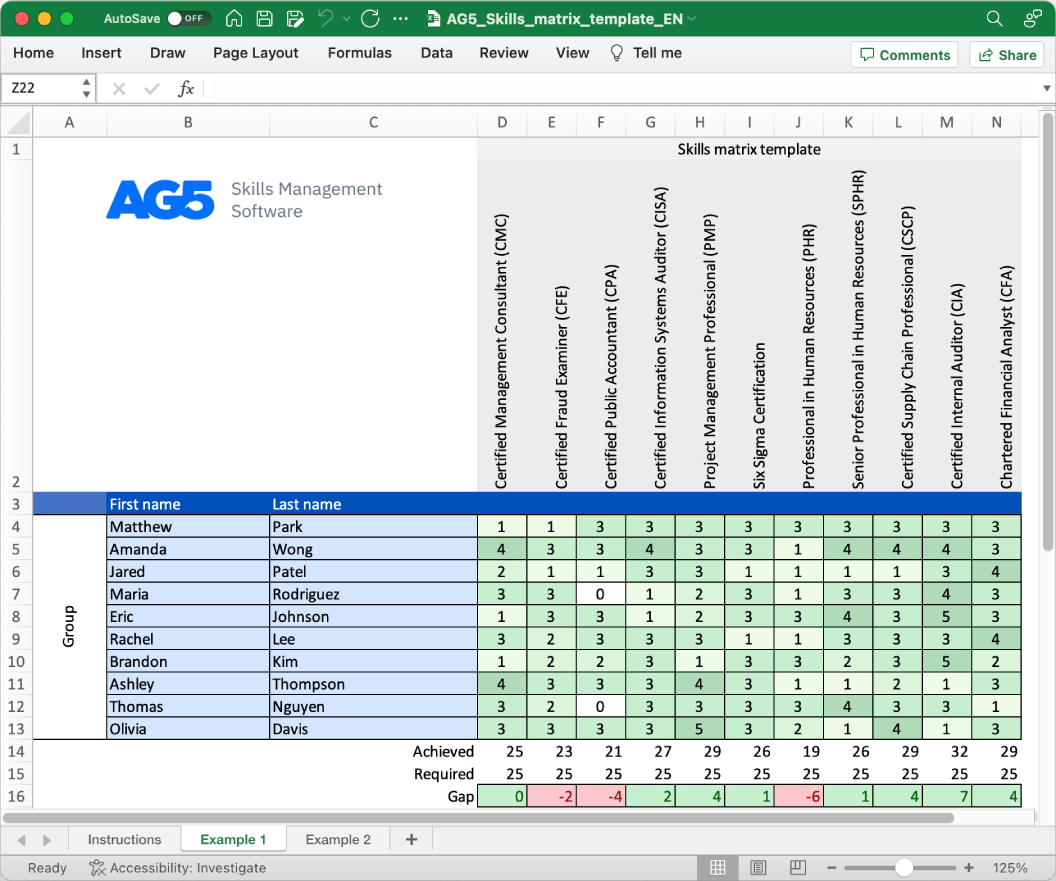 Download your free template here
Overview
With our free inspection skills matrix template, you will receive a clear overview of the skills that are present in your organization, as well as those that are missing. Using this information, you can develop and implement a plan to ensure that your employees' skills are up to date, comprehensive, compliant, and ready for the future.
Certified Inspection Specialist (CIS)
Certified Regulatory Inspector (CRI)
Certified Compliance Inspector (CCI)
Certified Quality Inspector (CQI)
Certified GMP Inspector (CGMPI)
Certified ISO Inspector
Certified Medical Device Inspector (CMDI)
Certified Pharmaceutical Inspector (CPI)
Certified Food Safety Inspector (CFSI)
Certified Manufacturing Inspector (CMI)
Certified Inspection Auditor (CIA)
Certified Inspection Team Leader (CITL)
Certified Inspection Consultant (CIC)
Certified Inspection Trainer (CIT)
Certified Inspection Documentation Specialist (CIDS)
Certified Inspection Risk Analyst (CIRA)
Certified Inspection Quality Assurance Manager (CIQAM)
Certified Inspection Performance Metrics Analyst (CIPMA)
Certified Inspection Process Engineer (CIPE)
Certified Inspection Coordinator (CIC)
Related skills
Inspection Readiness: Preparing organizations and processes for inspections by regulatory authorities or third-party auditors. While there is no specific certification solely dedicated to inspection readiness, certifications such as the Certified Quality Auditor (CQA) offered by ASQ demonstrate proficiency in audit techniques, regulatory compliance, and inspection preparation.
Compliance Assessment: Assessing compliance with regulatory requirements, industry standards, and internal procedures during inspections. Certifications like the Certified Compliance and Ethics Professional (CCEP) offered by the SCCE validate expertise in compliance management, auditing practices, and regulatory adherence.
Documentation Review: Reviewing and presenting required documentation and records during inspections to demonstrate compliance and adherence to applicable standards. Certifications such as the Certified Quality Technician (CQT) offered by ASQ demonstrate proficiency in documentation review, quality control practices, and inspection processes.
Inspection Response and Corrective Actions: Addressing inspection findings, implementing corrective actions, and ensuring timely resolution of identified issues. Certifications like the Certified Manager of Quality/Organizational Excellence (CMQ/OE) offered by ASQ validate proficiency in quality management principles, problem-solving methodologies, and corrective action implementation.
Communication and Relationship Management: Effectively communicating with inspectors, maintaining professional relationships, and managing the inspection process. While there is no specific certification solely focused on inspection communication and relationship management, certifications such as the Certified Manager (CM) offered by the Institute of Certified Professional Managers (ICPM) demonstrate proficiency in leadership, communication, and relationship-building skills.
Benefits
Skills management software is important in inspections as it helps organizations identify and track the skills of personnel involved in inspections, ensuring they possess the required knowledge and expertise to perform inspections effectively and identify non-compliance issues during facility or process evaluations.
Ready to master skills management?
Get a personalized walkthrough of AG5 from one of our product experts in just 15 minutes.
ISO27001 certified Free trial available