Risk assessment skills matrix template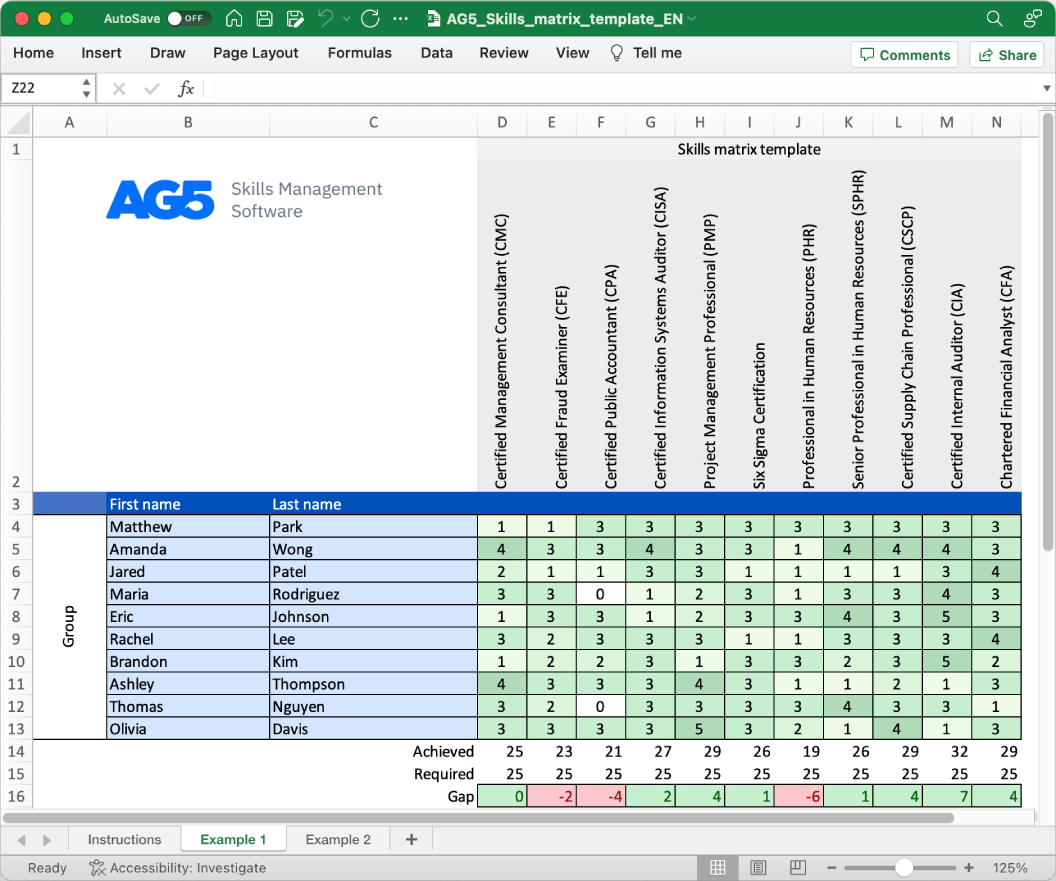 Download your free template here
Overview
With our free risk assessment skills matrix template, you will receive a clear overview of the skills that are present in your organization, as well as those that are missing. Using this information, you can develop and implement a plan to ensure that your employees' skills are up to date, comprehensive, compliant, and ready for the future.
Certified Risk Assessment Professional (CRAP)
Certified Risk Assessor (CRA)
Certified Risk Analyst (CRA)
Certified Risk Management Professional (CRMP)
Certified Risk Manager (CRM)
Certified Risk Control Specialist (CRCS)
Certified Risk Mitigation Expert (CRME)
Certified Risk Assessment Team Leader (CRATL)
Certified Risk Assessment Consultant (CRAC)
Certified Risk Assessment Trainer (CRAT)
Certified Risk Assessment Auditor (CRAu)
Certified Risk Assessment Documentation Specialist (CRADS)
Certified Risk Assessment Coordinator (CRAC)
Certified Risk Assessment Quality Assurance Manager (CRAQAM)
Certified Risk Assessment Performance Metrics Analyst (CRAPMA)
Certified Risk Assessment Process Engineer (CRAPE)
Certified Risk Assessment Regulatory Affairs Specialist (CRARAS)
Certified Risk Assessment Change Control Specialist (CRACCS)
Certified Risk Assessment System Administrator (CRASA)
Certified Risk Assessment Compliance Specialist (CRACS)
Related skills
Risk Identification: The ability to identify and recognize potential risks and hazards in a given context. Certifications such as the Certified Risk Management Professional (CRMP) offered by the Institute of Risk Management (IRM) validate expertise in risk identification techniques, risk registers, and risk profiling.
Risk Analysis and Evaluation: Proficiency in assessing and analyzing risks to determine their potential impact and likelihood. Certifications like the Certified Risk Professional (CRP) offered by the Global Association of Risk Professionals (GARP) demonstrate knowledge of risk analysis methodologies, quantitative and qualitative risk assessment techniques, and risk evaluation frameworks.
Risk Mitigation Strategies: Developing and implementing strategies to mitigate identified risks and reduce their potential impact. Certifications such as the Project Management Professional (PMP) offered by the Project Management Institute (PMI) demonstrate proficiency in risk management planning, risk response strategies, and risk control measures.
Risk Communication: The ability to effectively communicate risks to stakeholders, ensuring a shared understanding of potential threats and the importance of risk management. While there is no specific certification solely dedicated to risk communication, certifications such as the Certified Professional in Business Continuity (CPBC) offered by the Disaster Recovery Institute International (DRI) validate expertise in communication strategies during crisis and risk situations.
Risk Monitoring and Review: Establishing mechanisms to monitor and review risks over time, ensuring that risk management strategies remain effective. Certifications like the Certified Risk and Compliance Management Professional (CRCMP) offered by the Risk and Compliance Management Association (R&CMA) demonstrate proficiency in risk monitoring, performance indicators, and ongoing risk assessment methodologies.
Benefits
Skills management software is important in risk assessment as it enables organizations to identify and manage the skills of personnel involved in assessing and mitigating risks, ensuring they possess the required expertise to effectively identify, analyze, and address potential risks to product quality, patient safety, and regulatory compliance.