Investigation skills matrix template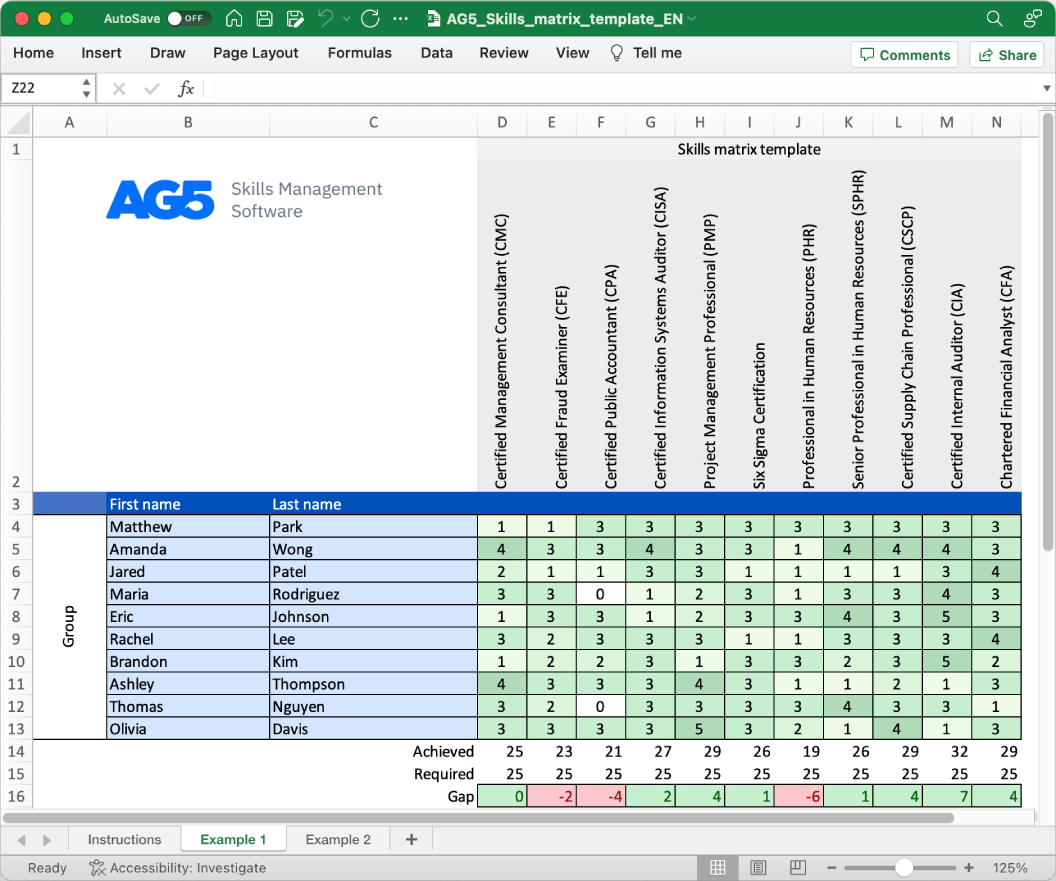 Download your free template here
Overview
With our free investigation skills matrix template, you will receive a clear overview of the skills that are present in your organization, as well as those that are missing. Using this information, you can develop and implement a plan to ensure that your employees' skills are up to date, comprehensive, compliant, and ready for the future.
Certified Investigator (CI)
Certified Professional Investigator (CPI)
Certified Fraud Examiner (CFE)
Certified Forensic Investigator (CFI)
Certified Workplace Investigator (CWI)
Certified Private Investigator (CPI)
Certified Corporate Investigator (CCI)
Certified Financial Crime Investigator (CFCI)
Certified Internal Investigations Specialist (CIIS)
Certified Investigative Interviewer (CII)
Certified Digital Forensics Examiner (CDFE)
Certified Investigative Analyst (CIA)
Certified Investigative Consultant (CIC)
Certified Criminal Investigator (CCI)
Certified Cyber Investigator (CCI)
Certified Professional Insurance Investigator (CPII)
Certified Investigative Techniques Specialist (CITS)
Certified Workplace Harassment Investigator (CWHI)
Certified Investigative Researcher (CIR)
Certified Investigative Report Writer (CIRW)
Related skills
Evidence Collection and Preservation: Properly gathering, documenting, and preserving evidence during an investigation. The Certified Forensic Investigation Professional (CFIP) certification offered by the International Association of Forensic & Security Metrology (IAFSM) validates expertise in evidence collection and preservation.
Interviewing Techniques: Conducting effective interviews with involved parties to gather information and insights. The Certified Fraud Examiner (CFE) certification by the Association of Certified Fraud Examiners (ACFE) covers techniques and best practices for investigative interviewing.
Data Analysis: Analyzing data and evidence to identify patterns, trends, and anomalies. The Certified Data Analyst (CDA) certification by the Data Science Council of America (DASCA) validates proficiency in data analysis techniques and tools.
Incident Investigation: Investigating and analyzing incidents to determine causes and recommend preventive measures. The Certified Incident Investigator (CII) certification offered by the National Association of Safety Professionals (NASP) demonstrates expertise in incident investigation and analysis.
Legal and Ethical Considerations: Understanding and adhering to legal and ethical standards throughout the investigation process. While there isn't a specific certification solely focused on this skill, professionals can demonstrate their knowledge and adherence to legal and ethical considerations through relevant training, such as courses on legal investigation procedures and ethical conduct.
Benefits
Skills management software is important in investigation as it assists in tracking the expertise and experience of investigators, enabling efficient allocation of resources, effective evidence collection, and thorough investigations to uncover root causes and address issues appropriately.
Ready to master skills management?
Get a personalized walkthrough of AG5 from one of our product experts in just 15 minutes.
ISO27001 certified Free trial available