Retail industry skills matrix template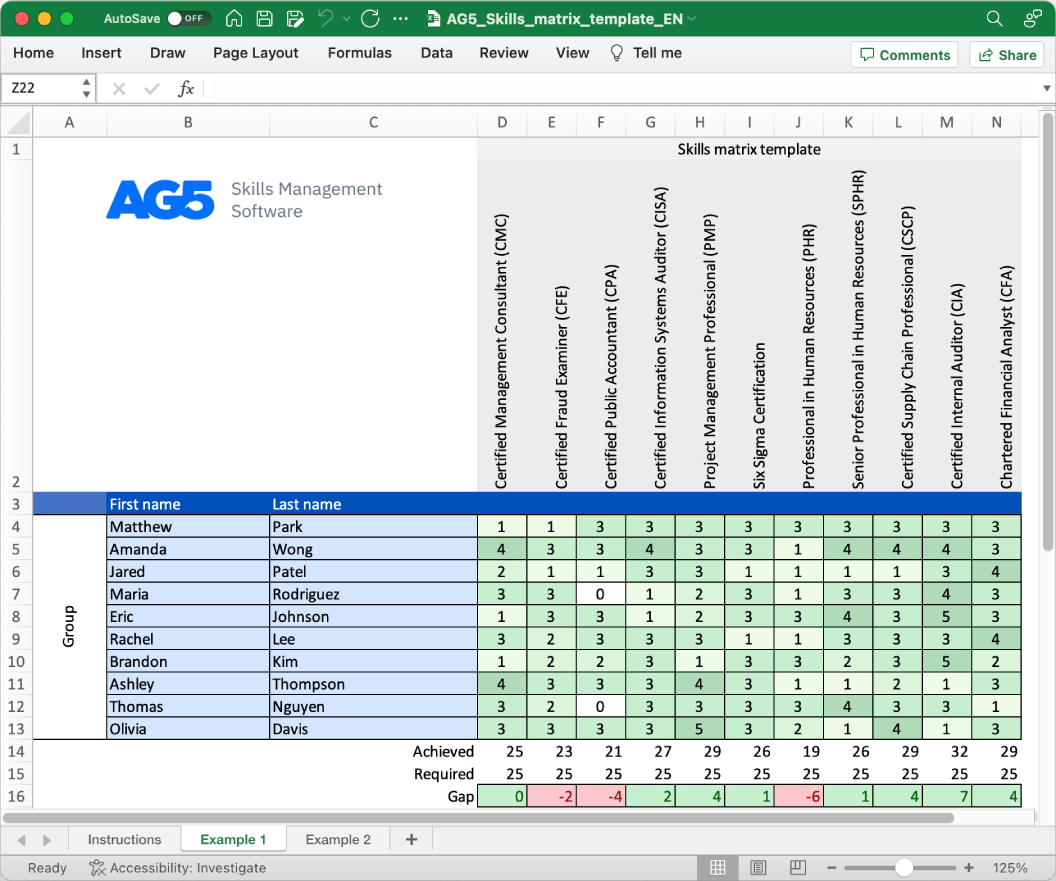 Download your free template here
Overview
With our free retail skills matrix template, you will receive a clear overview of the skills that are present in your organization, as well as those that are missing. Using this information, you can develop and implement a plan to ensure that your employees' skills are up to date, comprehensive, compliant, and ready for the future.
Certified Retail Management Professional (CRMP)
National Retail Federation Foundation (NRF) Certification
Certified Professional Salesperson (CPS)
Certified Retail Store Manager (CRSM)
Retail Industry Fundamentals Certification (RIF)
Certified E-commerce Specialist (CES)
Retail Management Certification (RMC)
Certified Customer Experience Professional (CCEP)
Certified Digital Marketing Professional (CDMP)
Certified Product Management Professional (CPMP)
Certified Supply Chain Analyst (CSCA)
Certified Retail Supply Chain Professional (CRSCP)
Certified in Retail Management (CRM)
Certified Visual Merchandiser (CVM)
Certified Loss Prevention Professional (CLPP)
Certified Retail Banker (CRB)
Certified Retail Interior Designer (CRID)
Certified Retail Foodservice Professional (CRFP)
Certified Retail Real Estate Professional (CRREP)
Certified Retail Analytics Professional (CRAP)
Related skills
Customer service: This involves providing excellent service to customers, understanding their needs, and resolving any issues they may have. Certifications that prove customer service skills include the Certified Customer Service Professional (CCSP) from the Customer Service Institute of America (CSIA) and the Customer Experience Professional (CEP) from the Customer Experience Professionals Association (CXPA).
Sales and merchandising: This involves promoting products and services and ensuring that they are attractively displayed and easily accessible to customers. Certifications that prove sales and merchandising skills include the Certified Sales Professional (CSP) from the Sales and Marketing Executives International (SMEI) and the Certified Merchandise Planning and Control (CMPC) from the Retail Industry Leaders Association (RILA).
Inventory management: This involves monitoring and managing inventory levels to ensure that products are available when customers need them. Certifications that prove inventory management skills include the Certified in Production and Inventory Management (CPIM) from APICS and the Certified Professional in Supply Management (CPSM) from the Institute for Supply Management (ISM).
Leadership and management: This involves overseeing the operations of a retail store, managing employees, and driving sales. Certifications that prove leadership and management skills include the Certified Retail Management Professional (CRMP) from the National Retail Federation (NRF) and the Certified Store Manager (CSM) from the Retail Industry Leaders Association (RILA).
E-commerce and digital marketing: This involves understanding how to market and sell products online, including managing social media accounts, creating digital ads, and optimizing websites for search engines. Certifications that prove e-commerce and digital marketing skills include the Digital Marketing Certified Associate (DMCA) from Simplilearn and the Social Media Marketing Certification from Hootsuite.
Benefits
Skills management software is important in the retail industry, as it enables companies to identify and develop the skills necessary for employees to succeed in their roles, while also providing a centralized platform for tracking employee performance and progress. Using the software, retailers can ensure that they have the right people in the right roles, with the right skills and knowledge to drive their businesses forward.