Process validation skills matrix template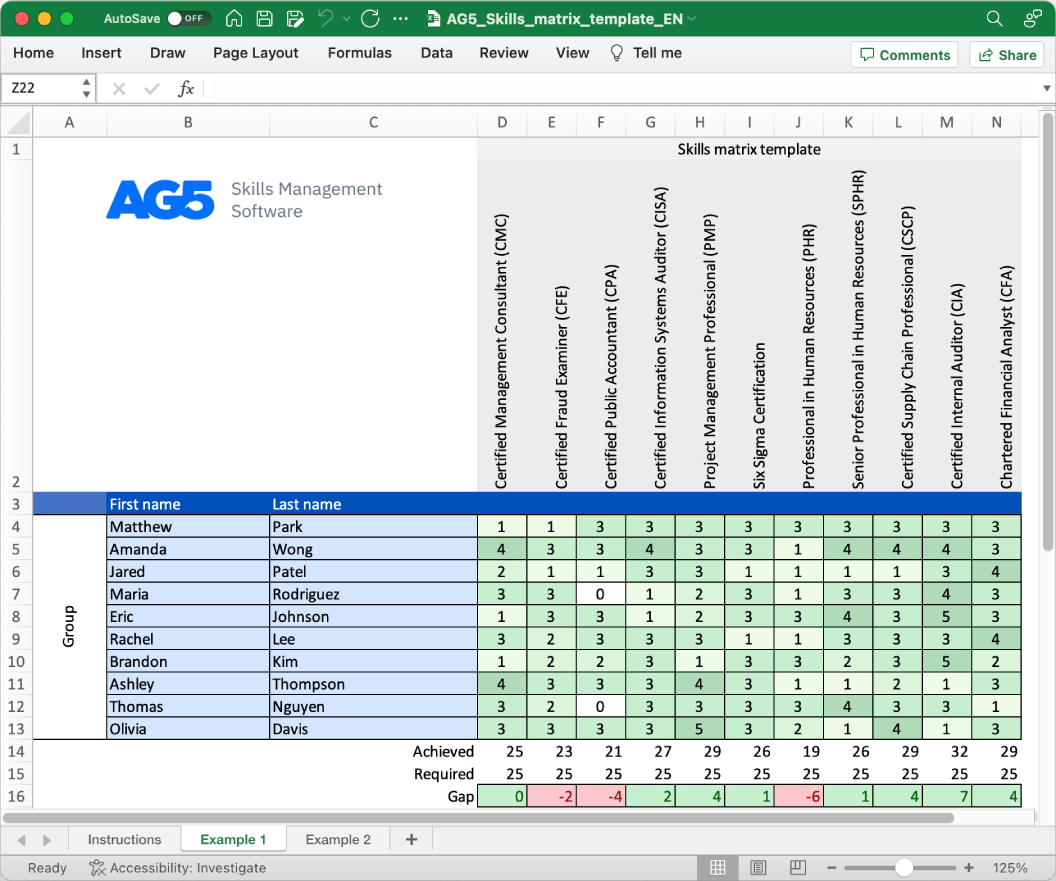 Download your free template here
Overview
With our free process validation skills matrix template, you will receive a clear overview of the skills that are present in your organization, as well as those that are missing. Using this information, you can develop and implement a plan to ensure that your employees' skills are up to date, comprehensive, compliant, and ready for the future.
Certified Process Validation Professional (CPVP)
Certified Validation Specialist
Certified Process Engineer
Certified Validation Auditor
Certified Process Validation Trainer
Certified Validation Project Manager
Certified Validation Consultant
Certified GMP Process Validation Expert
Certified Process Validation Analyst
Certified Process Validation Coordinator
Certified Process Validation Quality Assurance Specialist
Certified Process Validation Compliance Professional
Certified Process Validation Documentation Specialist
Certified Process Validation Scientist
Certified Process Validation Risk Manager
Certified Process Validation Data Analyst
Certified Process Validation Equipment Specialist
Certified Process Validation Change Control Specialist
Certified Process Validation Statistical Analyst
Certified Process Validation Lifecycle Manager
Related skills
Validation Planning: Developing comprehensive plans for process validation activities, including defining validation protocols and test procedures. Certifications such as the Certified Validation Professional (CVP) or the Certified Quality Engineer (CQE) validate expertise in validation planning.
Risk Assessment: Identifying and evaluating potential risks associated with the process and implementing risk mitigation strategies. Certifications such as the Certified Risk Management Professional (CRMP) or the Certified Hazard Control Manager (CHCM) demonstrate proficiency in risk assessment.
Validation Protocol Execution: Executing validation protocols, conducting tests, and collecting data to validate the process performance and compliance with predefined acceptance criteria. Certifications such as the Certified Validation Professional (CVP) or the Certified Quality Technician (CQT) validate skills in protocol execution.
Data Analysis and Interpretation: Analyzing validation data, interpreting results, and drawing conclusions about the process performance. Certifications such as the Certified Data Management Professional (CDMP) or the Certified Six Sigma Black Belt (CSSBB) demonstrate proficiency in data analysis and interpretation.
Documentation and Reporting: Documenting validation activities, preparing validation reports, and ensuring proper documentation for regulatory compliance. Certifications such as the Certified Document Control Specialist (CDCS) or the Certified Records Manager (CRM) validate skills in documentation and reporting for process validation.
Benefits
Skills management software supports process validation by tracking and managing the skills and certifications of individuals involved in validation activities. It ensures that employees possess the required expertise to execute validation protocols, collect and analyze data, and ensure process performance and compliance.