Process mapping skills matrix template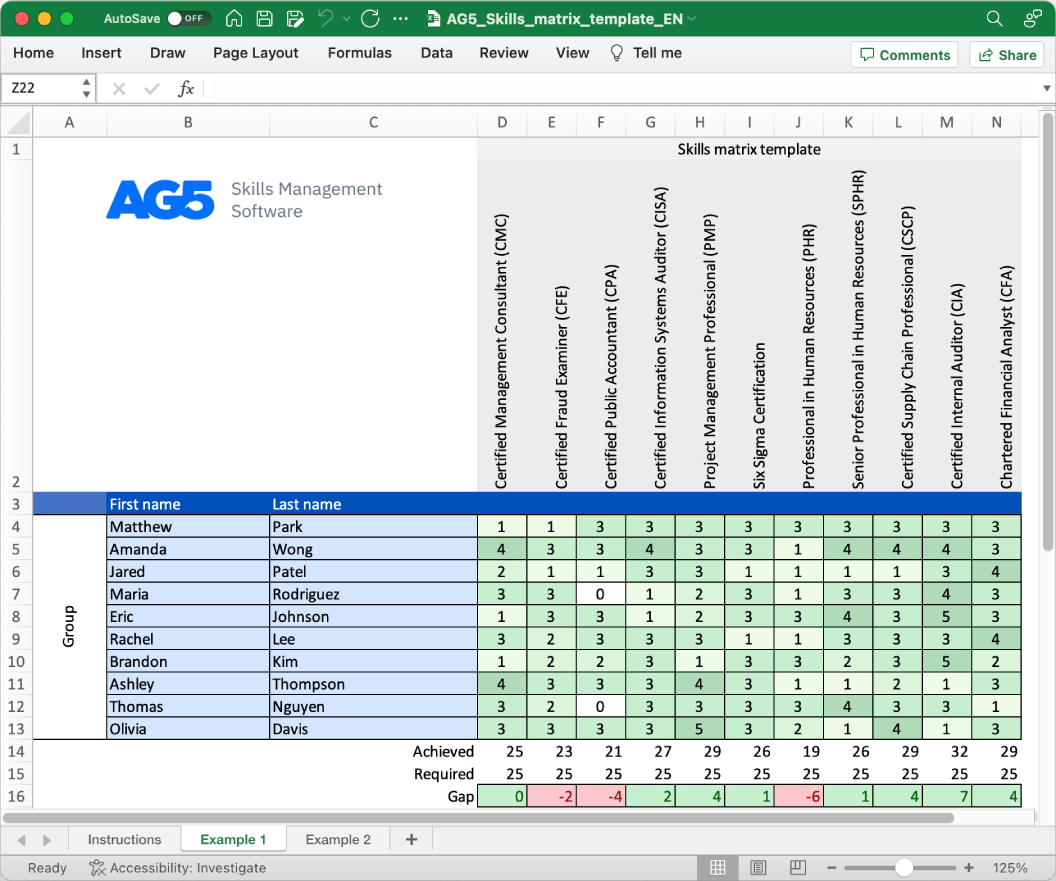 Download your free template here
Overview
With our free process mapping skills matrix template, you will receive a clear overview of the skills that are present in your organization, as well as those that are missing. Using this information, you can develop and implement a plan to ensure that your employees' skills are up to date, comprehensive, compliant, and ready for the future.
Certified Business Process Professional (CBPP)
Certified Process Professional (CPP)
Certified Business Process Analyst (CBPA)
Certified Business Process Associate (CBPA)
Certified Process Modeling Professional (CPMP)
Certified Process Analyst (CPA)
Certified Process Designer (CPD)
Certified Process Engineer (CPE)
Certified Process Improvement Specialist (CPIS)
Certified Process Manager (CPM)
Certified Business Process Manager (CBPM)
Certified Business Process Architect (CBPA)
Certified Business Process Consultant (CBPC)
Certified Business Process Strategist (CBPS)
Certified Business Process Facilitator (CBPF)
Certified Process Optimization Professional (CPOP)
Certified Process Governance Specialist (CPGS)
Certified Process Excellence Analyst (CPEA)
Certified Process Innovation Practitioner (CPIP)
Certified Process Transformation Expert (CPTE)
Related skills
Process Mapping Techniques: Proficiency in various process mapping techniques, such as flowcharts, value stream mapping, and swimlane diagrams. While there is no specific certification solely dedicated to process mapping, certifications such as the Certified Business Analysis Professional (CBAP) offered by the International Institute of Business Analysis (IIBA) validate expertise in business analysis techniques, including process mapping.
Process Identification and Scope Definition: Skill in identifying and defining the scope of processes to be mapped, ensuring clarity and understanding of the process boundaries. Certifications such as the Certified Business Process Associate (CBPA) offered by the ABPMP demonstrate knowledge of process identification, scoping, and documentation.
Stakeholder Engagement: Ability to engage stakeholders in the process mapping exercise, gather their input, and ensure alignment with their expectations. Certifications such as the Certified Business Process Management Professional (CBPMP) offered by ABPMP validate competency in stakeholder management, communication, and facilitation.
Process Mapping Software: Proficiency in using process mapping software tools to create visual representations of processes. While there is no specific certification solely focused on process mapping software, familiarity with tools such as Microsoft Visio, Lucidchart, or Bizagi can be demonstrated through practical experience and self-learning.
Process Improvement Opportunities Identification: Competency in identifying improvement opportunities through process mapping exercises, such as waste reduction, efficiency gains, and elimination of non-value-added steps. Certifications such as the Certified Lean Practitioner (CLP) offered by the Lean Certification Alliance demonstrate expertise in lean principles, process analysis, and improvement identification.
Benefits
Skills management software is important in process mapping as it enables organizations to identify and track the skills of employees involved in mapping and analyzing processes, ensuring they possess the necessary knowledge and expertise to accurately document and improve workflows.
Ready to master skills management?
Get a personalized walkthrough of AG5 from one of our product experts in just 15 minutes.
ISO27001 certified Free trial available