Supplier performance metrics skills matrix template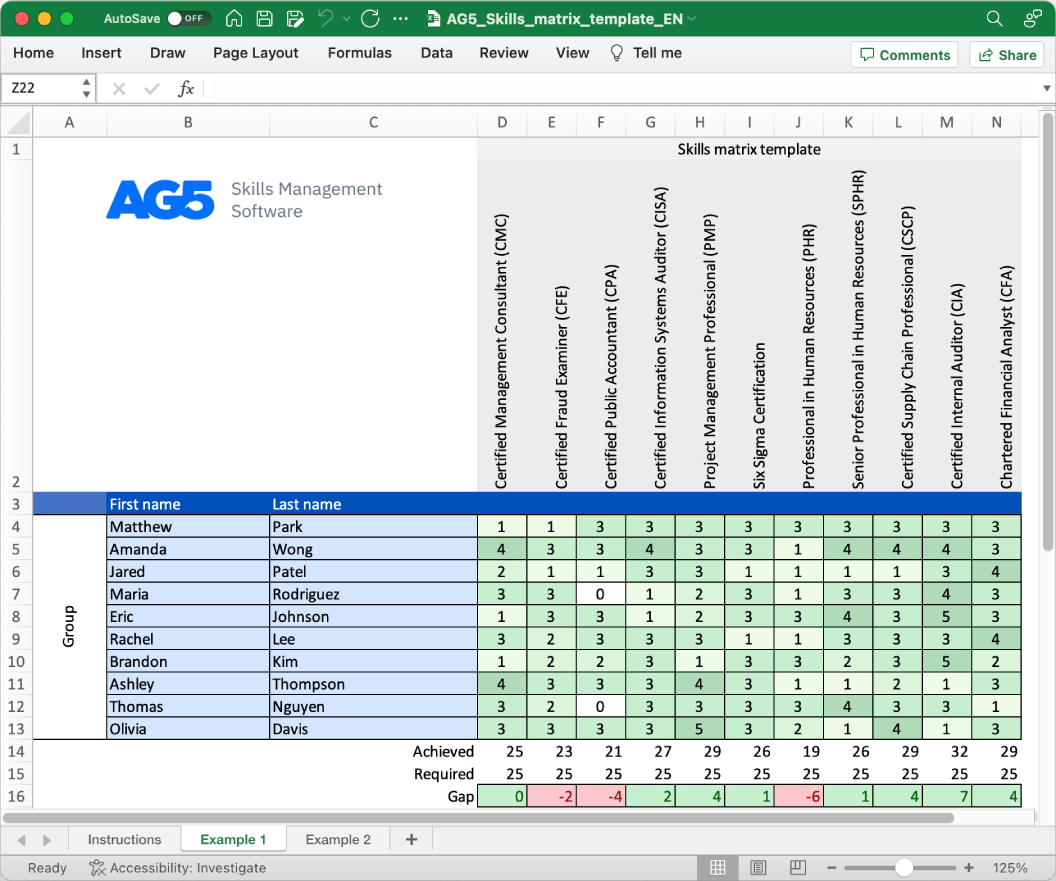 Download your free template here
Overview
With our free process validation protocol execution skills matrix template, you will receive a clear overview of the skills that are present in your organization, as well as those that are missing. Using this information, you can develop and implement a plan to ensure that your employees' skills are up to date, comprehensive, compliant, and ready for the future.
Certified Supplier Quality Professional (CSQP)
Certified Supplier Quality Manager (CSQM)
Certified Supplier Quality Engineer (CSQE)
Certified Supplier Auditor (CSA)
Certified Supplier Quality Auditor (CSQA)
Certified Vendor Manager (CVM)
Certified Vendor Quality Specialist (CVQS)
Certified Vendor Quality Engineer (CVQE)
Certified Vendor Quality Professional (CVQP)
Certified Supplier Management Professional (CSMP)
Certified Supplier Quality Specialist (CSQS)
Certified Supplier Quality Analyst (CSQA)
Certified Supplier Quality Coordinator (CSQC)
Certified Supplier Quality Manager (CSQM)
Certified Supplier Quality Engineer (CSQE)
Certified Vendor Quality Analyst (CVQA)
Certified Vendor Quality Coordinator (CVQC)
Certified Vendor Quality Manager (CVQM)
Certified Vendor Quality Engineer (CVQE)
Certified Vendor Management Professional (CVMP)
Related skills
Supplier Performance Metrics Proficiency: Proficiency in supplier performance metrics involves the ability to measure, evaluate, and enhance supplier performance for an efficient supply chain. Certifications like the Certified Analytics Professional (CAP) validate expertise in data analysis and interpretation, which aids in effectively analyzing supplier performance data and identifying trends.
Key Performance Indicator (KPI) Management: Skill in defining and tracking KPIs to assess supplier performance accurately. The Certified KPI Professional (CKPI) certification, offered by the KPI Institute, focuses on understanding, implementing, and managing Key Performance Indicators, ensuring optimal KPI utilization.
Supplier Relationship Management: Competency in building and maintaining strong supplier relationships to improve performance and collaboration. The Certified Professional in Supplier Diversity (CPSD) certification, provided by the Institute for Supply Management (ISM), emphasizes effective supplier relationship management and initiatives for diversity.
Supply Chain Risk Management: Proficiency in identifying and mitigating risks associated with suppliers and their performance. The Certified Supply Chain Professional (CSCP) certification, offered by APICS, encompasses supply chain risk management and equips professionals to effectively manage risks within the supply chain.
Continuous Improvement and Lean Practices: Skill in implementing continuous improvement methodologies to enhance supplier performance and streamline processes. The Lean Six Sigma Green Belt (LSSGB) certification provides professionals with Lean and Six Sigma tools, empowering them to drive process improvements and elevate supplier performance.
Benefits
Skills management software is important in supplier performance metrics, as it supports tracking the skills of personnel responsible for supplier evaluation and optimizing supplier relationships.
Ready to master skills management?
Get a personalized walkthrough of AG5 from one of our product experts in just 15 minutes.
ISO27001 certified Free trial available