Kaizen skills matrix template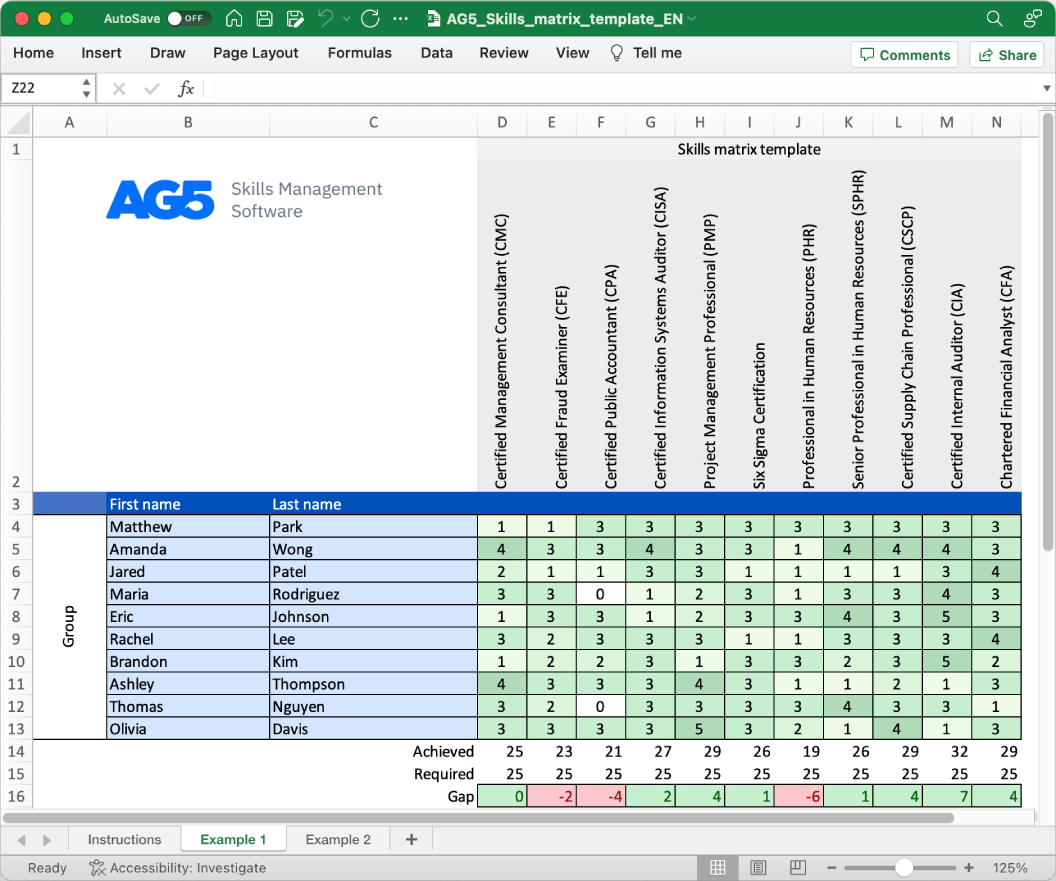 Download your free template here
Overview
With our free Kaizen skills matrix template, you will receive a clear overview of the skills that are present in your organization, as well as those that are missing. Using this information, you can develop and implement a plan to ensure that your employees' skills are up to date, comprehensive, compliant, and ready for the future.
Certified Kaizen Practitioner
Certified Kaizen Facilitator
Certified Kaizen Leader
Certified Kaizen Consultant
Certified Kaizen Coach
Certified Kaizen Specialist
Certified Kaizen Project Manager
Certified Kaizen Event Organizer
Certified Kaizen Team Leader
Certified Kaizen Problem-Solver
Certified Kaizen Process Improvement Professional
Certified Kaizen Manufacturing Engineer
Certified Kaizen Six Sigma Green Belt
Certified Kaizen Lean Manufacturing Professional
Certified Kaizen Quality Control Specialist
Certified Kaizen Value Stream Mapping Expert
Certified Kaizen Supply Chain Manager
Certified Kaizen Operations Manager
Certified Kaizen Change Management Specialist
Certified Kaizen Continuous Improvement Professional
Related skills
Continuous Improvement Methodologies: Proficiency in Kaizen principles and methodologies, such as PDCA (Plan-Do-Check-Act), DMAIC (Define-Measure-Analyze-Improve-Control), and Value Stream Mapping. This includes knowledge of lean manufacturing concepts, waste reduction techniques, and the systematic approach to continuous improvement. Certifications like the Lean Six Sigma Green Belt or the Kaizen Practitioner validate understanding and application of Kaizen methodologies.
Problem Solving and Root Cause Analysis: Skills in identifying problems, analyzing root causes, and implementing effective solutions. This involves using tools and techniques such as 5 Whys, Fishbone Diagrams, and Pareto Analysis to uncover the underlying causes of issues and develop improvement strategies. Certifications like the Lean Six Sigma Green Belt or the Certified Kaizen Facilitator demonstrate proficiency in problem-solving and root cause analysis.
Team Collaboration and Facilitation: Ability to facilitate Kaizen events and lead cross-functional teams in process improvement initiatives. This includes fostering a collaborative environment, promoting team engagement, and guiding the team through the Kaizen process. Certifications such as the Certified Kaizen Facilitator or the Agile Facilitation Professional validate skills in team collaboration and facilitation for Kaizen projects.
Lean Principles and Tools: Knowledge of lean manufacturing principles and tools, such as 5S, Kanban, Standard Work, and Visual Management. This involves understanding how these tools contribute to waste reduction, process efficiency, and continuous improvement. Certifications like the Lean Six Sigma Green Belt or the Certified Lean Practitioner demonstrate competence in applying lean principles and tools in Kaizen initiatives.
Data Analysis and Performance Metrics: Proficiency in collecting and analyzing data to measure process performance and identify areas for improvement. This includes using statistical analysis, process capability studies, and performance metrics to assess the effectiveness of Kaizen initiatives. Certifications like the Lean Six Sigma Green Belt or the Certified Kaizen Practitioner validate skills in data analysis and performance measurement for Kaizen projects.
Benefits
For Kaizen, skills management software facilitates the identification of employees trained in Kaizen principles, problem-solving techniques, and team collaboration. It enables the allocation of resources based on specific skill sets required for Kaizen events and ensures that employees with Kaizen certifications or experience in facilitating improvement projects are appropriately assigned.
Ready to master skills management?
Get a personalized walkthrough of AG5 from one of our product experts in just 15 minutes.
ISO27001 certified Free trial available