Risk-based decision-making skills matrix template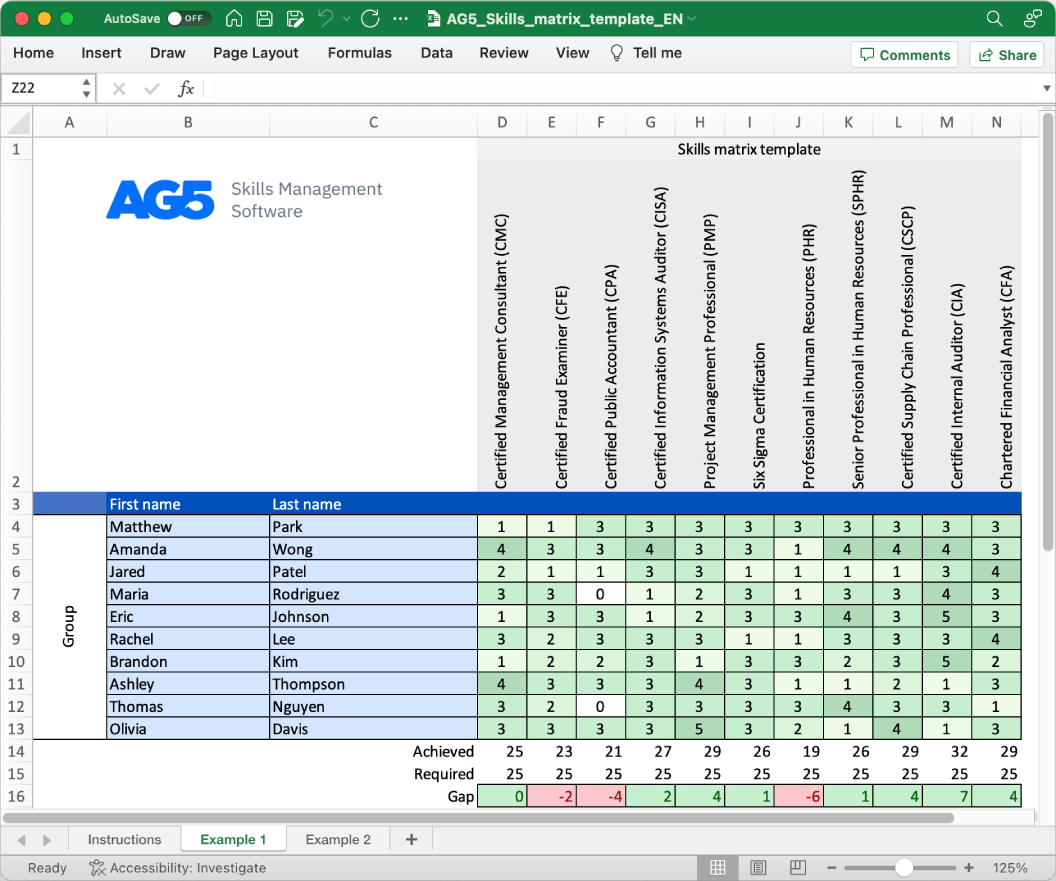 Download your free template here
Overview
With our free risk-based decision-making skills matrix template, you will receive a clear overview of the skills that are present in your organization, as well as those that are missing. Using this information, you can develop and implement a plan to ensure that your employees' skills are up to date, comprehensive, compliant, and ready for the future.
Certified Risk-Based Decision-Making Professional (CRBDMP)
Certified Risk Assessment Analyst (CRAA)
Certified Decision Analysis Specialist (CDAS)
Certified Risk-Based Decision-Maker (CRBDM)
Certified Risk Evaluation Consultant (CREC)
Certified Decision Science Practitioner (CDSP)
Certified Risk-Based Decision Facilitator (CRBDF)
Certified Decision-Making Process Auditor (CDMPA)
Certified Risk-Based Decision-Making Expert (CRBDME)
Certified Decision-Making Analyst (CDMA)
Certified Risk-Based Decision-Making Consultant (CRBDMC)
Certified Decision-Making Methodologist (CDMM)
Certified Risk Assessment Team Leader (CRATL)
Certified Decision Science Modeler (CDSM)
Certified Risk-Based Decision-Making Strategist (CRBDMS)
Certified Decision Support Specialist (CDSS)
Certified Risk Analysis Practitioner (CRAP)
Certified Risk-Based Decision-Making Coach (CRBDMC)
Certified Decision-Making Tool Expert (CDMTE)
Certified Risk Evaluation Auditor (CREA)
Related skills
Risk Assessment: This skill involves the ability to identify and assess risks associated with processes, systems, or projects by evaluating their likelihood and potential impact. Proficiency in risk assessment can be demonstrated through the Certified Risk Management Professional (CRMP) certification offered by the Risk and Insurance Management Society (RIMS), which validates expertise in risk identification, analysis, and evaluation.
Risk Mitigation Strategies: The skill to develop and implement effective strategies to mitigate identified risks, reducing their likelihood or impact. Achieving the Project Management Professional (PMP) certification from the Project Management Institute (PMI) demonstrates expertise in project management, including risk management and the development of risk response plans.
Cost-Benefit Analysis: Proficiency in conducting cost-benefit analyses to evaluate the potential risks and rewards associated with different courses of action. The Certified Cost Professional (CCP) certification, offered by the Association for the Advancement of Cost Engineering (AACE International), validates expertise in cost estimating, analysis, and management.
Decision Analysis: This skill involves using quantitative and qualitative techniques to analyze potential decisions, considering their associated risks and uncertainties. Demonstrating proficiency in decision analysis can be highlighted by obtaining the Certified Decision Professional (CDP) certification from the Institute for Operations Research and the Management Sciences (INFORMS), which validates expertise in decision-making methodologies and tools.
Regulatory Compliance: Proficiency in understanding and complying with relevant regulations, standards, and guidelines in risk-based decision-making processes. The Certified Regulatory Affairs Professional (RAPS-CRCP) certification, offered by the Regulatory Affairs Professionals Society (RAPS), demonstrates expertise in regulatory affairs, including knowledge of regulatory requirements related to risk assessment and decision-making in various industries.
Benefits
Skills management software is important in risk-based decision-making to identify and assign individuals skilled in risk assessment, mitigation strategies, cost-benefit analysis, decision analysis, and regulatory compliance, leading to informed and effective risk-based decisions.
Ready to master skills management?
Get a personalized walkthrough of AG5 from one of our product experts in just 15 minutes.
ISO27001 certified Free trial available