International affairs skills matrix template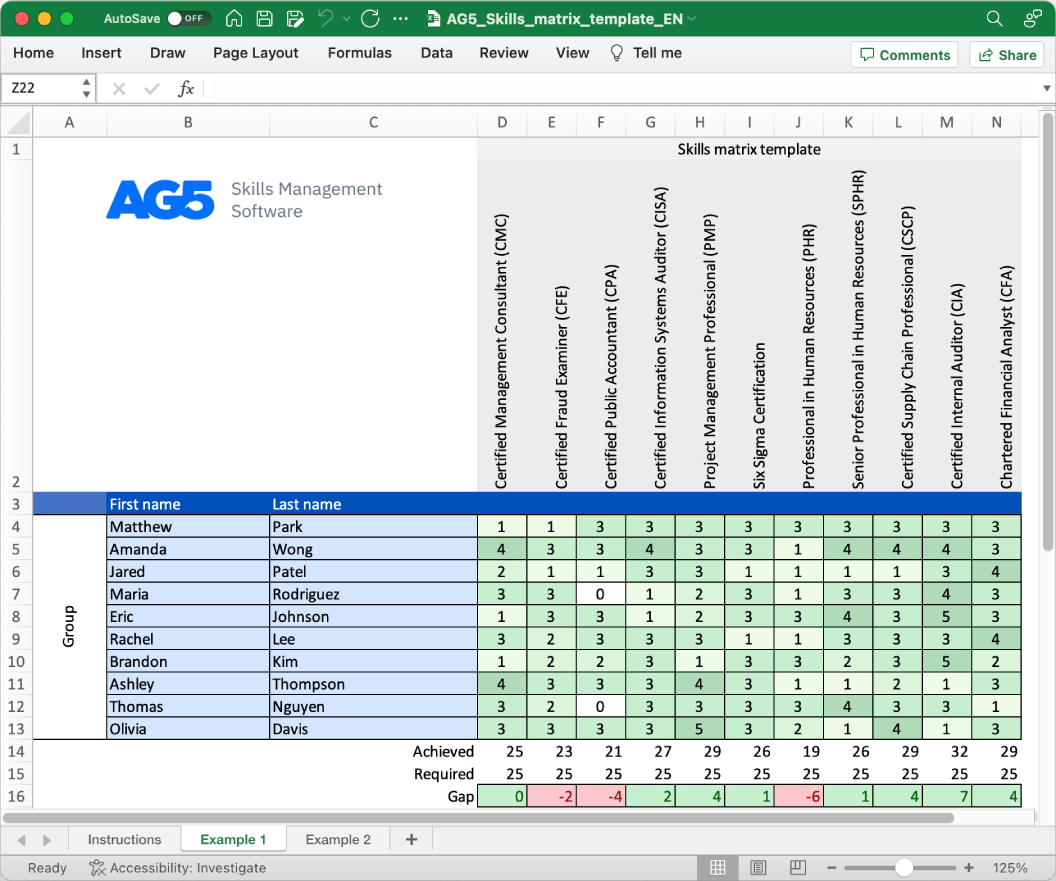 Download your free template here
Overview
With our free international affairs skills matrix template, you will receive a clear overview of the skills that are present in your organization, as well as those that are missing. Using this information, you can develop and implement a plan to ensure that your employees' skills are up to date, comprehensive, compliant, and ready for the future.
Certified International Trade Professional (CITP)
Certified Global Business Professional (CGBP)
Certified Specialist in International Trade (CSIT)
Certified International Project Manager (CIPM)
Certified Anti-Money Laundering Specialist (CAMS)
Certified Financial Crime Specialist (CFCS)
Certified Risk Management Professional (CRMP)
Certified Supply Chain Professional (CSCP)
Certified Professional in Supply Management (CPSM)
Certified International Property Specialist (CIPS)
Certified Information Privacy Professional (CIPP)
Certified Fraud Examiner (CFE)
Certified Export Compliance Officer (CECO)
Certified Business Resilience Manager (CBRM)
Certified Internal Auditor (CIA)
Certified Public Accountant (CPA)
Certified Management Accountant (CMA)
Certified Treasury Professional (CTP)
Certified Financial Planner (CFP)
Certified Investment Management Analyst (CIMA)
Related skills
Analytical skills: Analytical skills are important for understanding complex issues in international affairs and developing effective solutions. The Certified Analytics Professional (CAP) certification from the Institute for Operations Research and the Management Sciences (INFORMS) can prove analytical skills.
Language skills: Language skills are essential for communicating effectively in international affairs, especially for professionals working in diplomacy or international business. The American Council on the Teaching of Foreign Languages (ACTFL) offers proficiency certifications in various languages.
Intercultural competence: Intercultural competence is important for navigating cultural differences in international affairs. The Cultural Intelligence (CQ) certification from the Cultural Intelligence Center can prove intercultural competence.
Project management: Project management skills are important for delivering international projects on time and within budget. The Project Management Professional (PMP) certification from the Project Management Institute (PMI) can prove project management skills.
Writing and communication skills: Writing and communication skills are important for producing reports, policy briefs, and other documents in international affairs. The Professional Certified Marketer (PCM) certification from the American Marketing Association (AMA) can prove writing and communication skills.
Benefits
Skills management software is important in international affairs because it can help organizations effectively identify, track, and utilize the diverse skill sets of their global workforce, leading to more efficient and successful operations.