Intellectual property rights management skills matrix template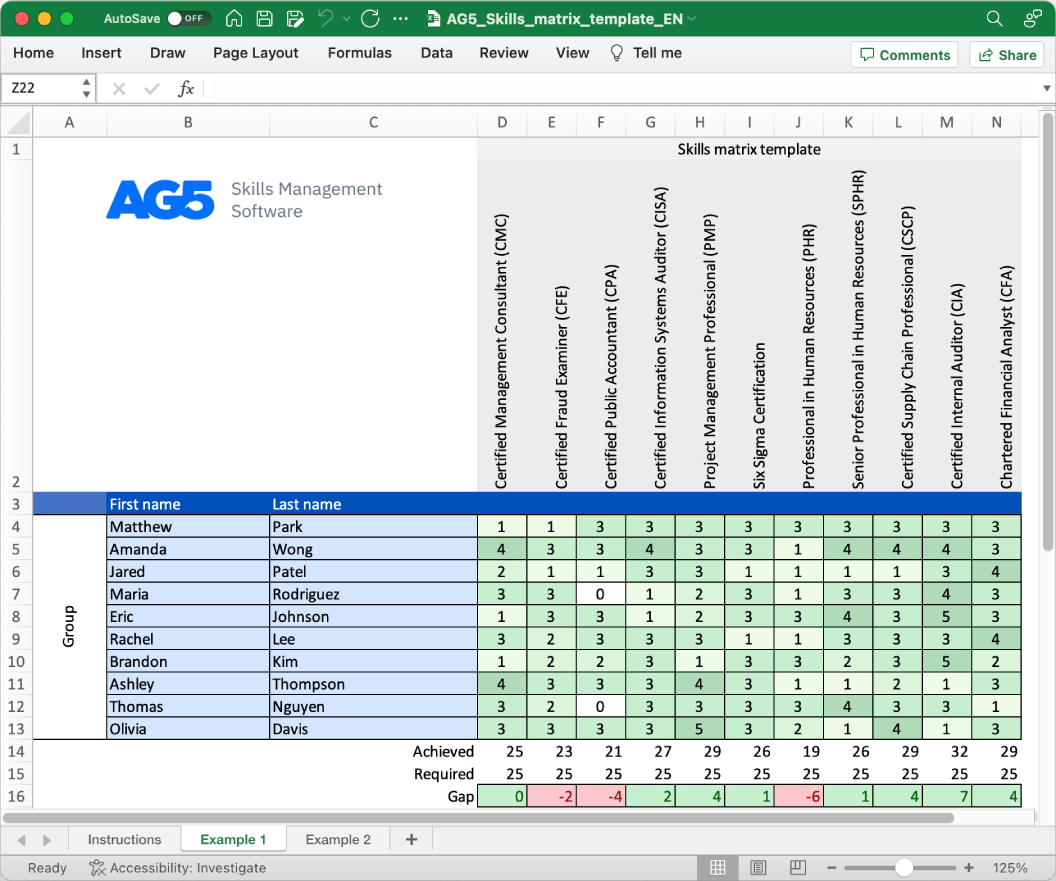 Download your free template here
Overview
With our free intellectual property rights management skills matrix template, you will receive a clear overview of the skills that are present in your organization, as well as those that are missing. Using this information, you can develop and implement a plan to ensure that your employees' skills are up to date, comprehensive, compliant, and ready for the future.
Certified Patent Practitioner
Certified Intellectual Property Manager
Certified Licensing Professional
Certified Trademark Administrator
Certified Copyright Specialist
Certified Intellectual Property Strategist
Registered Technology Transfer Professional
Certified IP Portfolio Manager
Certified IP Paralegal
Certified IP Consultant
Certified IP Litigation Specialist
Certified IP Valuation Analyst
Certified Design Patent Specialist
Certified IP Transactions Professional
Certified IP Commercialization Manager
Certified IP Enforcement Officer
Certified IP Infringement Analyst
Certified IP Contracts Specialist
Certified IP Regulatory Affairs Professional
Certified IP Negotiator
Related skills
Legal Acumen: Demonstrating a profound understanding of intellectual property laws and regulations, a mastery confirmed by the Certified Intellectual Property Law Specialist (CIPLS) certification.
IP Strategy Development: Crafting effective intellectual property strategies aligned with business objectives, a competency demonstrated through training and the Certified IP Strategy Developer (CIPSD) certification.
Licensing and Contracts: Proficiently negotiating and drafting licensing agreements and contracts to safeguard intellectual property assets, a skill recognized by the Certified IP Licensing Professional (CIPLP) certification.
Enforcement and Litigation: Skillfully managing intellectual property enforcement and potential litigation scenarios, an expertise supported by the Certified IP Enforcement Specialist (CIPES) certification.
Global IP Management: Navigating the complexities of international intellectual property laws and practices, a proficiency demonstrated through the Certified Global IP Manager (CGIPM) certification.
Benefits
Skills management software ensures IP professionals possess legal expertise, strategic acumen, and licensing knowledge, optimizing the management and protection of intellectual property assets while complying with regulations and maximizing value.
Ready to master skills management?
Get a personalized walkthrough of AG5 from one of our product experts in just 15 minutes.
ISO27001 certified Free trial available