Environmental management system (EMS) skills matrix template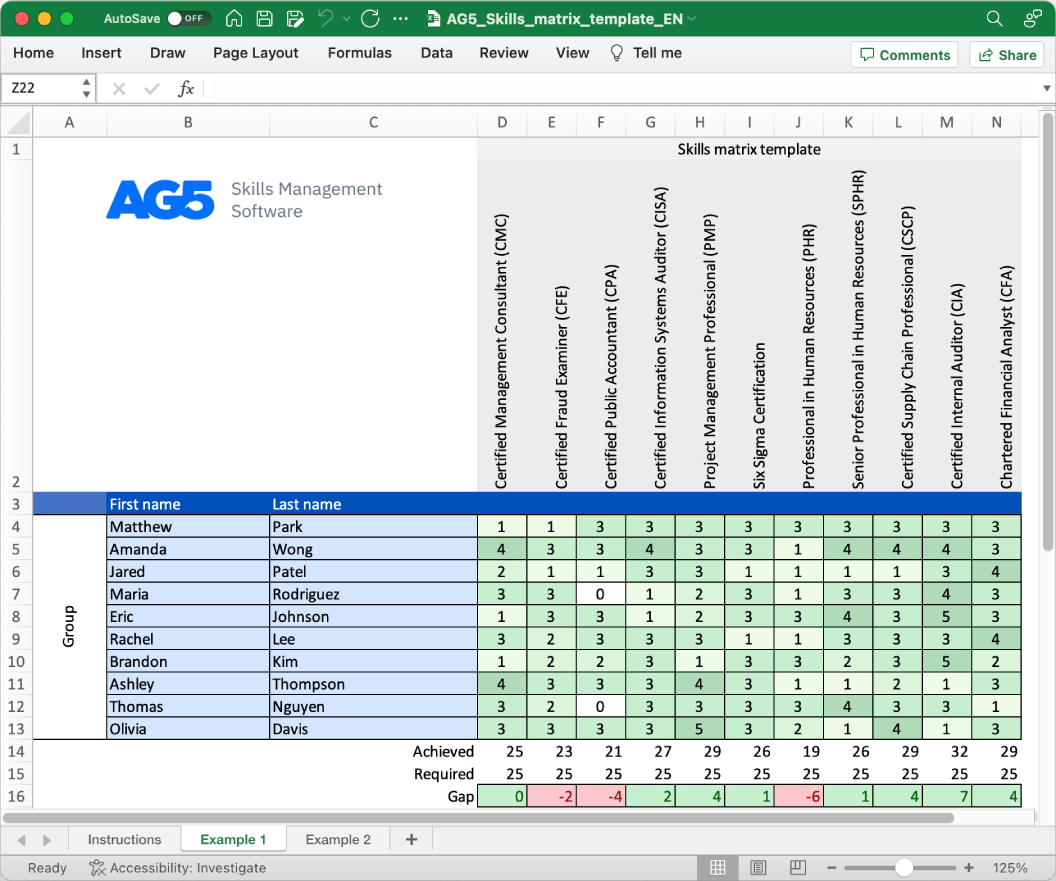 Download your free template here
Overview
With our free EMS skills matrix template, you will receive a clear overview of the skills that are present in your organization, as well as those that are missing. Using this information, you can develop and implement a plan to ensure that your employees' skills are up to date, comprehensive, compliant, and ready for the future.
EMS Lead Auditor
EMS Internal Auditor
EMS Consultant
EMS Implementation Specialist
EMS Documentation Specialist
EMS Coordinator
EMS Manager
EMS Sustainability Professional
EMS Performance Metrics Analyst
EMS Compliance Officer
EMS Risk Assessor
EMS Legal Compliance Specialist
EMS Energy Management Specialist
EMS Waste Management Expert
EMS Water Conservation Specialist
EMS Carbon Footprint Analyst
EMS Greenhouse Gas Inventory Specialist
EMS Life Cycle Assessment Practitioner
EMS Biodiversity Conservation Specialist
EMS Stakeholder Engagement Facilitator
Related skills
Environmental Regulations and Compliance: Knowledge of environmental regulations, permits, and requirements applicable to the industry and region. This includes understanding environmental legislation, waste management regulations, air and water quality standards, and hazardous materials handling. Certifications like the Certified Environmental Auditor (CEA) or the Environmental Compliance Professional (ECP) validate expertise in environmental regulations and compliance.
Environmental Aspect and Impact Assessment: Proficiency in conducting environmental aspect and impact assessments to identify and evaluate the potential environmental effects of organizational activities, products, and services. This involves assessing the magnitude and significance of environmental impacts, developing mitigation measures, and monitoring environmental performance. Certifications such as the Certified Environmental Specialist (CES) or the Environmental Management Systems Auditor (EMSA) demonstrate skills in environmental aspect and impact assessment.
Environmental Performance Monitoring and Reporting: Skills in monitoring and measuring environmental performance indicators, collecting and analyzing data, and preparing environmental reports. This includes tracking resource consumption, waste generation, emissions, and other relevant metrics to assess progress towards environmental objectives and targets. Certifications like the Certified Environmental Auditor (CEA) or the Certified Environmental Systems Manager (CESM) validate proficiency in environmental performance monitoring and reporting.
Sustainable Practices and Resource Management: Competence in implementing sustainable practices, resource conservation measures, and waste reduction initiatives to minimize the organization's environmental footprint. This involves promoting energy efficiency, water conservation, recycling programs, and the use of renewable resources. Certifications such as the Certified
Benefits
Skills management software is vital for organizations operating under FDA, EPA, and OSHA regulations. It assists in identifying personnel trained in regulatory compliance, safety protocols, incident investigation, and risk management. It helps track certifications like Certified Safety Professionals (CSP) or Certified Environmental Specialists (CES) and ensures that employees with the necessary regulatory knowledge and compliance expertise are assigned to roles involving FDA, EPA, or OSHA compliance.
Ready to master skills management?
Get a personalized walkthrough of AG5 from one of our product experts in just 15 minutes.
ISO27001 certified Free trial available