Regulatory compliance gap remediation skills matrix template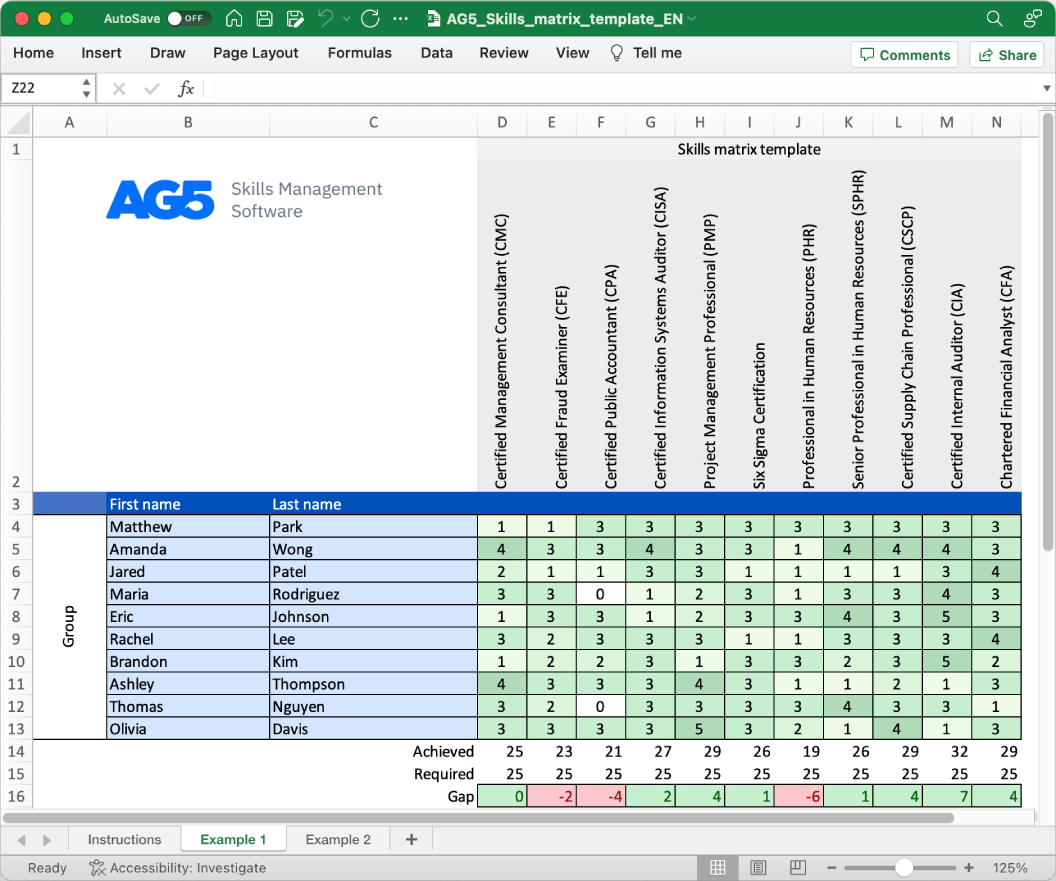 Download your free template here
Overview
With our free regulatory compliance gap remediation skills matrix template, you will receive a clear overview of the skills that are present in your organization, as well as those that are missing. Using this information, you can develop and implement a plan to ensure that your employees' skills are up to date, comprehensive, compliant, and ready for the future.
Certified Regulatory Compliance Manager (CRCM)
Certified Compliance and Ethics Professional (CCEP)
Certified Regulatory Affairs Professional (RAPS)
Certified Regulatory Compliance Professional (CRCP)
Certified Compliance Professional (CCP)
Certified in Risk and Information Systems Control (CRISC)
Regulatory Affairs Certification (RAC)
Certified Compliance and Risk Management Professional (CCRMP)
Certified Compliance Specialist (CCS)
Certified Compliance and Ethics Professional International (CCEP-I)
Related skills
Regulatory Knowledge: A deep understanding of the specific regulations, standards, and legal requirements applicable to the industry and jurisdiction in which the organization operates. This skill is crucial for identifying gaps between existing practices and the required compliance standards.
Gap Analysis: The ability to conduct a thorough gap analysis, which involves comparing current processes, policies, and procedures against the regulatory requirements. This skill requires attention to detail and the ability to identify areas where the organization falls short of compliance.
Problem-Solving: Strong problem-solving skills to develop effective strategies and solutions for closing compliance gaps. This may involve proposing process changes, implementing new procedures, or updating existing documentation to ensure alignment with regulatory requirements.
Project Management: Proficiency in project management techniques to oversee the process of remediation from start to finish. This skill involves setting clear goals, establishing timelines, allocating resources, and tracking progress to ensure timely and successful compliance gap closure.
Communication and Collaboration: Excellent communication skills are essential for working with cross-functional teams, stakeholders, and regulatory authorities. Clear communication helps in explaining the compliance gaps, proposed remediation plans, and progress updates, while collaboration ensures that all necessary parties are involved in the remediation process.
Benefits
For regulatory compliance, skills management software selects skilled experts, facilitating accurate gap identification and efficient adherence to regulations.
Ready to master skills management?
Get a personalized walkthrough of AG5 from one of our product experts in just 15 minutes.
ISO27001 certified Free trial available