Environmental impact assessment skills matrix template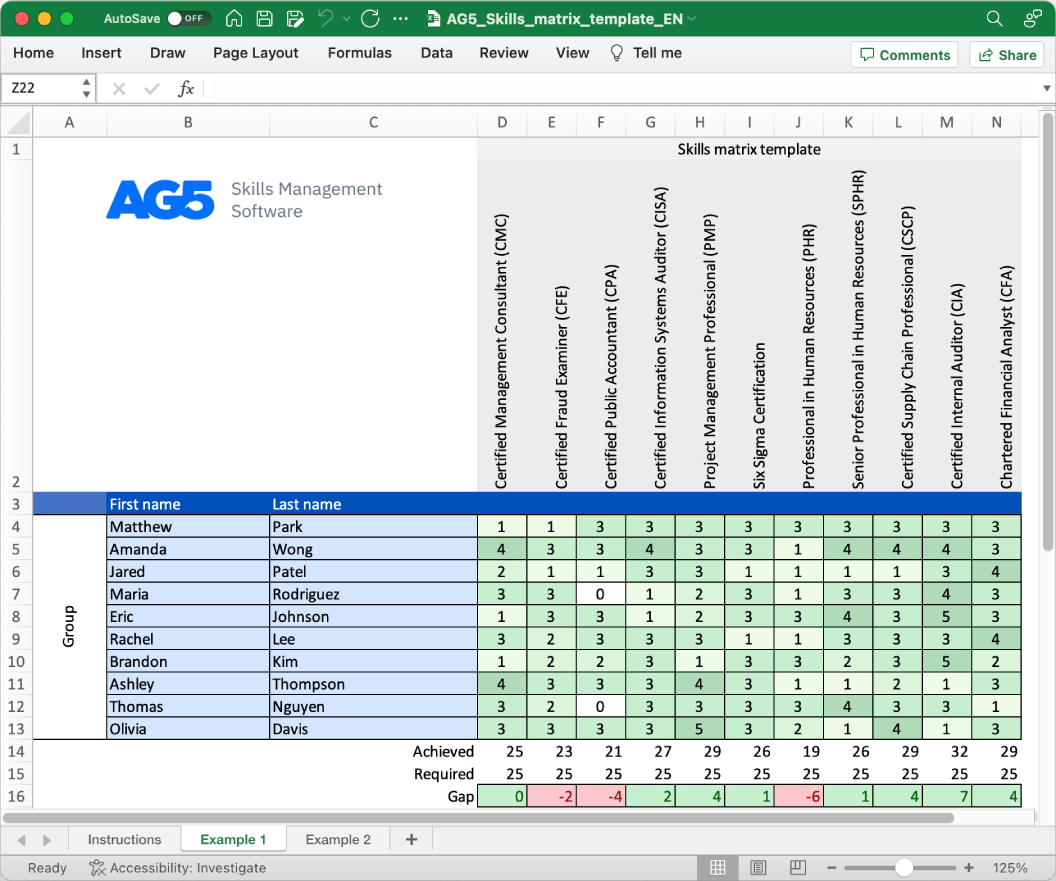 Download your free template here
Overview
With our free environmental impact assessment skills matrix template, you will receive a clear overview of the skills that are present in your organization, as well as those that are missing. Using this information, you can develop and implement a plan to ensure that your employees' skills are up to date, comprehensive, compliant, and ready for the future.
Certified Data Scientist (CDS)
Data Science Professional (DSP)
Certified Data Analyst (CDA)
Machine Learning Specialist (MLS)
Data Engineer Certification
Big Data Professional (BDP)
Certified Data Visualization Expert (CDVE)
Data Mining Specialist (DMS)
Artificial Intelligence Certification
Predictive Analytics Expert (PAE)
Certified Deep Learning Specialist (CDLS)
Business Intelligence Professional (BIP)
Certified Natural Language Processing (NLP) Specialist
Data Wrangling and Cleaning Certification
Certified Data Storyteller (CDS)
Cloud Data Science Certification
Certified Data Governance Professional (CDGP)
Spatial Data Analysis Specialist
Certified Data Ethics Professional (CDEP)
Related skills
Environmental Knowledge: Demonstrated expertise in environmental principles and concepts can be validated through the Certified Environmental Professional (CEP) certification.
Data Collection and Analysis: The ability to gather and analyze environmental data can be evidenced by the Certified Environmental Data Analyst (CEDA) certification.
Regulatory Compliance: Knowledge of environmental laws and regulations can be certified through the Environmental Compliance Officer (ECO) designation.
Impact Mitigation Strategies: Proficiency in developing impact mitigation strategies can be showcased through the Certified Environmental Impact Assessment Specialist (CEIAS) certification.
Stakeholder Engagement: Effective communication and engagement with stakeholders can be proven by the Certified Stakeholder Engagement Professional (CSEP) certification.
Benefits
Skills management software is important in environmental impact assessment to efficiently track and manage the diverse expertise required for thorough evaluations. It ensures optimal team alignment, streamlined collaboration, and access to the right skills, facilitating accurate and comprehensive assessments.
Ready to master skills management?
Get a personalized walkthrough of AG5 from one of our product experts in just 15 minutes.
ISO27001 certified Free trial available