Emergency response skills matrix template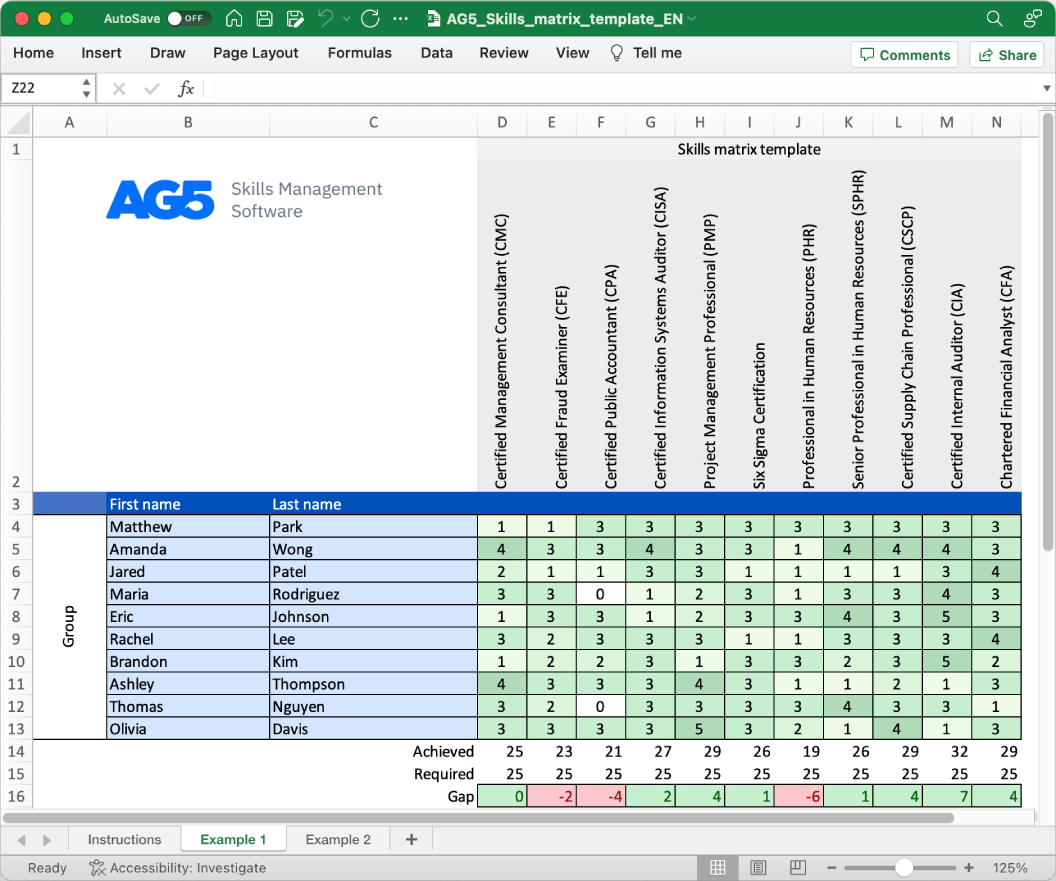 Download your free template here
Overview
With our free emergency response skills matrix template, you will gain a comprehensive overview of the skills present within your organization and identify any skill gaps that may exist. By utilizing this information, you can develop and implement a strategic plan to ensure that your employees' emergency response skills are up to date, comprehensive, compliant, and ready for the future.
Certified Emergency Response Professional
Certified Emergency Medical Technician (EMT)
Certified Emergency Manager
Certified Incident Commander
Certified Emergency Operations Center Specialist
Certified Crisis Management Professional
Certified Emergency Response Team Leader
Certified Hazardous Materials Responder
Certified Search and Rescue Technician
Certified Emergency Communications Specialist
Certified Disaster Recovery Coordinator
Certified Emergency Preparedness Planner
Certified Emergency Response Drill Evaluator
Certified Firefighter
Certified Emergency Evacuation Coordinator
Certified Public Safety Dispatcher
Certified Incident Response Analyst
Certified Emergency Medical Dispatcher
Certified Emergency Operations Planner
Certified Incident Command System (ICS) Practitioner
Related skills
Emergency Action Plan (EAP): Proficiency in developing and implementing effective emergency action plans, including emergency evacuation procedures, communication protocols, and crisis management strategies. Certifications like the Certified Emergency Action Planner (CEAP) validate expertise in emergency action planning.
Incident Command System (ICS): Understanding of the principles and structure of the Incident Command System, a standardized approach for managing emergency responses. Certifications like the ICS Certification (ICS-100, ICS-200) demonstrate competency in ICS implementation.
Emergency Situation Assessment: Skills in quickly assessing emergency situations, identifying potential hazards and risks, and making informed decisions to ensure the safety and well-being of individuals involved. Certifications like the Emergency Situation Assessment Certification (ESAC) validate proficiency in emergency situation assessment.
Emergency Communication: Ability to effectively communicate critical information during emergency situations, including using emergency communication devices, maintaining clear and concise communication, and coordinating with emergency responders. Certifications like the Emergency Communication Specialist (ECS) demonstrate competence in emergency communication.
Emergency Drills and Exercises: Knowledge of planning, conducting, and evaluating emergency drills and exercises to test emergency response capabilities and identify areas for improvement. Certifications like the Emergency Drill and Exercise Planner (EDEP) validate expertise in designing and executing emergency drills and exercises.
Benefits
Skills management software is essential in emergency response to efficiently track and manage the skills and qualifications required for handling emergency situations. It enables organizations to identify and allocate personnel with expertise in emergency response protocols, evacuation procedures, and incident management. This ensures a swift and coordinated response, minimizing risks and ensuring the safety of employees and stakeholders.