Design verification skills matrix template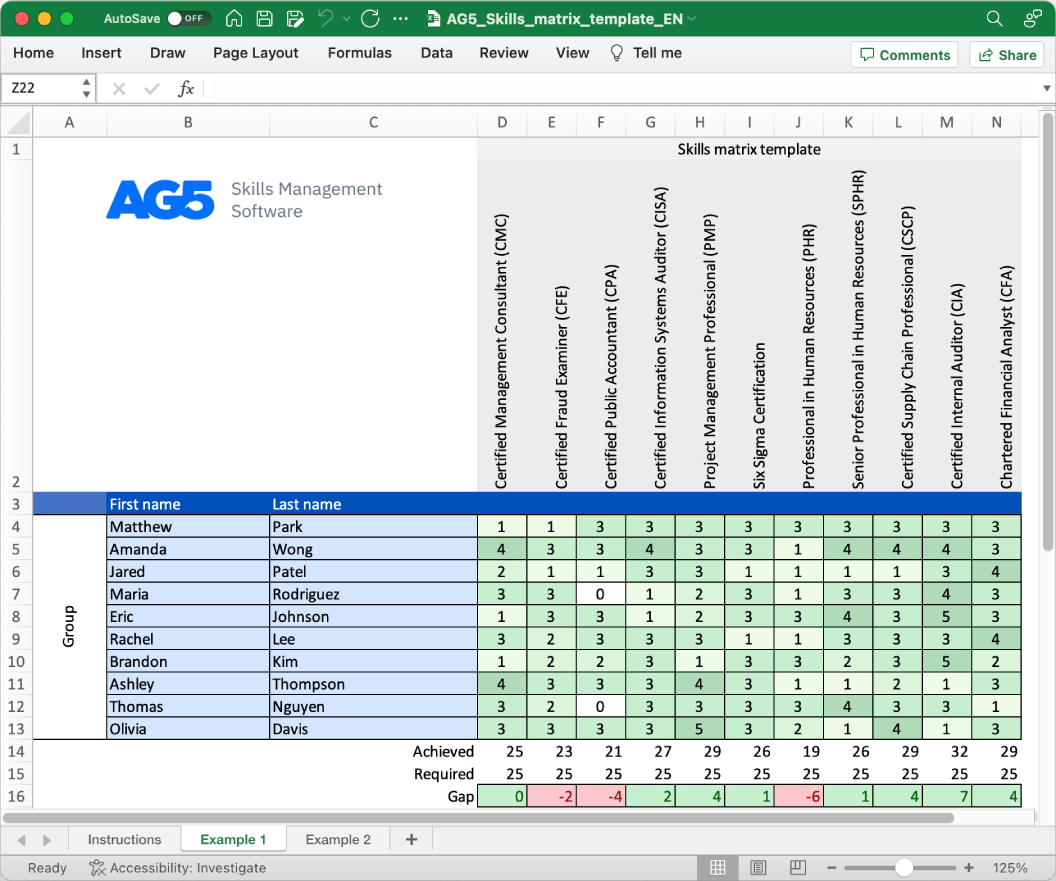 Download your free template here
Overview
With our free design verification skills matrix template, you will receive a clear overview of the skills that are present in your organization, as well as those that are missing. Using this information, you can develop and implement a plan to ensure that your employees' skills are up to date, comprehensive, compliant, and ready for the future.
Certified Verification Professional (CVP)
Certified Design Verification Engineer (CDVE)
Certified Verification Engineer (CVE)
Certified Hardware Verification Engineer (CHVE)
Certified ASIC Verification Engineer (CAVE)
Certified FPGA Verification Engineer (CFVE)
Certified System Verification Engineer (CSVE)
Certified Software Verification Professional (CSVP)
Certified Functional Safety Verification Professional (CFSVP)
Certified Verification Manager (CVM)
Certified Verification Expert (CVE)
Certified Verification Specialist (CVS)
Certified Verification Consultant (CVC)
Certified Verification Analyst (CVA)
Certified Verification Leader (CVL)
Certified Verification Methodology Engineer (CVME)
Certified Verification Instructor (CVI)
Certified Verification Mentor (CVM)
Certified Verification Auditor (CVAU)
Certified Verification Coach (CVC)
Related skills
Test Planning and Strategy: Proficiency in planning and developing test strategies for design verification is essential. Certifications such as the Certified Software Test Professional (CSTP) from the Quality Assurance Institute (QAI) validate expertise in software testing, including test planning and strategy.
Test Execution and Documentation: The ability to execute test cases, accurately document test results, and report findings is crucial in design verification. Certifications such as the ISTQB Certified Tester Foundation Level (CTFL) offered by the International Software Testing Qualifications Board (ISTQB) demonstrate competence in software testing practices, including test execution and reporting.
Test Automation: Knowledge of test automation tools and frameworks is valuable for efficient and scalable design verification. Certifications such as the Certified Software Test Automation Specialist (CSTAS) from QAI validate proficiency in test automation techniques and tools.
Regulatory Compliance: Understanding and verifying compliance with relevant regulations, standards, and industry-specific requirements is important in design verification. Certifications such as the Certified Quality Auditor (CQA) from the American Society for Quality (ASQ) validate competence in quality auditing practices, including compliance verification.
Risk Assessment and Mitigation: Proficiency in identifying potential risks associated with the design and implementing appropriate verification measures is essential. Certifications such as the Certified Risk Management Professional (CRMP) from the Risk and Insurance Management Society (RIMS) demonstrate expertise in risk assessment and management.
Benefits
Skills management software is important in design verification by tracking and managing the skills of professionals involved in verifying the design of products or systems. It ensures that individuals possess technical knowledge, problem-solving skills, and proficiency in using diagnostic tools for effective design verification.
Ready to master skills management?
Get a personalized walkthrough of AG5 from one of our product experts in just 15 minutes.
ISO27001 certified Free trial available