Corrective and preventive maintenance planning skills matrix template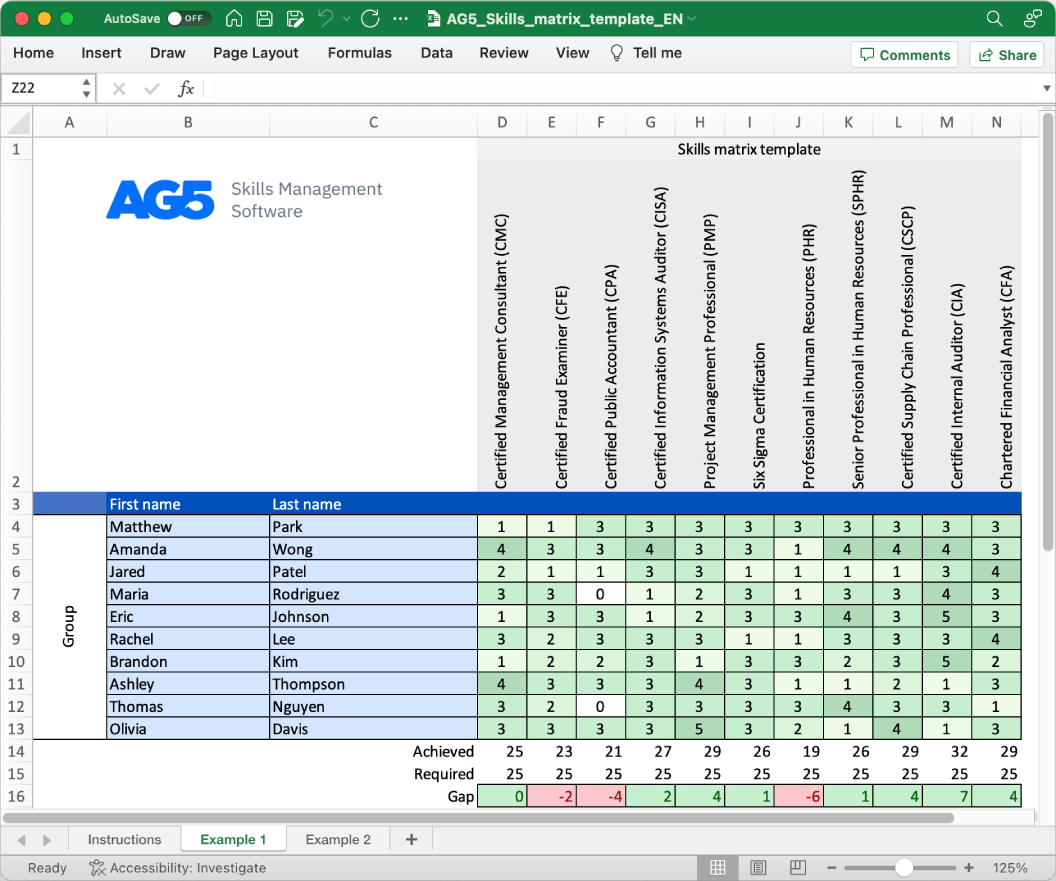 Download your free template here
Overview
With our free corrective and preventive maintenance skills matrix template, you will receive a clear overview of the skills that are present in your organization, as well as those that are missing. Using this information, you can develop and implement a plan to ensure that your employees' skills are up to date, comprehensive, compliant, and ready for the future.
Certified Corrective Maintenance Planner (CCMP)
Preventive Maintenance Specialist (PMS)
Certified Maintenance Improvement Analyst (CMIA)
Corrective and Preventive Maintenance Planning Process Certification
Certified Preventive Maintenance Coordinator (CPMC)
Maintenance Root Cause Analysis Expert
Certified Corrective Maintenance Scheduler (CCMS)
Maintenance Planning Data Analyst (MPDA)
Certified Maintenance Improvement Facilitator (CMIF)
Corrective and Preventive Maintenance Audit Professional
Certified Preventive Maintenance Program Manager (CPMPM)
Maintenance Planning Documentation Specialist
Certified Maintenance Reliability Analyst (CMRA)
Preventive Maintenance Strategy Development Practitioner
Certified Maintenance Improvement Consultant (CMIC)
Maintenance Planning and Execution Optimization Specialist
Certified Corrective Maintenance Technician (CCMT)
Maintenance Planning Metrics Analyst
Certified Preventive Maintenance Auditor (CPMA)
Corrective and Preventive Maintenance Training and Development Specialist
Related skills
Root Cause Analysis: Demonstrated ability to perform root cause analysis for equipment failures can be validated through the Certified Root Cause Analyst (CRCA) certification.
Maintenance Planning and Scheduling: Proficiency in planning and scheduling corrective and preventive maintenance tasks can be showcased through the Certified Maintenance Planner (CMP) designation.
Maintenance Strategy Development: The skill of developing effective maintenance strategies can be evidenced by the Certified Maintenance Strategy Specialist (CMSS) certification.
Reliability Engineering: Expertise in applying reliability engineering principles for maintenance planning can be proven through the Certified Reliability Engineer (CRE) certification.
Maintenance Program Optimization: Demonstrated ability to optimize maintenance programs for improved efficiency can be certified by the Certified Maintenance Program Optimizer (CMPO) designation.
Benefits
With skills management software, organizations can plan and execute maintenance tasks effectively, preventing issues and minimizing downtime.