Biocompatibility testing skills matrix template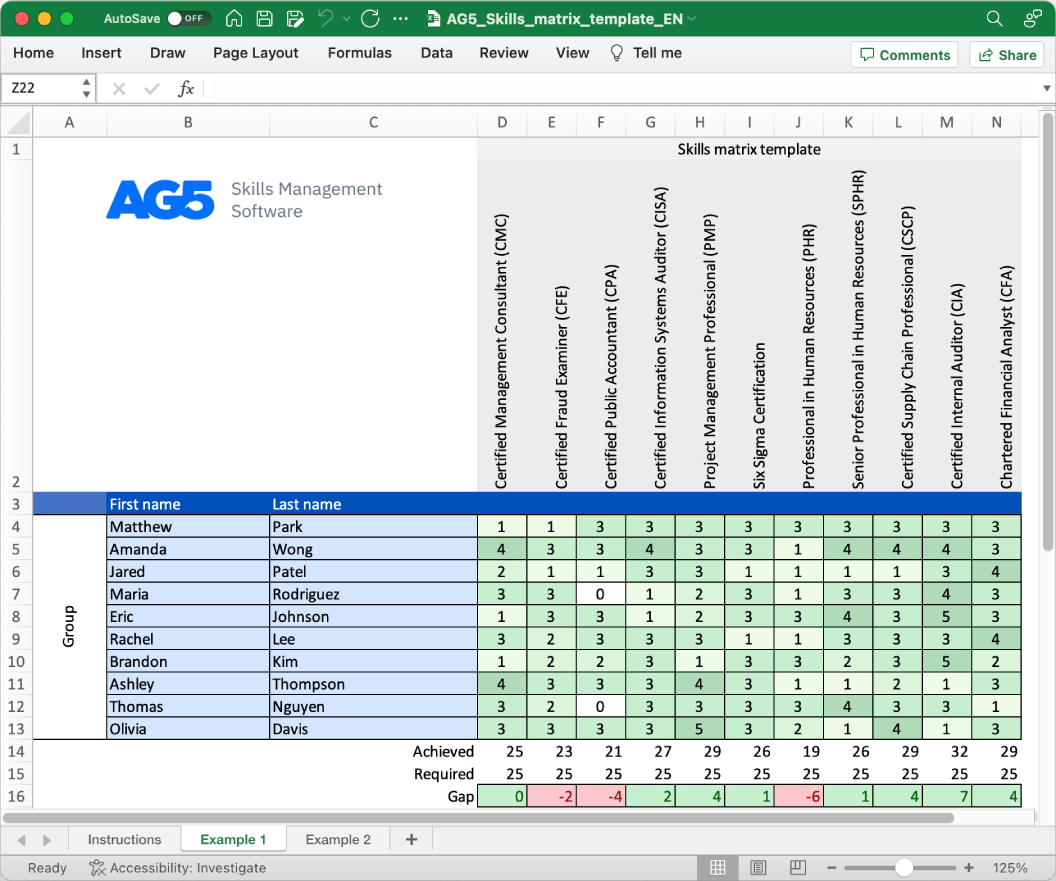 Download your free template here
Overview
With our free biocompatibility skills matrix template, you will receive a clear overview of the skills that are present in your organization, as well as those that are missing. Using this information, you can develop and implement a plan to ensure that your employees' skills are up to date, comprehensive, compliant, and ready for the future.
Certified Biocompatibility Specialist
ISO 10993 Certified Professional
Biocompatibility Testing Certification
ASTM F748 Biocompatibility Certification
Medical Device Biocompatibility Certification
Biological Evaluation of Medical Devices Certification
FDA Biocompatibility Compliance Certification
ISO 14971 Risk Management Certification
Biocompatibility Regulatory Affairs Certification
ISO 10993-1 Biocompatibility Expert
Certified Biocompatibility Engineer
ISO 17025 Accreditation for Biocompatibility Testing
Biological Safety Officer (BSO) Certification
ISO 9001 Certification for Biocompatibility Testing
Certified Biocompatibility Auditor
Certified ISO 13485 Lead Auditor
European Notified Body Certification for Biocompatibility
ANSI/AAMI/ISO 11137 Sterilization Validation Certification
FDA 21 CFR Part 11 Compliance Certification
Certified Medical Device Risk Manager
Related skills
Biocompatibility Assessment: Professionals in biocompatibility should have a strong understanding of the principles and methods used to assess the biological safety of medical devices and materials. This includes knowledge of relevant standards and regulations such as ISO 10993. The Certified Biomedical Auditor (CBA) certification offered by the American Society for Quality (ASQ) validates expertise in conducting audits of medical device quality management systems, including biocompatibility assessments.
Toxicology: Understanding the toxicological properties of materials and their potential effects on living organisms is crucial in biocompatibility. Proficiency in toxicology principles, risk assessment, and interpretation of toxicity data is valuable. The Diplomate of the American Board of Toxicology (DABT) certification demonstrates expertise in general toxicology and can be relevant in the field of biocompatibility.
Material Science: Knowledge of material science is essential for evaluating the biocompatibility of medical devices and materials. This includes understanding the properties and behavior of various materials in biological systems. The Certified Materials and Resource Professional (CMRP) certification, offered by the Association for Healthcare Resource & Materials Management (AHRMM), validates expertise in materials management, including knowledge of material properties and selection.
Regulatory Compliance: Professionals involved in biocompatibility should be well-versed in the regulatory requirements governing medical devices and materials. Familiarity with standards such as ISO 13485 and FDA regulations is crucial. The Regulatory Affairs Certification (RAC) offered by the Regulatory Affairs Professionals Society (RAPS) demonstrates knowledge and expertise in regulatory compliance, including biocompatibility requirements.
Risk Management: Proficiency in risk management methodologies and techniques is vital in biocompatibility assessment. Professionals should be able to identify and evaluate potential risks associated with medical devices and materials and implement appropriate risk mitigation strategies. The Certified Professional in Healthcare Risk Management (CPHRM) certification offered by the American Hospital Association (AHA) validates expertise in healthcare risk management, including risk assessment and mitigation.
Benefits
Skills management software is important in biocompatibility to effectively track and manage the specialized skills and qualifications of personnel involved in biocompatibility testing and evaluation. It ensures compliance with industry standards, facilitates skill matching, enables efficient resource allocation, and supports effective decision-making in biocompatibility projects and initiatives.
Ready to master skills management?
Get a personalized walkthrough of AG5 from one of our product experts in just 15 minutes.
ISO27001 certified Free trial available