Aviation skills matrix template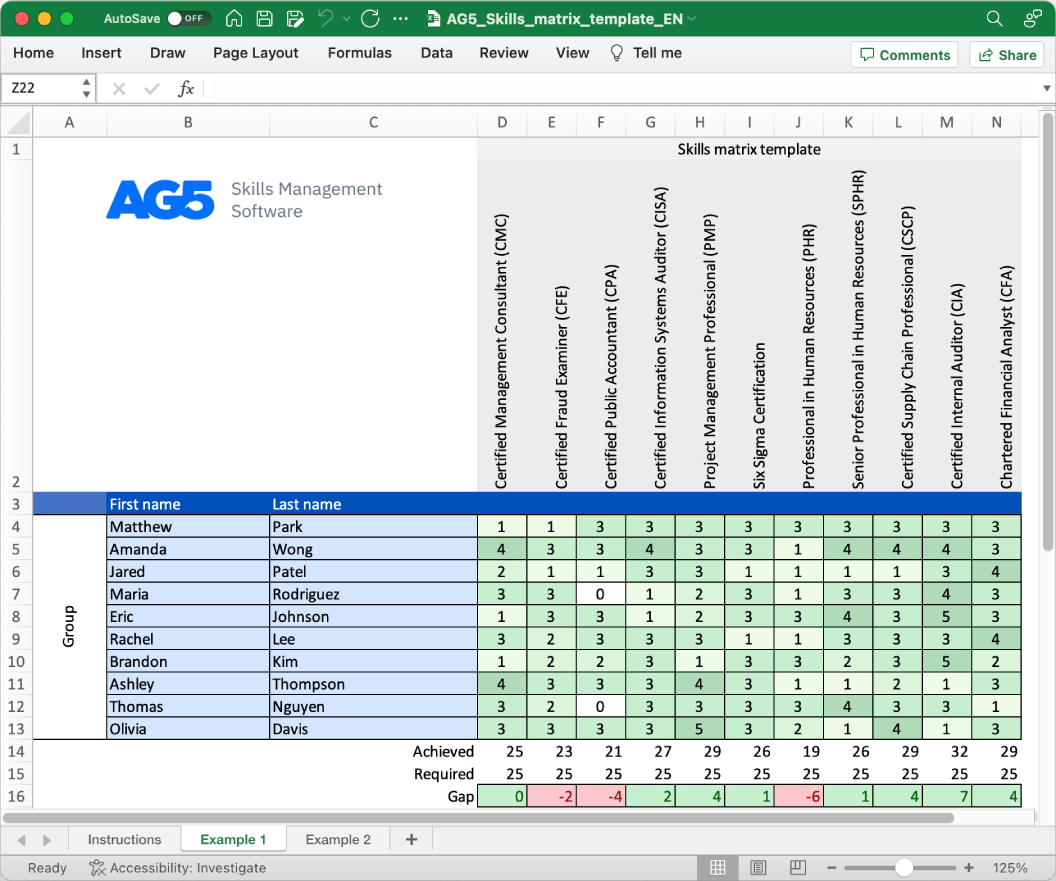 Download your free template here
Overview
With our free aviation matrix template, you will receive a clear overview of the skills that are present in your organization, as well as those that are missing. Using this information, you can develop and implement a plan to ensure that your employees' skills are up to date, comprehensive, compliant, and ready for the future.
Airframe and Powerplant (A&P)
Aircraft Maintenance Technician (AMT)
Federal Aviation Administration (FAA) certifications
Aircraft Dispatcher
Air Traffic Control (ATC) Specialist
Commercial Pilot License (CPL)
Flight Instructor Certificate
Instrument Rating
Multi-Engine Rating
Private Pilot License (PPL)
Airline Transport Pilot License (ATPL)
Certified Flight Instructor (CFI)
Certified Aviation Manager (CAM)
Certified Safety Professional (CSP)
Certified Aircraft Dispatcher (CAD)
Aircraft Electronics Technician (AET)
Avionics Technician Certification
Non-Destructive Testing (NDT) certification
Certified Quality Auditor (CQA)
Certified Six Sigma Black Belt (CSSBB)
Project Management Professional (PMP)
Related skills
Technical skills: Aviation involves a great deal of technical work, so knowledge and skills in areas such as mechanical engineering, electrical engineering, avionics, and aerospace are valuable.
Safety certifications: Safety is a top priority in the aviation industry, so certifications such as Federal Aviation Administration (FAA) Airframe and Powerplant (A&P) certification, and Aircraft Maintenance Technician (AMT) certification are often required.
Regulatory compliance knowledge: The aviation industry is highly regulated, and knowledge of regulations and compliance is essential, especially concerning FAA certifications.
Language skills: Given the international nature of the aviation industry, fluency in languages such as English, Spanish, and Mandarin is highly valued.
Project management: Aviation projects often require careful planning and execution, so project management skills, including certifications such as Project Management Professional (PMP), are helpful.
Benefits
Skills management software is important in the aviation industry because it helps track and manage employee training and certifications, ensuring compliance with industry regulations, improving safety, and optimizing workforce performance.