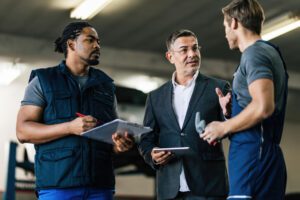 The success of any organization is heavily dependent on the competence and proficiency of its workforce. To ensure employees stay skilled in their respective roles, organizations invest in skills gap training. Identifying and addressing skills gaps, however, can be a challenging undertaking, particularly for larger companies.
Fortunately, skills management software offers a solution to this problem. In this article, we will examine how this software can be the ideal complement for skills gap training, simplifying the process and enabling your organization to thrive.
What is gap training?
Skills gap training is an excellent way for an organization to bridge the industry's knowledge, skill, and experience gaps by presenting key instructional staff with targeted training tailored to an individual's specific needs. This approach can also support employees in fully understanding their roles, building confidence, and tackling more advanced positions.
Organizations can ensure they have up-to-date, trained personnel across all departments by assessing where each worker is in their career, and providing them with focused training sessions to enhance their knowledge.
Furthermore, skills gap training can also help ensure an organization's continued success and growth, and help target potential skills gaps in the workforce. In short, skills gap training is a critical strategy businesses employ to keep their staff informed and proficient in their tasks and roles.
How to identify gaps in training
Identifying gaps in training is a crucial step in the skills gap training process. There are several methods for identifying training gaps, including:
Performance reviews. Regular performance reviews can help identify areas in which employees need additional training and support.
Skills assessments. Conducting skills assessments can help identify gaps in employees' knowledge and skills.
Competency frameworks. A competency framework outlines the skills and knowledge required for specific job roles. Comparing employees' skills against the competency framework can help identify training gaps.
Feedback. Encouraging employee feedback can provide valuable insights into areas where they need additional support and training.
Additionally, when combined, skills gap training and skills management software can help businesses streamline the process of identifying skills gaps.
What is skills management software?
Skills management software helps organizations manage their employees' skills and knowledge. It enables managers to identify skills gaps, create training plans, track employee progress, and evaluate the effectiveness of training programs.
Skills management software is typically cloud-based; users can use it from anywhere with an internet connection. It is also user-friendly, which makes it easy for managers to use, even if they do not have technical backgrounds.
Benefits of skills management software for skills gap training
Skills management software can be a valuable tool for skills gap training. It can help organizations:
Identify skills gaps and emerging trends more efficiently and effectively.
Create training plans tailored to each employee's specific needs.
Track employee progress and provide managers with real-time data on their performance.
Evaluate the effectiveness of training and determine whether the training was successful.
Track certifications, qualifications, and other compliance standards, ensuring that employees meet industry standards.
Provide comprehensive reports on training processes, employee performance, and organizational goals.
Bridge the skills gap today with AG5 software
AG5 skills management software is a match made in heaven for skills gap training.
Organizations can use AG5 skills management software to ensure employees receive the necessary training to bridge skills gaps within teams, improve job performance, and prepare for future roles and responsibilities. Furthermore, they can create a continuous learning and development culture that benefits their employees and the organization.
Ready to see AG5 skills management software in action? Get in touch to request a live demo!
Ready to master skills management?
Get a personalized walkthrough of AG5 from one of our product experts in just 15 minutes.

ISO27001 certified

Free trial available
---
---