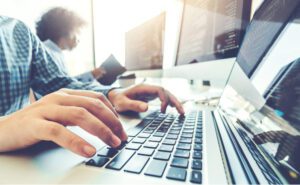 A learning infrastructure is the digital system or framework that enables an enterprise to manage and deliver learning experiences at scale level.
Before taking action on any project, it is essential to consider both the goals of your organization and the needs of your employees.
A superior learning infrastructure allows you to supply an engaging and personalized set of learning experiences that drive results and attain objectives.
This infrastructure includes the systems and tools that support the end-to-end process of creation, storage, and operation of courses and programs. It can also clearly track and define the expertise levels of individuals and teams.
Why is it important?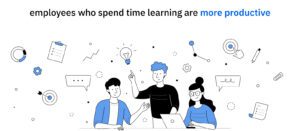 A sophisticated and effective learning infrastructure is a key element in the success of any company. It comprises everything from the quality of training materials to the experience levels of the instructors.
Additionally, it encompasses the kinds of delivery methods and learning protocols that are utilized. A lifelong approach to learning is not solely focused on developing proficiency. It also affords a way to enhance satisfaction in work and career life.
Research has illustrated that employees who embrace lifelong learning are 12% happier, and we already know that happy employees are more productive.
How does a learning infrastructure influence the learning culture?
An organization with a robust learning infrastructure can ensure that its employees are appropriately trained and have the knowledge and aptitudes necessary for sustained success.
Moreover, a strong learning infrastructure can help foster a lifelong learning culture. This can greatly benefit both employees and the enterprise as a whole. A lifelong learning culture leads to improved creativity and innovation, and encourages the sharing of knowledge.
Additionally, it strengthens the sense of community, and enhances both overall efficiency and resourcefulness in finding solutions to problems. If you want to be successful, your work must remain challenging.
Employees who spend time learning at their workplace are 39% more likely to feel engaged and successful than those who do not actively learn on the job.
Leaders play a key role in developing and implementing a learning culture. They set the tone for the organization and provide opportunities for learning. Yet exceptional leaders do more than this.
They inspire their team members to make learning a priority and to implement it in their personal development strategy.
As a result, team members are more engaged in their work and are therefore better able to contribute to the success of the enterprise.
Five steps toward the creation of a learning infrastructure for your organization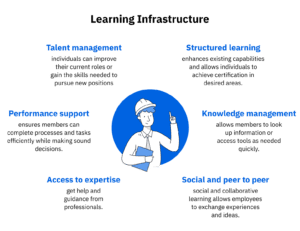 Creating a learning infrastructure requires time, effort, and dedication from everyone involved, but the benefits are well worth the investment. Here are five basic initial steps:
Begin an assessment of the current state of your firm by conducting an inventory of your physical and digital resources. Once you can clearly identify what you have to work with, you can start planning how to best employ these assets to support your learning and development (L&D) goals.
Developing protocols for the streamlined configuration and management of your learning content and experience is essential. This includes things like version control—ensuring that all learners have access to the most up-to-date content. It also involves content curation—the maintenance of a high-quality L&D asset library. Another important aspect concerns user experience (UX) design—making certain that your content is easy for learners to understand.
In terms of equipment and technology, you'll need to decide what type of training delivery methods you intend to use (whether in-person, online, or a balanced blend of both) and then obtain the necessary resources in accordance with the plan. For example, if you're planning to go with online training, you'll need a reliable learning management system (LMS). On the other hand, if you intend to use an in-person approach, you'll need to ensure that you have sufficient space to accommodate your learners and any requisite audio/visual equipment.
At this point, it's time to consider the qualifications of personnel responsible for the utilization and management of these resources. This would include identifying those individuals with a flair and talent for L&D within your organization. It would also involve setting up clear roles and responsibilities for those advocating your learning initiatives, and affording them any relevant instruction needed to ensure the effective use of your L&D infrastructure.
Lastly, don't forget to establish a feedback loop so you may continue to monitor, refine, and improve your L&D infrastructure over time. This might involve conducting regular audits, collecting learner feedback, or analyzing data from your LMS. By regularly assessing the performance of your learning infrastructure, you can verify that it will continue to match the needs of your learners and align with the goals and standards of your organization.
Tips for supporting the learning infrastructure within your organization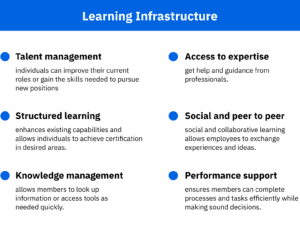 It's clearly evident that a sound learning infrastructure is an essential aspect of any successful company However, there are many ways to support your learning infrastructure. Here are some key suggestions:
Experimentation plays a key role in every commercial innovation. Encouraging your teams to experiment and explore new pathways is of fundamental importance. Set up a dedicated safe space where employees can work on new projects.
Encourage learning from failure
Be certain that resources are available to help workers learn from their errors and misjudgments. Help them to recognize flaws as opportunities to gain experience and grow. Establish protocols for debriefing after failed experiments so that valuable knowledge can be retained, augmented, and subsequently applied to future projects.
Support personal and professional development for employees
Encourage employees to accept new challenges and expand their horizons. Inspire them to work outside their comfort zones. Offer the resources and support necessary to help them succeed, both at work and in their personal lives.
Motivate networking and collaboration
Create opportunities for employees to share ideas and learn from one another. Establish idea generation and brainstorming sessions as forums for the introduction and exploration of innovative concepts.
Foster a company culture of learning
Reward employees for taking risks and trying new things. Promote a mindset of evolutionary growth so employees believe they can upgrade their results through effort and practice.
Skills management in your learning infrastructure
To support the individual learning requisites of employees, you first need a definitive representation of their skills.
Building a learning infrastructure requires knowing where the expertise and talent gaps are located (in order to close them).
You can then customize the learning process for every individual, saving both time and resources, along with improving employee retention.
AG5 is a cloud-based skills management software solution that can help you assess, track, and develop the skills of your employees.
Contact us to learn more about how AG5 can help centralize your skills repository and do away with Excel spreadsheets.
---
---