Quality management system (QMS) skills matrix template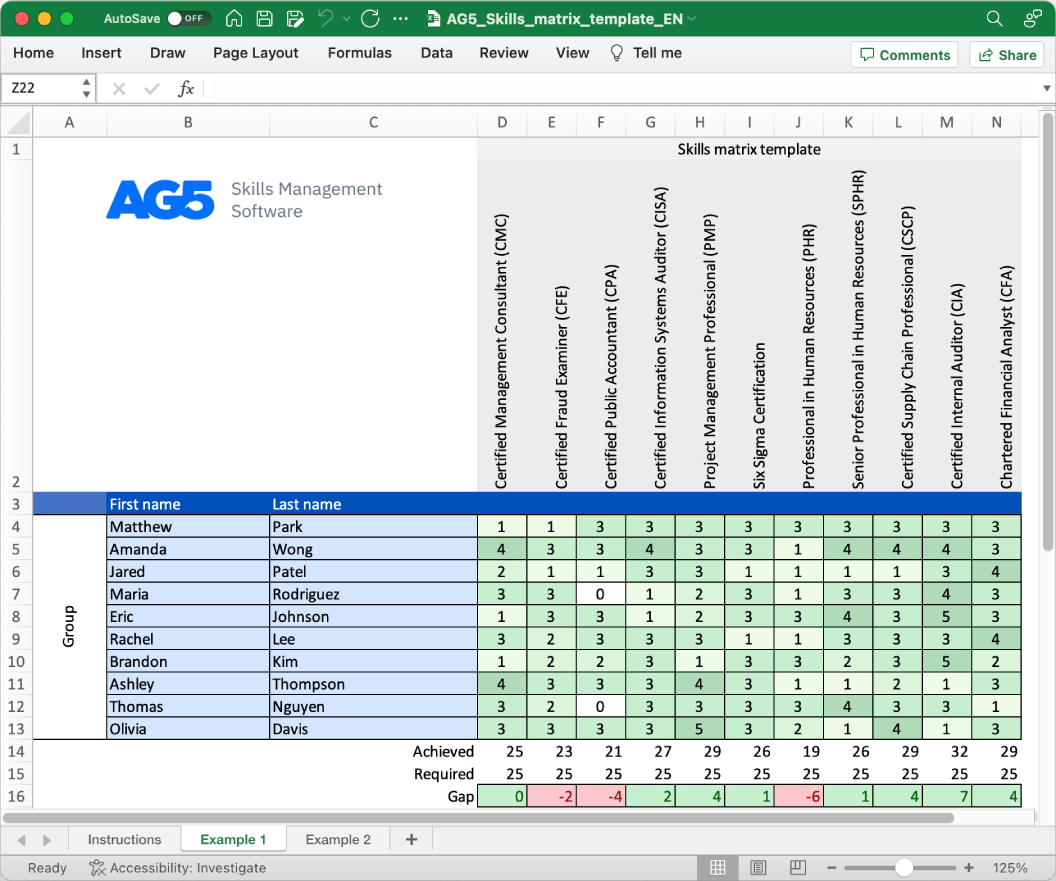 Download your free template here
Overview
With our free QMS skills matrix template, you will receive a clear overview of the skills that are present in your organization, as well as those that are missing. Using this information, you can develop and implement a plan to ensure that your employees' skills are up to date, comprehensive, compliant, and ready for the future.
ISO 9001:2015 Lead Auditor
Certified Manager of Quality/Organizational Excellence (CMQ/OE)
Certified Quality Engineer (CQE)
Certified Quality Process Analyst (CQPA)
Certified Quality Improvement Associate (CQIA)
Six Sigma Black Belt (CSSBB)
Certified Quality Technician (CQT)
Certified Quality Auditor (CQA)
Certified Quality Inspector (CQI)
Certified Quality Manager (CQM)
Certified Lean Six Sigma Green Belt (CLSSGB)
Certified ISO 9001 Lead Implementer
Certified ISO 13485 Lead Auditor
Certified ISO 14001 Lead Implementer
Certified ISO 45001 Lead Implementer
Certified ISO 50001 Lead Implementer
Certified ISO 27001 Lead Implementer
Certified ISO 22000 Lead Implementer
Certified ISO 22301 Lead Implementer
Certified ISO 31000 Risk Management Professional
Related skills
QMS Implementation: Implementing a QMS requires a comprehensive understanding of quality principles, standards, and best practices. The Certified Manager of Quality/Organizational Excellence (CMQ/OE) certification offered by the American Society for Quality (ASQ) validates expertise in implementing QMS.
Process Mapping and Improvement: Proficiency in process mapping, analysis, and improvement methodologies is essential for effective QMS implementation. Certifications such as Lean Six Sigma Green Belt or Black Belt, offered by organizations like ASQ or the International Association for Six Sigma Certification (IASSC), demonstrate competence in process improvement within a QMS context.
Auditing and Compliance: Knowledge of auditing principles and compliance requirements is critical for maintaining a robust QMS. Certifications such as the Certified Internal Auditor (CIA) from The Institute of Internal Auditors (IIA) or the ISO 9001 Lead Auditor certification from various accredited certification bodies validate auditing skills in a QMS environment.
Risk Management: Understanding and managing risks within a QMS is crucial for maintaining quality and compliance. The ISO 31000 Risk Management certification, provided by various organizations globally, demonstrates expertise in risk management principles and practices.
Continuous Improvement and Problem Solving: QMS implementation involves fostering a culture of continuous improvement and effective problem-solving. Certifications like the ASQ Certified Six Sigma Green Belt or Certified Six Sigma Black Belt validate skills in data-driven decision making, problem-solving methodologies, and statistical analysis within a QMS framework.
Benefits
Skills management software is important in QMS to ensure the right skills are available for implementing and maintaining a robust quality management system, facilitating effective documentation, process management, and continuous improvement.
Ready to master skills management?
Get a personalized walkthrough of AG5 from one of our product experts in just 15 minutes.
ISO27001 certified Free trial available