Plastics skills matrix template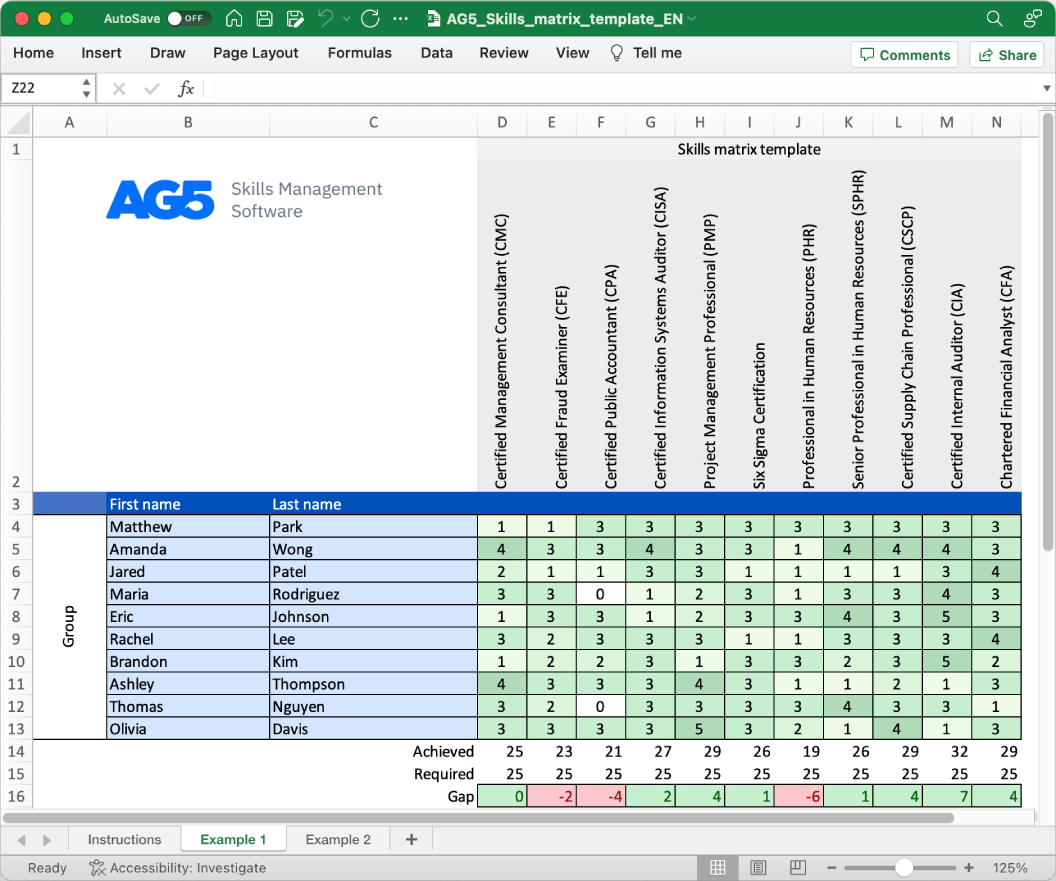 Download your free template here
Overview
With our free plastics manufacturing skills matrix template, you will receive a clear overview of the skills that are present in your organization, as well as those that are missing. Using this information, you can develop and implement a plan to ensure that your employees' skills are up to date, comprehensive, compliant, and ready for the future.
Certified Plastics Technician (CPT)
Certified Injection Molding Professional (CIMP)
Certified Extrusion Professional (CEP)
Certified Mold Maker (CMM)
Certified Plastics Welding Technician (CPWT)
Certified Blow Molding Technician (CBMT)
Certified Thermoplastic Welding Technician (CTWT)
Certified Plastics Engineer (CPE)
Certified Plastic Injection Mold Designer (CPIMD)
Certified Moldflow Analyst (CMA)
Certified in Plastics Materials and Processes (CPMP)
Certified in Scientific Injection Molding (CSIM)
Certified Injection Molded Part Design (CIMPD)
Certified Plastics Design Engineer (CPDE)
Certified Plastic Welding Inspector (CPWI)
Certified Professional Mold Cleaner (CPMC)
Certified in Blow Molding Process Optimization (CBMPO)
Certified Extrusion Blow Molding Operator (CEBMO)
Certified Plastic Part Design for Manufacturing (CPPDM)
Related skills
Material selection and processing skills: Selecting and processing plastic materials require knowledge of various material properties and processing techniques such as injection molding, extrusion, and blow molding. Certifications that can demonstrate proficiency in this area include the Society of Plastics Engineers (SPE) Injection Molding Certificate and the Plastics Industry Association (PLASTICS) Extrusion Certification.
Quality control skills: Ensuring product quality requires knowledge of various quality control techniques such as statistical process control (SPC), root cause analysis, and failure mode and effects analysis (FMEA). Certifications that can validate proficiency in this area include the American Society for Quality (ASQ) Certified Quality Engineer (CQE) Certification and the Six Sigma Black Belt Certification.
Design and engineering skills: Designing plastic parts and components require knowledge of various design and engineering software such as SolidWorks, AutoCAD, and CATIA. Certifications that can demonstrate proficiency in this area include the SolidWorks Certified Associate (CSWA) Certification and the Autodesk Certified Professional (ACP) Certification.
Environmental and sustainability skills: Minimizing the environmental impact of plastic production and use require knowledge of various environmental and sustainability regulations such as the Environmental Protection Agency (EPA) regulations and the Sustainable Materials Management (SMM) framework. Certifications that can demonstrate proficiency in this area include the SPE Sustainability Certification and the Environmental Professional (EP) Certification offered by the National Registry of Environmental Professionals (NREP).
Business and management skills: Managing plastic manufacturing operations require knowledge of various business and management techniques such as strategic planning, financial management, and project management. Certifications that can validate proficiency in this area include the Project Management Professional (PMP) Certification and the Manufacturing Leadership Certification offered by the Manufacturing Leadership Council (MLC).
Benefits
Skills management software can benefit the plastics industry by tracking and managing employee skillsets, facilitating targeted training and development, ensuring compliance with regulatory requirements, and improving productivity and efficiency in the workplace.
Ready to master skills management?
Get a personalized walkthrough of AG5 from one of our product experts in just 15 minutes.
ISO27001 certified Free trial available