Legal services skills matrix template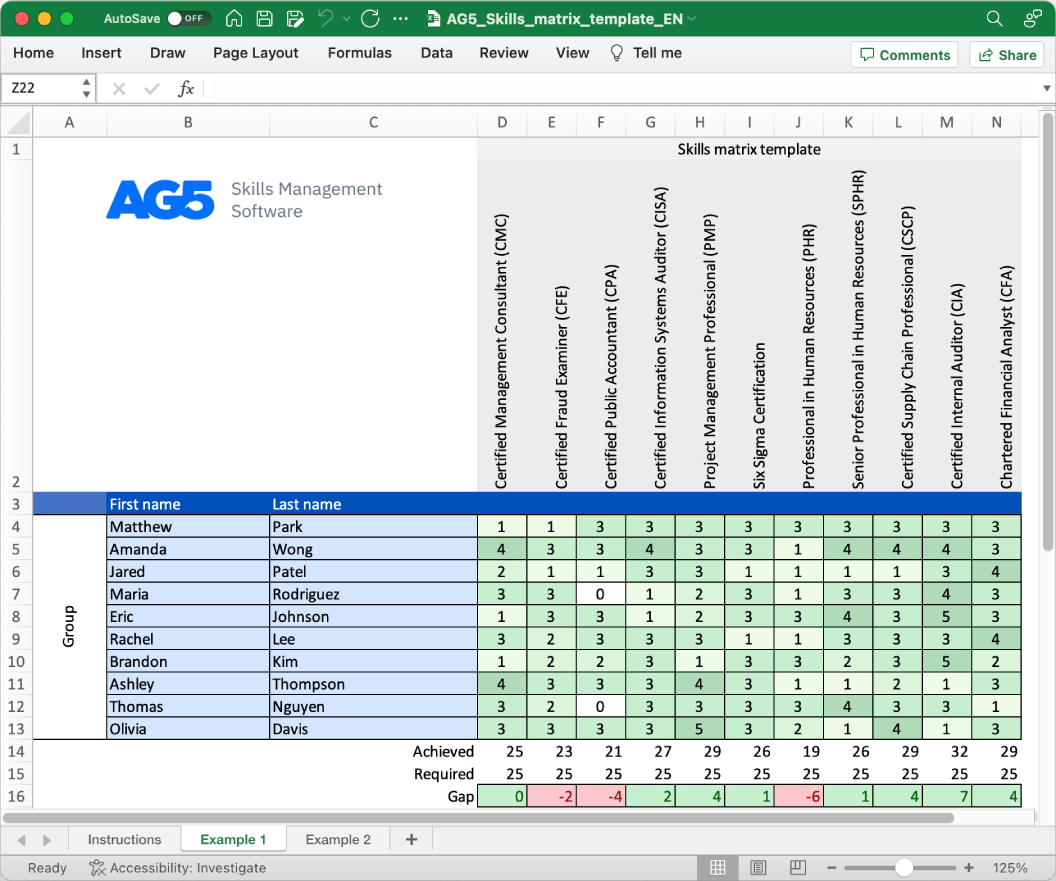 Download your free template here
Overview
With our free legal services skills matrix template, you will receive a clear overview of the skills that are present in your organization, as well as those that are missing. Using this information, you can develop and implement a plan to ensure that your employees' skills are up to date, comprehensive, compliant, and ready for the future.
Juris Doctor (JD)
Certified Legal Manager (CLM)
Certified Paralegal (CP)
Certified Legal Assistant (CLA)
Certified Fraud Examiner (CFE)
Certified Compliance and Ethics Professional (CCEP)
Certified Information Privacy Professional (CIPP)
Certified e-Discovery Specialist (CEDS)
Certified Professional Contracts Manager (CPCM)
Certified Document Reviewer (CDR)
Registered Paralegal (RP)
Certified Records Manager (CRM)
Certified Financial Crime Specialist (CFCS)
Certified Mediator
Certified Arbitrator
Certified Bankruptcy Assistant
Certified Estate Planning Specialist
Certified Information Governance Professional (IGP)
Certified Lease and Title Analyst (CLTA)
Related skills
Legal research: Legal research skills are essential for analyzing case law, statutes, and regulations. The Westlaw certification from Thomson Reuters can prove legal research skills.
Contract law: Contract law is important for negotiating and drafting contracts. The Certified Commercial Contracts Manager (CCCM) certification from the National Contract Management Association (NCMA) can prove contract law skills.
Litigation: Litigation skills are important for representing clients in legal disputes. The Certified Litigation Management Professional (CLMP) certification from the Claims and Litigation Management Alliance (CLM) can prove litigation skills.
Legal writing: Legal writing skills are important for drafting legal documents such as briefs and motions. The Legal Writing Institute offers a Certification in Legal Writing.
Alternative dispute resolution: Alternative dispute resolution skills are important for resolving legal disputes outside of the courtroom. The Certified Mediator certification from the National Mediation Board can prove alternative dispute resolution skills.
Benefits
Skills management software can benefit the legal services industry by providing a comprehensive view of employee skills, facilitating targeted training and development, and improving overall workforce productivity and client satisfaction.
Use AG5 to identify skill gaps
Say goodbye to Excel matrices. Start using AG5's plug and play skill matrix software.
ISO27001 certified Free trial available